Populism that elected Trump is sweeping the world and can have unexpected consequences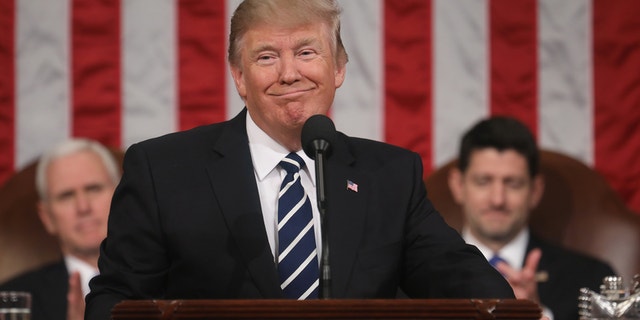 Under President Trump, the United States has gone from uneasy observer to tacit supporter of populist insurgencies sweeping the globe.
President Trump himself was elected on the heels of the historic Brexit vote, which saw Britons vote to leave the European Union, potentially at great cost to their own economy.
Similar populist insurgencies have arisen in France with Marine Le Pen's National Front gaining more clout, in Germany with Angela Merkel's struggle to fend off nationalist challenges while forming her government, and in Spain with the vote by Catalan lawmakers who tried unsuccessfully to have Catalonia secede last year.
Much of the world is restlessness and frustrations are understandable. However, overturning domestic institutions and international relationships overnight carries risks. The challenge becomes: how can leaders be responsive to their citizens, while still being mindful of the unintended consequences of change?
Individuals and political parties in Europe, the U.S. and beyond that were once on the margins are now ready to storm the barricades. How this radical departure from convention will play out remains to be see, but it could backfire.
President Trump relishes disruption. He has vowed to rip up trade agreements and scrutinize alliances. He is rattling nerves with his aggressive approach to North Korea. The change in tide has seen once marginalized individuals and political parties gain far greater influence.
For example, President Trump is threatening to redo the U.S.'s free-trade agreement with South Korea. Neither Washington nor Seoul got everything it wanted with the deal, but the U.S. gained much broader and deeper access to one of the world's largest economies.
If President Trump were to pull back from the deal with South Korea, after already having withdrawn the U.S. from the Trans-Pacific Partnership, American businesses and their employees would lose more than they would gain.
South Korea's populists have also been energized over the last year. In March they ousted President Park Geun-hye amid corruption charges over a bribery scandal involving Samsung's next-in-line chief, Lee Jae-yong.
South Korean President Moon Jae-in, elected in June, is committed to a national housecleaning, focusing in part on the chaebols – the small group of conglomerates, such as Samsung and LG, that underpin the country's economy.
But real reforms should be measured, not political. To that end, this week the South Koreans prudently avoided a self-inflicted populist blunder when a court overturned Lee's conviction and five-year prison sentence. The sentence was handed down last fall, based only on intent, without any evidence of conduct or a communication showing bribery.
The aim of populism should be to build something better and not merely tear down the old. Rather than spending the next five years in jail, Lee can resume his work as vice chairman of South Korea's most important company and pick up where he left off in reforming Samsung, making it more transparent and agile internationally.
Whatever antagonism South Koreans have for their country's large corporate powerhouses, the country's fortunes remain inextricably linked to these companies' success. South Koreans eager to clean house should be careful not to undermine the house's very foundation in the process.
Lee now has a chance to demonstrate even a large chaebol can be part of South Korea's efforts at reform and renewal.
Without due deliberation over possible consequences, politicians in Europe, Asia and the United States who have benefitted from or encouraged resurgent populism could easily be consumed by populist forces. The people will see quickly that symbolism is not enough.