Peter Schweizer: Your money is being used to help bankroll the World Economic Forum in Davos. Why?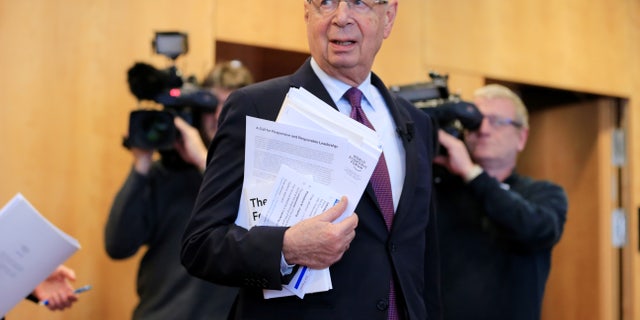 NEWYou can now listen to Fox News articles!
Later this month hundreds of private jets are expected to descend on a small town in the canton of Graubünden, Switzerland, for a few brief days.
They will be carrying the elite of the elite, who will be attending the World Economic Forum (WEF).
Held in the beautiful Alpine mountain resort of Davos-Klosters, attendance is strictly by invitation only. Basic membership in the WEF costs $50,000. A premium membership can set you back $500,000. But in recent years the WEF has enjoyed another source of income. Since 2013, the Obama administration has been sending foreign assistance dollars to the WEF through the United States Agency for International Development (USAID). According to government records, the tab to taxpayers thus far is $26 million.
Davos attendees include a global elite, including heads of state, business titans, and celebrities. There are cocktail parties sponsored by multinational corporations and dinners catered by world-class chefs and served by bartenders performing magic tricks.
Celebrities like Leo DiCaprio and Bono mingle with current heads of state and tech billionaires from around the world. Attendance is so tight for the 2017 event the WEF is considering housing staff in "temporary containers" to make room for guests.
This is without a doubt the most connected non-profit on the planet.
The organization boasts that it "provides a platform for the world's 1,000 leading companies to shape a better future."
The globalist missionary zeal of the organization combined with its luxurious parties has earned it the Davos meeting the nickname "Burning Man for Billionaires."
Not surprisingly, the WEF is also flush with cash. According to the non-profit's 2015-2016 annual report, the organization took in $223 million (current exchange rate) in revenue, most of it from membership dues and partnership fees.
Despite the obvious wealth of the WEF and its members, USAID has given "assistance" to the WEF in the form of tens of millions of dollars of taxpayer money.
Since 2013, USAID has given the World Economic Forum $26,091,370 under its Foreign Assistance to Programs Overseas initiative, which comprises nearly two-thirds of all grant and other funding WEF took in over that time period.
So why is USAID, which is supposed to focus on disaster relief and poverty relief, subsidizing such an organization?
According to the federal government's spendingwebsite usaspending.gov, it's unclear. The money came in sizeable grants of $9.5 million in 2013, $11.1 million in 2015, and $5.7 million in 2016.
The taxpayer money began to flow the same year USAID administrators began attending the luxurious confab. USAID administrators Rajiv Shah (2011-15) or Gayle Smith (2016) have attended every Davos meeting since 2011.
In 2013, USAID changed its mission statement to make its prime goals to "end extreme poverty and promote resilient, democratic societies." Well, Switzerland is a "resilient democratic society." They got that part right.
According to government contract reports, it's unclear if taxpayer funds were taken by the WEF and sent to Africa or Asia, but it doesn't seem so.
The "principal place of performance" of these grants was Switzerland, with the "recipient" city of Cologny, where the WEF has its headquarters. Not surprisingly, a search of online real estate records reveals the town has a substantial luxury real estate market.
USAID official, when asked to comment, said this:
"The United States Agency for International Development (USAID) works with public and private partners to advance America's security and prosperity by promoting resilient, democratic societies and ending extreme poverty. USAID has awarded grants to the World Economic Forum (WEF), including an innovative public-private partnership to spur economic growth and reduce poverty by reducing the time and costs to trade in developing countries. USAID remains committed to stringently vetting, tracking and evaluating the results of awarded grants, to include those disbursed to the WEF, and to its public and private sector partners."
How the global elite choose to spend their time is their business, but U.S. taxpayers should not be subsidizing their social lives.
The 47th annual World Economic Forum convenes on January 17th and the theme is "responsive and responsible leadership."
In keeping with that idea, the responsible thing for the incoming Trump administration to do would be to halt grants and funding of this elite organization with taxpayer dollars.