Opinion: What women ought to learn from Miss Colombia and Miss Philippines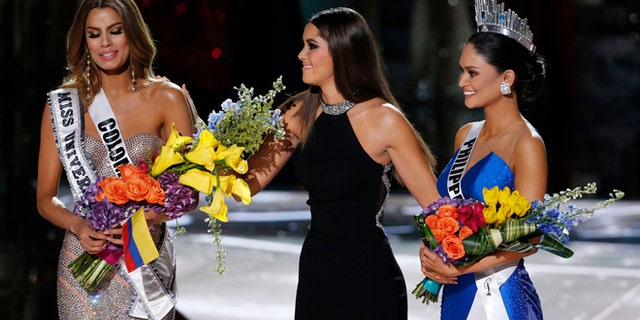 NEWYou can now listen to Fox News articles!
With nearly 600 million people watching from 190 countries and territories, the 2015 Miss Universe competition became center stage for the world to experience excitement, confusion, and sadness all within a five-minute span. As a guest during the show – and a proud Colombian – I was one of those spectators that with Ariadna cried with joy and then was found without words after the shocking turn of events.
Hopefully this moment highlighted the true demands behind these contests and the character and leadership traits required to perform well under pressure and uncertainly.
Emotional crowds gathered outside the theatre waving their flags in celebration and frustration. In the meantime an avalanche of comments took over social media making #MissUniverse the #1 trending topic worldwide. Fans were outraged, overjoyed and confused after the show ended. Clever "digitalistas" created everything from offensive to funny MEME's about the night, but the ladies – the ones who really went through the experience first hand – became an example of class and grace for women – and men – to admire around the world.
While widely misunderstood by those who simply tune in for sexy bodies and pretty faces, pageantry is a character-building world of confidence and discipline that challenges women to beat their biggest opponent, themselves. In fact, pageants provide women with a platform to demonstrate their ability to compete solo and overcome many fears and self-consciousness.
Studies completed by the Harvard Kennedy's School and published on the Gender Action Portal, suggests that women are less likely to compete. Women are great team players and collaborators yet they shy away from competitive environments, and a pageant like the Miss Universe competition gives women the ability to test their limits one on one against 80 talented opponents.
Being from Colombia and the daughter of a successful executive woman, I was one of those who criticized the superficiality of pageants in my country, who next to the FIFA world cup stop everything to tune into the show. But my perspective changed 100 percent once I had the pleasure of meeting titleholders like former Miss Universe Gabriela Isler, former Miss Universe Amelia Vega, former Miss America Kirsten Haglund, Miss Dominican Republic 2015 Clarissa Molina, Miss New York USA 2015 Thatiana Diaz, some of whom I have had the honor of calling my mentors and friends.
This is why I have decided to stop in the middle of the madness and take a deep breath to reflect on the life lessons behind this year's Miss Universe competition. It is easy to criticize from the comfort of your couch or with the swipe of your finger, but it is an entirely different game to be on stage pressured to perform flawlessly while the world, literally, is watching. Beyond the sensationalism of what some may call "good TV" or what conspiracy theorists are labeling as a deliberate PR stunt, I strongly believe there is much more for you and I to learn.
1. Under pressure, keep your emotions in-check: After Steve Harvey owned up to his colossal mistake, Ariadna Gutierrez, Miss Colombia, remained poised, calm and with a smile on stage even when the crown was taken away from her. How would you react when the dream you have been working for so hard is taken away from you in a blink?
2. Act strategically and thoughtfully: Once the announcement was made, Pia Alonzo Wurtzbach, Miss Philippines, took her time to process what was happening, she waited for directions from the production staff and slowly walked to the center of the stage. Also, Miss Universe 2014 Paulina Vega, quickly came onstage to manage the awkward situation tactfully holding the contestants almost like a referee at a world championship. She took her time to remove the crown, shared words of encouragement on the scene and kept her poise; even though she was stripping her friend's and her country's dream away. Would you be able to think before acting in the midst of such raw emotions in play?
3. A true winner respects her opponent: Pia was a class act. She did not approach Miss Colombia to take the crown nor overreacted in joy, which would have been insensitive to her feelings after the shocking announcement. She respected her and waited for her to process her emotions. Even at the end of the show, while she came close to a group of contestants consoling her, she decided to walk away recognizing it might have not been the right time for an exchange. Upon winning do you take the time to empathize and respect the emotions of your losing opponent?
4. Earn the respect of your colleagues: One thing the live television audience did not see was the emotional moment when the contestants came down to surround and encourage Miss Colombia. The love was evident and they even went into chanting "Colombia, Colombia, Colombia." There is nothing more powerful than being a contestant who is able to compete while building the respect and rapport of those who surround you in the process. Pageants are not about being vicious, vane and a diva, but about being a leader who earns the respect and sincere admiration of your colleagues. Are you a loved leader so much so that even your opponents would be sadden if you don't achieve your goal?
I hope we can all see the glass half-full in this situation and go beyond pointing fingers and speculating on the integrity of the Miss Universe Organization. The new Miss Universe will do an incredible job, the 1st runner-up Miss Colombia will be remembered and loved, and both are set to have a bright future ahead.
I also hope women continue to dream, compete and challenge themselves through pageantry. Hopefully this moment highlighted the true demands behind these contests and the character and leadership traits required to perform well under pressure and uncertainly. I hope this gala not only goes down into history as one of the most shocking live television moments, but also as the moment that demonstrated that integrity and confidence are the most attractive qualities a woman can possess.