Opinion: On Legal Immigration, Supreme Court Gets It Wrong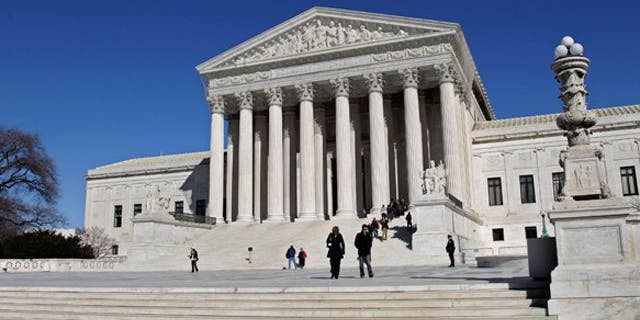 NEWYou can now listen to Fox News articles!
Oh no they didn't. On Monday, the Supreme Court decided to make life harder for immigrants and their families who are playing by the rules and coming to the U.S. through legal channels. In the case of Scialabba v. Cuellar de Osorio, a plurality of the Court held that children of immigrants who are waiting with their parents for a visa have to go to the back of the line once they reach the age of 21.
Although Supreme Court cases aren't always easy to understand, they are important to understand. In de Osorio, the Court ignored basic fairness, long-standing immigration policy, and even Congress to craft their own interpretation of immigration law. Let's unpack the facts along with the decision, to see how the Court went wrong.
If the Court had any doubts about what the CSPA was intended to do, they only had to ask the legislators who approved it.
The original plaintiff in this case was Rosalina Cuellar de Osorio. In 1998, she applied for a visa to leave El Salvador and join her mother in the U.S. De Osorio and her thirteen-year-old son were approved for a visa, but government backlogs meant that one did not become available until 2005. By then, de Osorio's son was 21, and immigration officials said he had to start his application all over as an adult. De Osorio sued, and yesterday the high court ruled against her.
Yet it is profoundly unfair to break up families simply because the U.S. has such long wait times for visas. Not only are such delays the government's fault, they are unfortunately quite common. According to the Department of State's June 2014 visa bulletin, right now the government is processing some visas from China from 2001, from Mexico from 1993, and from the Philippines from 1990. People like de Osorio's son should not lose their spot in line simply because our immigration system is so slow.
Remember, this case is about legal immigrants. It has nothing to do with the Deferred Action program for DREAMers, the recent influx of child migrants into the U.S., or any form of illegal immigration. It concerns those people who are willing to wait their turn to come here properly, with papers. No one is seeking special treatment or "amnesty." That's what makes the high court's decision so baffling.
In fact, lawmakers foresaw the problem of young people "aging out" of their place in line for visas, and took steps to address it. In 2002, Congress passed the Child Status Protection Act (CSPA), which allowed children waiting for visas to keep their place in line, and to convert their applications into adult visas. It was designed to address the dilemma that de Osorio and her son faced due to long waiting periods, and was signed into law by then-President George W. Bush.
But a plurality of the Supreme Court examined the CSPA and found it to be confusing and contradictory. They used this notion as their basis for deferring to immigration officials and ruling against de Osorio. Big mistake. If the Court had any doubts about what the CSPA was intended to do, they only had to ask the legislators who approved it. In a supporting brief, a bipartisan group of lawmakers including Sen. John McCain (R-Ariz.), Orrin Hatch (R-Utah), Charles Schumer (D-N.Y.) and Dianne Feinstein (D-Calif.) all agreed that the government was wrong in this case: they wanted the CSPA to be interpreted broadly, to help people like de Osorio keep their families together. Still, the Court saw "ambiguity" in the CSPA and endorsed the position of immigration officials and the government.
In her dissent, Justice Sonia Sotomayor noted that Congress has already spoken on this issue, and that the Court is obliged to defer to Congress. Sotomayor wrote that this whole case should have been resolved with a "commonsense approach." She's right. Breaking up families serves no purpose, and our immigration system is byzantine enough without the Court adding their convoluted reasoning into the mix. Besides, it is inconsistent for the Obama administration to be promoting immigration reform to help the undocumented – while throwing up obstacles to legal immigrants.
The Supreme Court decision in de Osorio was flawed and unjust. Legal immigration should be supported, and immigrant families deserve to stay together.