Opinion: Fan lawsuits over Manny Pacquiao shoulder injury headed for an early knockout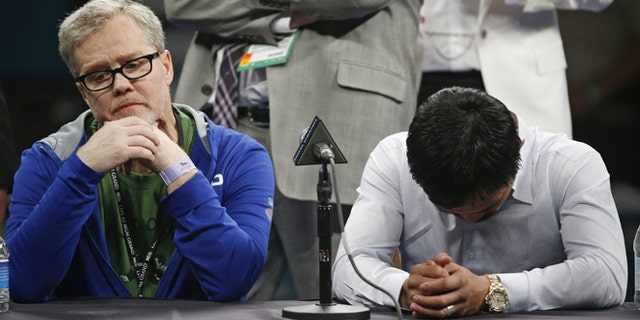 NEWYou can now listen to Fox News articles!
There are some sore losers from the Floyd Mayweather-Manny Pacquiao fight, and they aren't in Pacquiao's camp. Rather those who are most upset by the result are pay-per-view purchasers who unreasonably believe that Pacquiao tricked them into buying the fight.
Saturday night's welterweight title bout between Mayweather and Pacquiao at the MGM-Grand in Las Vegas brought a lot of hype and a lot of money.
The most expensive ticket sold for more than $40,000. Unofficial estimates project that more than 5.5 million individual cable and satellite subscribers who paid between $89.95 and $99.95 to watch the fight.
Mayweather and Pacquiao are expected to make as much as $250 and $170 million respectively.
Unfortunately, the money is a lot more exciting than the fight was. There wasn't a knockout, let alone a knockdown, during the entire 12 rounds.
Social media lit up with complaints that the six-years-in-the-making showdown was a snooze-fest.
The fight went to the scorecards. Mayweather was determined the undisputed champion, but, from his corner, Pacquiao said he thought he won.
Within an hour, Pacquiao's promoter said there was a reason for the loss: The Filipino fighter had a pre-existing shoulder injury. Pacquiao corroborated the statement before leaving to review the fight in his hotel room. He also said he had reinjured his shoulder during the third round.
Many people were furious that they didn't know he went into the ring injured. How dare he trick us into thinking he's healthy!
Pacquiao's "Pre-Fight Medical Questionnaire," required by the Nevada State Athletic Commission (NSAC), was released. It asked 13 yes/no questions about the fighter's physical condition.
Pacquiao checked "no" to all but one question, including, "Have you had any injury to your shoulders, elbows, or hands that needed evaluation or examination? If yes, explain." The only "yes" was to the question, "Have you taken or received any medication, drug, cream, inhalant, or injection, whether prescription, over-the-counter-from anyone or anyplace, in the last month? If yes, explain." Pacquiao wrote down five drugs, including Lidocaine and Toradol, both anti-pain drugs generally administered via injection.
The post-fight disclosure angered many already-disappointed viewers. Some went so far as to call their lawyers. Seeing a big payday of their own, the attorneys drafted complaints and marched to courthouses across the country. (As of late Wednesday, there were 13 lawsuits.)
The suits are essentially the same, alleging that Pacquiao misrepresented material information prior to the fight. The viewers claim that they wouldn't have purchased the pay-per-view had they known about his injury.
The NSAC and Nevada's Attorney General are also investigating whether Pacquiao committed perjury by not revealing the injury on the form that he signed "under penalty of perjury."
If buying a ticket to a sporting event is directly tied to an athlete's health, the potential purchaser is responsible for educating himself about the athlete's health. He must also make a decision to purchase the ticket on a variety of other factors, including: ability to pay for the ticket and concessions, quality of the opponents and the level of pleasure derived from the viewing experience.
Those who wanted to see the Mayweather-Pacquiao fight in person had to fill out a yes/no mental questionnaire: Do I have $50,000 to blow on airfare, hotel, dining and a ticket to the fight? Will my spouse let me to go to Vegas for the weekend? Do I care about seeing famous people strolling the casinos? Is the cost of a ticket worth the expense whether one of the fighters gets immediately knocked out, or if it goes to a full 12 rounds of Mayweather running in circles against the ropes? (It ended up being the latter.) Based on the fighters' age, training, and experience, are the men worthy of my purchase or is my money better saved for a UFC fight?
In law, there is a "reasonable person" standard and a minimal "reasonableness" threshold. These lawsuits are preposterous and frivolous.
The reasonable man knows that boxing is an intrinsically violent sport. The reasonable man knows that there is no such thing as an uninjured veteran boxer. The reasonable person knew that Mayweather, 38, and Pacquiao, 36, were both veterans who have been taking hard hits to the head for decades.
At the end of March, it was reported the Pacquiao missed training sessions because his legs were cramping. Just a few weeks before the fight, on April 13, 2015, boxing writer David Mayo of MLive wrote, "Floyd Mayweather has a split lip and injured hands. I know because I saw them."
Mayweather's hand injuries have been well-documented for years. If a fighter's physical health is your deciding factor on whether to purchase the fight, you must do the research.
To take an example from American football, Denver Broncos ticketholders can't sue the team for not making it to the Super Bowl XLIX because quarterback Peyton Manning was allegedly playing on a torn right quad that even his teammates didn't know about.
Such a lawsuit simply is not reasonable. On the other hand, Deflater-in-Chief Tom Brady took his team to that Super Bowl despite having a "significant" knee injury. Potential ticket buyers should have analyzed his health before buying tickets to the game or betting on the Patriots to win.
Tom Tsatas, owner of 5th Street Gym and trainer to veteran Puerto Rican heavyweight boxer Fres Oquendo, said, "Every athlete has some injury if they fight. The commission is trying to cover their butts because everyone knows that even if Manny checked 'yes,' the fight would have still have occurred. Muhammad Ali fought with a broken jaw, and Arturo Gatti with a broken hand."
Tsatas goes on to defend Pacquiao's trainer, Freddie Roach, "Freddie was Fres' trainer for the [Evander] Holyfield fight. Fres had strep, tonsillitis and a 102 fever. Freddie wanted to cancel the fight. Fres refused. And he lost. That's just life. The testament of a true champion is your ability to overcome your pain during the fight that you felt before the fight."
Motion to dismiss granted.
Like us on Facebook