Opinion: As economic opportunities improve, tech entrepreneurs become targets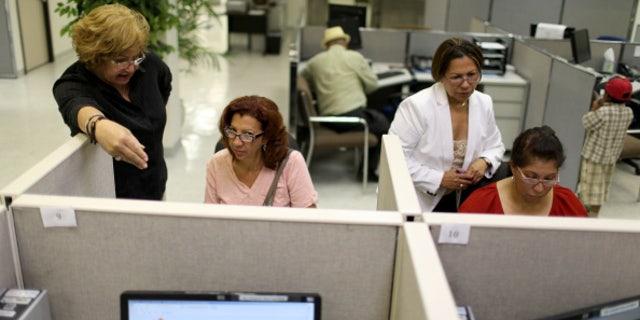 NEWYou can now listen to Fox News articles!
Regardless of your opinion about the country's currently uninspiring, yet improving economic conditions, the Internet is still the one industry that offers unlimited opportunities for economic improvement and an unusually level playing field for Hispanics and other minorities.
Unfortunately, some elected and appointed leaders in our nation's capital are proposing policies that will do little to advance Internet business growth, and a lot to stifle it.
While technically true that we are no longer in a recession, it's hard to acknowledge a recovery when so many of our families don't feel it. Although Hispanics are the only demographic to see a significant, recent decline in poverty rates, it is still more than two and a half times the rate of the majority, meaning Hispanics make up nearly 30 percent of the nation's total poor. Combined with household wealth that equals 20 percent of the average American family, the possibility of catching up may seem more like an improbability.
Some of our national leaders have again proposed policies that will have detrimental effects on our recovering, yet tenuous, national economy, but especially on more vulnerable communities.  
The good news is that Hispanics have had some employment gains (although our unemployment rate is still 42 percent higher than for the majority population), but most impressive are the staggering gains in entrepreneurial opportunities that have led to significant financial returns. Hispanic-owned businesses are now opening at nearly twice the average national rate, a consistent trend over the last decade, bringing in revenues that have increased by 25 percent over the last several years to nearly $500 billion annually, or roughly the GDP of Pennsylvania.
How does this translate to households? Since the vast majority of American wealth has come from entrepreneurship, starting businesses is an obvious way to build our own. As evidence, Hispanic business owners are 66 percent more likely to earn between $100,000 and $150,000 annually than other Hispanics, according to a recent report commissioned by the U.S. Hispanic Chamber, which also noted that nearly 30 percent of all Hispanic business owners earn six-figures.
There are few sectors with opportunities for Hispanic entrepreneurs more plentiful than in technology, where even angel funds, accelerators (e.g. the partnership between Google and Manos Accelerator), and venture capitalists have begun to see the potential returns from Internet-related firms that our communities are now producing.
Due to ease of use, competitive marketing techniques, accessibility, and relatively low start-up cost advantages, the Internet has ensured that Hispanics now have improved prospects to build a business that can compete with more well-funded ventures allowing the most ambitious dorm-room dreamers to take market share from well-established industry leaders.
However, it has and will continue to take a lot of work to insure against D.C. policies and regulations that will lead to economic setbacks for the most economically volatile and vulnerable community. For example, the Internet Tax Freedom Act (ITFA), which was passed at the beginning of the original Internet tech boom of the 1990s, was created to prevent governments from taxing access to the World Wide Web. Believe it or not, legislators knew then what data shows now: the Internet has the potential to positively transform the lives of Americans and policies should promote its adoption and accessibility.
But, if the ITFA isn't renewed before December 12th of this year, Americans could end up paying more than $15 billion in additional yearly taxes, and a lot more in lost opportunities.
Congress isn't the only one who wants to get in on the fun. A new study by the Progressive Policy Institute describes how we could incur another $15 billion in additional yearly Internet access fees if the Federal Communications Commission (FCC) decides to reclassify the Internet as a public utility (also known as a Title II reclassification, which is at the heart of the Net Neutrality debate). The FCC may think that it has found a clever way to support its own future plans, as well as please a number of political interests, but the added costs will hurt entrepreneurs' bottom lines, not including the additional compliance costs to Internet service providers which will inevitably be passed on to consumers and businesses.
If $30 billion doesn't sound like a lot of money to you, consider that, if it takes approximately $65,000 in capital to fund the average startup, more than 460,000 new businesses could launch every single year with the fees that are being proposed in D.C. The millions of unemployed workers in our country would also be happy to see the 1.1 million new jobs (at the current median income) that $30 billion could support, enough to wipe out most of the Hispanic unemployment rate.
Hispanics have traveled a bumpy economic road over the last decade, with more ups and down than any other demographic. Thankfully, our economy seems to be on the upswing and I'm proud to see the number of flourishing opportunities for entrepreneurs and the benefit that successful business growth creates for millions of families. Unfortunately, some of our national leaders have again proposed policies that will have detrimental effects on our recovering, yet tenuous, national economy, but especially on more vulnerable communities.