Obama insults Australia: Why did president diss close ally's prime minister?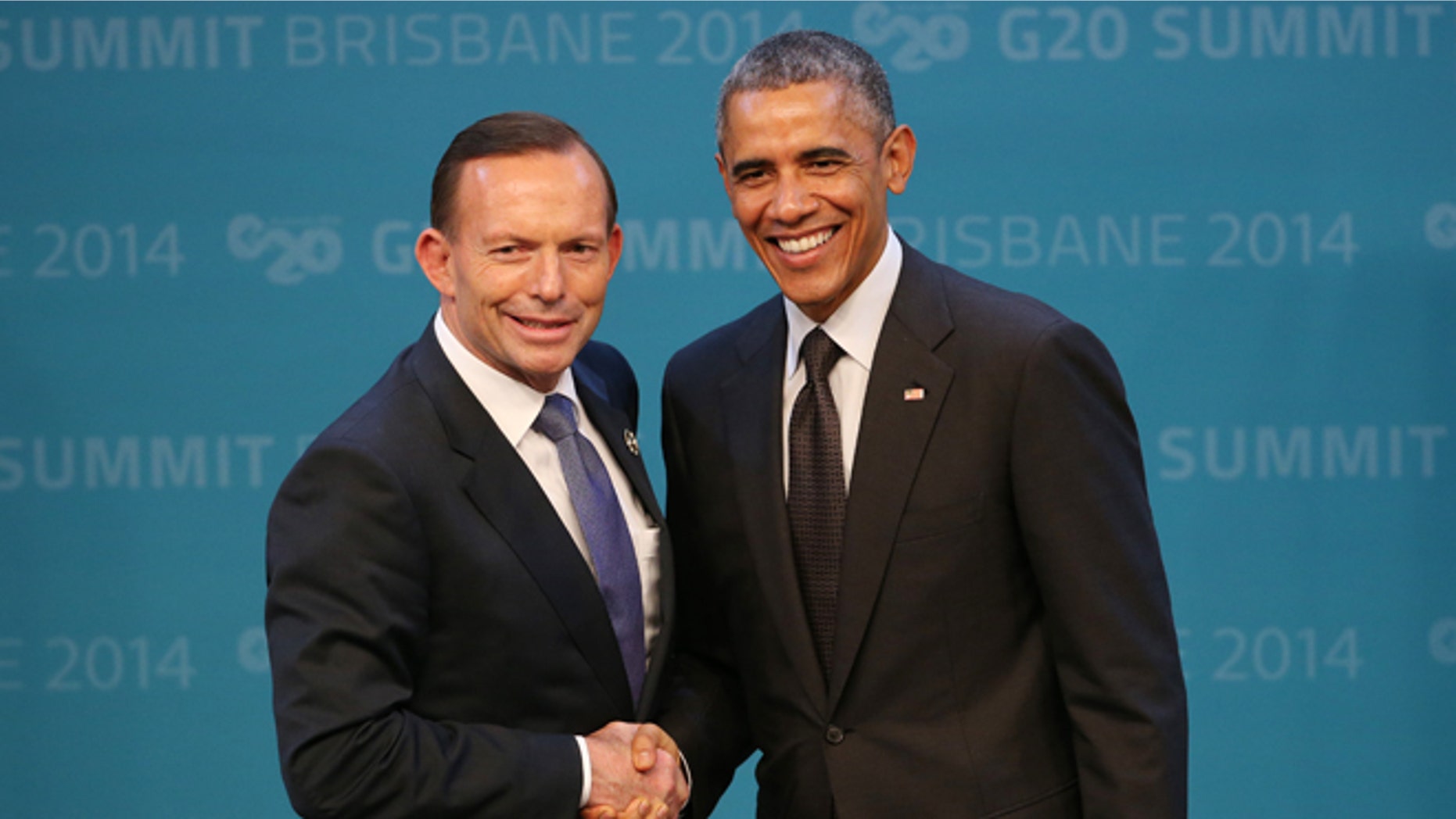 President Obama's defiance appears to know no bounds.
Why do I say this?
Consider this: Since the beginning of the last century, Australia is the only country to have fought alongside the United States in every single major conflict.
Australia is America's closest ally in Asia, and indeed, the world.
So, what President Obama did when he came to the G20 meeting in Brisbane, Australia, was stunning and offensive.
[pullquote]
Mirroring his action in sending the bust of Winston Churchill back to England, the President gave a provocative, anti-Abbott (Australia's PM) speech on climate change at the University of Queensland.
But more than being provocative, it has emerged that the staff at U.S. embassy in Canberra advised him not to give the speech.
To provide background, Tony Abbott is the conservative Prime Minister of Australia, a leader who stopped illegal immigration to his country, a man who has insisted that everyone living in Australia be part of "Team Australia," and the only world leader to have confronted Russian President Vladimir Putin over his actions in Ukraine and the downing of flight MH17.
Once he took office, he immediately scrapped the carbon tax (cap-and-trade) that his liberal predecessor had implemented when she became prime minister. Now, Australia has come to represent the last great holdout to the climate change agenda.
It surprised few that climate change had been left off the G20 agenda.
Yet, President Obama dedicated the bulk of his speech to climate change, making the customary liberal claim that Australia's magnificent Great Barrier Reef will disappear within decades.
That the president acted against the advice of his own embassy reveals a deeply divided and dysfunctional administration.
Prime Minister Abbott's office expressed their displeasure at not being offered the courtesy of being warned in advance that the president of the United States was planning to come to Australia to dump on the P.M. Australia's Foreign Minister Julie Bishop, was forced to publicly rebuke the president, a first for her office while she was in New York chairing the National Security Council.
One wonders why Obama didn't have the courage to give the same speech to a domestic audience just a week earlier before the midterm elections.
As Greg Sheridan in The Australian newspaper put it:
"Obama's speech was deliberately designed to hurt Abbott… Historians of the relationship cannot cite a single similar example of a visiting president going out of his way to wound an Australian prime minister…
What was Obama's purpose? Can one more celebrity orgasm really be more important to the President than maintaining his relationship with his closest ally in Asia? Was Obama preparing for his post-presidential life, as a new and improved Al Gore?"
This action reflects the vindictiveness of the Obama administration that has already experienced many scandals. It also shows the president's apparent readiness to sacrifice his key messages, in this case on regional security and America's role, to score political points- not on a political opponent -- but against someone whom he deems an ideological opponent.
Has Obama become bitter and twisted? The same defiance he exhibited in Australia was on display in last week's announcement of executive action on immigration.
With friends like Obama, who needs enemies?