Newt Gingrich for next House Speaker? The shaky state of things in Washington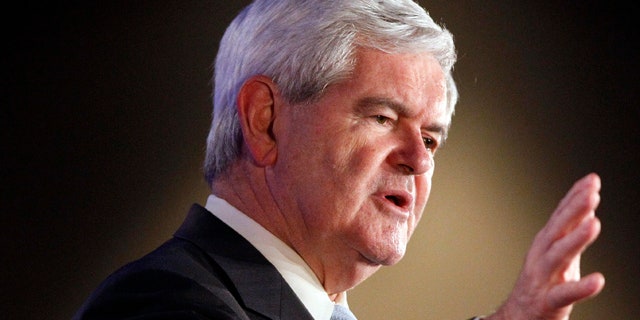 NEWYou can now listen to Fox News articles!
Editor's note: The following column first appeared in the Hill newspaper and on thehill.com.

If Las Vegas posted odds on what Washington politics will look like after November 2016, the betting line would be ike this:

1-3 a Democrat wins the White House — simply because Democrats have won 5 of the last 6 popular votes for the White House and maintain an edge in populous states with the most electoral votes.

1-2 that Democrats gain majority control of the Senate or at least reduce the GOP's current 54-45 advantage — because the GOP is defending so many seats in blue states.

1-4 Republicans maintain their majority in the House — because gerrymandering has reduced the number of swing districts to less than two dozen and even a Democratic sweep will not be enough to gain the 30 seats needed to oust the GOP.

Assuming those odds hold, then the current fight among Republicans over the House leadership is far more than a political sideshow.

If the conservative Freedom Caucus that ousted Speaker John Boehner (R-Ohio) continues to frighten the next Speaker away from any legislative deals and budget compromises with Democrats then the nation will be in for political dysfunction and even government shutdown threats.

It means more of the same unproductive behavior on Capitol Hill that has earned Congress utterly dismal approval ratings. And that sad future will become reality even if Republicans beat the odds and hold their majority in the Senate.

Last week the outgoing Speaker, freed from the tyranny of his far-right members, worked with Democrats to pass a continuing resolution which funds the government through December 11. By ignoring the far right wing of his party he gained the political power to do the basic business of Congress and avert another government shutdown.

The measure, which passed the House 277-151, got only 91 Republican votes and 186 Democratic votes.

The leading candidate to replace the Speaker, Rep. Kevin McCarthy (R-Calif.) voted 'Yes.' His far-right rival for the top job, Florida Tea Party Rep. Daniel Webster voted 'No.' So too did Rep. Jason Chaffetz (R-Utah), who announced his candidacy for Speaker on Sunday.

That sets up the fault line between candidates for the leadership.

A similar fault line existed among the declared candidates for McCarthy's current job. GOP Leader. Majority Whip Steve Scalise (R-La.) voted for the continuing resolution. Rep. Tom Price (R-Ga.), also running for majority leader, and Rep. Pete Sessions (R-Texas), vying for the majority whip post, voted against it.

This is hardly the first time Boehner and McCarthy needed an assist from Minority Leader Nancy Pelosi (D-Calif.) to get routine legislation passed to simply keep the government open.

In March 2015, 75 House Republicans joined with 182 Democrats to avoid a shutdown of the Department of Homeland Security over the president's executive order on immigration. Tea Party members claimed the bill funded the executive order. It did not.

When the House voted to give President Obama Trade Promotion Authority (TPA) in June, Boehner needed a handful of pro-trade Democrats to join with the majority of the GOP to offset the Tea Party hardliners who voted against the measure believing it gave too much power to Obama.

After Boehner's resignation, Florida Republican Rep. David Jolly was openly critical about the direction of his party. He blasted fellow Republicans involved in the mutiny against Speaker Boehner — as well as those living in fear of being labeled as insufficiently conservative — as responsible for "the idiocy of those members who seek to continually divide us."

"The shutdown caucus, as I call them, has a small victory," he added.

But is there any reason to think that McCarthy will have an easier time managing the "Shutdown Caucus" than Boehner did?

When asked about the difference between him and Boehner, McCarthy joked, "I won't be as tan."

McCarthy is trying his best to assure the extremists of his Tea Party caucus that he will be more deferential to them as Speaker than was Boehner.

He is trying to make friends with the people who sank Boehner by pointing out that he was one of the earliest and most prominent proponents in Congress of killing the Export-Import Bank — a Tea Party priority.

And in another attempt to win friends on the far right he bragged to my Fox News colleague Sean Hannity that the GOP's latest Benghazi panel is really a political effort to bring down Hillary Clinton's presidential campaign.

"Everybody thought Hillary Clinton was unbeatable, right?" McCarthy told Hannity last week. "But we put together a Benghazi special committee, a select committee. What are her numbers today? Her numbers are dropping. Why? Because she's untrustable. But no one would have known any of that had happened, had we not fought."

McCarthy also committed to appearing on Hannity's show "once a month" to keep his audience apprised of his work with hard right initiatives in the House.

The current make-up of the House is 247 Republicans and 188 Democrats, meaning that the Democrats would need to win 30 seats to beat very long odds and once again make Pelosi the Speaker.

But more of a fumbling, do-nothing GOP House might reduce the odds for an upset victory by Democrats. Recall that the GOP had great success in 2010 by running against then-Speaker Pelosi and in 2014 by running against then-Sen. Leader Harry Reid (D-Nev.).

Similarly, President Bill Clinton and the Democrats made Speaker Newt Gingrich (R-Ga.) a campaign issue in the 1996 campaign. Gingrich was disliked by the electorate largely because of the government shutdown he engineered.

But last week Jonah Goldberg in the Los Angeles Times and former Rep. Bob Barr (R-Ga.) on the Townhall website both nominated the 72-year-old Gingrich to be the next Speaker.

That is how bad it is for House Republican leadership these days — and possibly for years to come.