Might offend non-Christians? Man told to remove Christmas display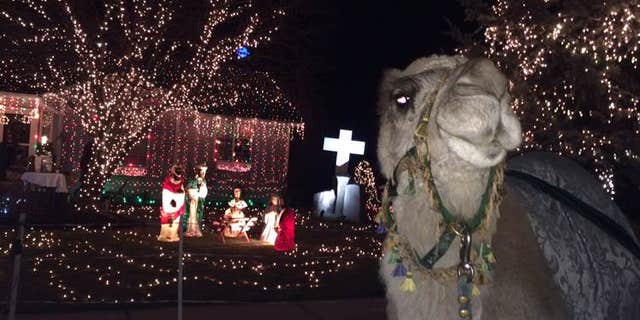 Jeremy Morris, of Hayden, Idaho, loves to go all out for Christmas.
Think Clark Griswald on steroids.
Click here to join Todd's American Dispatch – a MUST-READ for conservatives!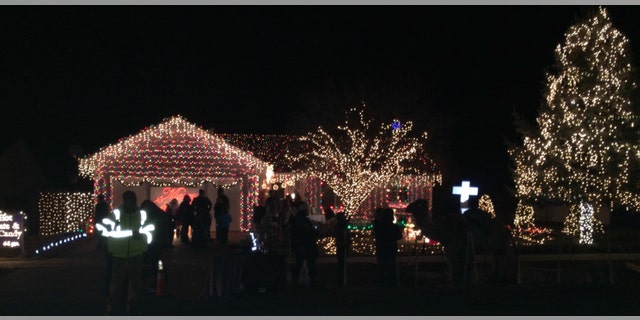 His annual Christmas display includes tens of thousands of lights, a Living Nativity, a 22-voice choir and a camel named Dolly.
Folks travel from all over town to experience the larger-than-life Christmas display – and spectators say it is indeed something to behold.
Santa Claus -- a nuisance? Whoever would have thought?
But the West Hayden Estates First Addition Homeowners Association does not share Jeremy's yuletide cheer.
Last year, he purchased a home in their neighborhood – with hopes of making his annual holiday event bigger and better.
It takes about three months to install all the lights and the decorations – so the Morrises are already hauling out the holly and reindeer and other holiday accessories.
Hence, the war on Christmas in Autumn.
The HOA objected to the lavish display and put Jeremy on their naughty list.
They were especially upset about the religious nature of Jeremy's display – as noted in a certified letter he said he received from the homeowner's association board.
"I am somewhat hesitant in bringing up the fact that some of our residents are non-Christians or of another faith and I don't even want to think of the problems that could bring up," the letter read.
The homeowners association did not return my telephone calls, but it seems like the Baby Jesus really jingled their bells.
Attorney Scott Poorman fired off another letter on Oct. 26 demanding that Jeremy and his wife take down their display or else face the wrath of a lawsuit.
His letter did not mention folks who might take offense at the Christians – but he did claim the family violated a number of other rules and regulations.
"Your event will be offensive to the senses and will interfere with the comfortable enjoyment of your neighbors' private property rights," Poorman wrote.
The attorney feared the bright lights, loud music, choirs, zoo animals and Santa Claus would cause all sorts of helter-skelter in the neighborhood.
"Your planned event will be a nuisance to the entire neighborhood," he wrote.
Santa Claus -- a nuisance? Whoever would have thought?
"Simply put, the quiet residential neighborhood of West Hayden Estates First Addition is not an appropriate location for such activities," he wrote.
And the board really took issue with Dolly the Camel.
"Dolly the Camel is not an ordinary household pet and is not allowed to be kept on your property for any period of time," the attorney wrote.
To be fair, the Bible does not mention a cat or hamster being present at the Nativity.
Jeremy tells me he has no intention of taking down a single piece of tinsel.
"Their real agenda is to attack Christians," he said. "This is about hostility towards people of faith. I have certain religious beliefs that I hold dear to my heart. We wanted to help people in the community and promote Christmas as the Christian holiday it's always been."
He also uses the Christmas display to raise money for the families of cancer patients as well as a local organization that helps homeless children.
It seems to me the homeowners association has a legitimate concern about crowds and traffic and livestock. But I suspect this has more to do with Christianity than camels.
I live in the United States," he said. "I live in the state of Idaho – where we are supposed to still have some religious freedom. And if I want to witness to people on my driveway or on my lawn, that's my right."
Folks, I love Christmas as much as the next guy -- but I'm not too sure I'd have much holiday cheer if there was a camel munching on my mistletoe.