Mexico's President Has Some Nerve Lecturing His U.S. 'Amigos'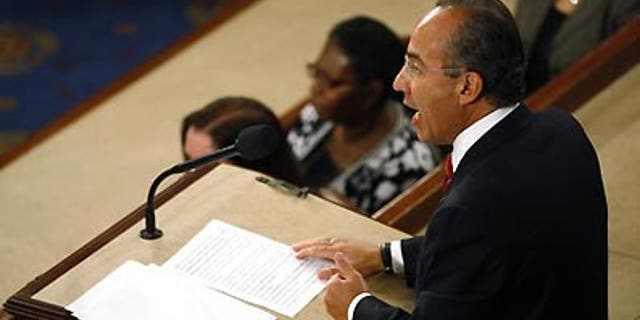 NEWYou can now listen to Fox News articles!
The Democrats thought that if they invited Mexican President Calderon to address a Joint Meeting of Congress this week that they could encourage him to use that solemn opportunity to take a swipe at Arizona's new immigration law. Well it backfired.

The fact that an American administration would invite and incite a head of state to disrespect our nation is unconscionable. This is what the President of Mexico said about an American law from the podium of the United States House of Representatives:

"It introduces a terrible idea using racial profiling as a basis for law enforcement." He went on to say, "I agree with the president (Barack Obama) who says the new law carries a great amount of risk with the core values that we all care about are breached."

It was no secret what President Calderon would say. Here is what Time Correspondent Tim Padgett wrote on Wednesday as he anticipated Thursday's speech:
"So perhaps we deserve some of the lecturing we're bound to get from President Felipe Calderón when he climbs Capitol Hill on Thursday. He'll point out, as the Obama administration has conceded, that much of the blame for Mexico's horrible narcoviolence lies with our insatiable demand for drugs and our lame-brained refusal in 2004 to renew a ban on assault weapons that are being smuggled into Mexico. He'll insist, rightly, that we comply with NAFTA and give Mexican trucks access to U.S. highways. And he'll rail at Arizona's hysterical new anti-immigration law, which allows police to detain anyone they suspect of being an illegal immigrant and which critics call carte blanche for racial profiling of Mexicans and other Hispanics. 'It opens the door to intolerance, hate and discrimination,' Calderon said recently."
Calderon's dissatisfaction with American immigration policy is as much an indictment on President Obama as it is with the House and Senate -- all of which are controlled by Democrats, by the way. President Obama promised that in his first year he would make immigration reforms a top priority. Well, a year has come and gone and the president and the Democratically-controlled House and Senate did absolutely nothing with regard to immigration. Their inaction forced the State of Arizona, out of frustration, to take action through legislation.

Arizona law's, (which our Attorney General and Homeland Security Secretary seem to have no trouble criticizing even though they haven't bothered to read it), mirrors federal law -- almost verbatim.

How can Mexico's president rail against American immigration law when Mexican law is almost identical to law in the United States and Arizona?

Mexico has become a narco-terrorist state. More than 15,000 people have been killed in drug- related violence since Calderon took office in 2006. President Calderon and his government are not in control. Who is he to come here and lecture to us when he has surrendered his nation to drug dealers and thugs? Mexico is rife with corruption and it has a jobless rate that dwarfs our own.

Calderon's country does not have Americans, by the millions, flooding into Mexico to take jobs, and use services they are not contributing to.
America needs to enforce its immigration laws, period. Arizona taxpayers, like those from other border states, are required to spend billions of dollars every year as a direct result of our nation's failed immigration policy. It show up in higher costs for law enforcement, health care, schooling, housing, jobs, etc. States are not reimbursed from the federal government for the federal government's inability or desire to enforce federal law. Enough is enough!

Now is the time to deal with immigration in a real, just and equitable way for all parties. Immigration reform starts with enforcing existing laws and securing our borders.

As far as President Calderon is concerned: Hasta la vista, sir.

Bradley A. Blakeman served as deputy assistant to President George W. Bush from 2001-04. He is currently a professor of Politics and Public Policy at Georgetown University and a frequent contributor to the Fox Forum.
Fox Forum is on Twitter. Follow us @fxnopinion.