Memo to America's retailers -- let's stop the silliness about girls and math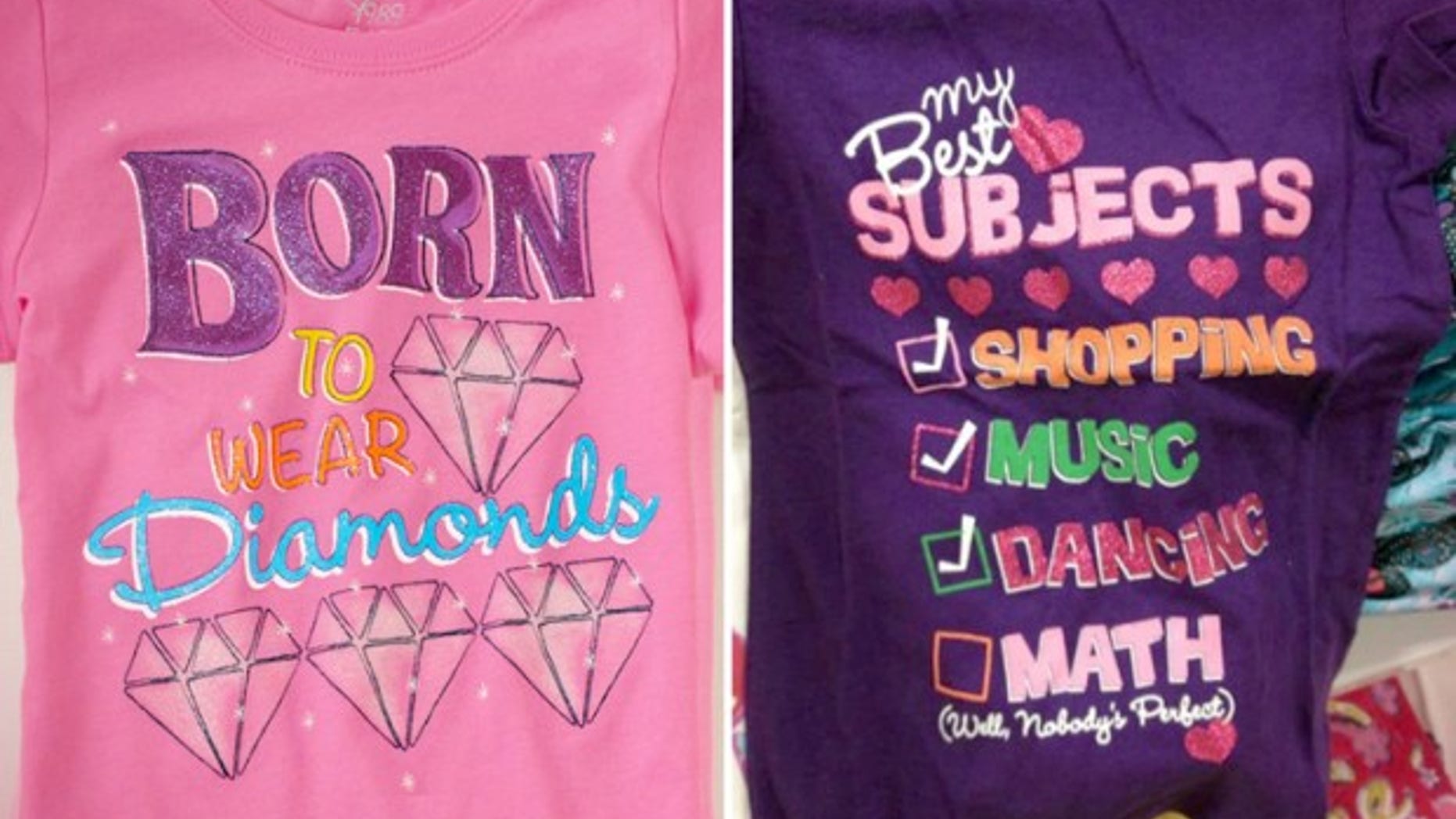 Like thousands of other moms, I was thankful when The Children's Place was shamed into taking a few of their girls' T-shirts off store shelves earlier this summer.
The shirts in question displayed some sexist quotes like: "Born to wear diamonds" and a checklist of "my best subjects" with things such as "SHOPPING" and "DANCING" checked off, while the subject of MATH was left unchecked -- with the words "well, nobody's perfect:"
Even more bothersome? Jane T. Elfers, CEO of The Children's Place is a woman!
It seems like every year we see stories like this:
- In 2011, J.C. Penny had a T-shirt with these words on it: "We're too pretty to do homework, so we get our brothers to do it for us."
[pullquote]
- And then Forever 21 came out with a shirt that declared: "allergic to algebra"
Not cool!

This subject hits home for me, because when I was a little girl I excelled in math and loved science. I was never told explicitly that girls could not excel in these subjects, but there is a subtle message, nonetheless.
When I started getting a little older the message became clearer, at the same time girls gravitated to cheerleading and boyfriends, one high school teacher said in class that boys were just more "natural" when it came to math and science! And I remember all of a sudden thinking that maybe I was weird or odd; so much for science club.
I also remember when we had "career days" in school girls would stay away from picking jobs like engineering or science. And being a CEO of a company? That was unheard of!
Unfortunately, statistics still show that women are still at a disadvantage when it comes to enrolling in subjects that have to do with math and science.
According to a recent report by the Labor Department, in the next ten years, 80 percent of all jobs will require technical skills. And jobs in the science, technology, engineering and math (STEM) fields are expected to grow twice as fast as all jobs.
Unfortunately, despite gains by women, social factors still play a big role in maintaining a gender gap in the science and engineering fields.
And even though we're starting to see more female doctors and executives on television, it's still obvious there's a lot more catching up to do in promoting women in roles that have predominately been a "man's job."
I know that as a parent, I'm going to make sure my boys grow up knowing that they can do anything they set their mind to doing.
I will support whatever career path they wish to follow. And if I had a little girl, I would do the same thing my parents did – and that was encourage me to take part in science fairs (I won first prize in Grade 4 and 5!), help with homework and be involved in your children's classes. Ask questions of your child's teachers and be aware of what they're being taught in school.
And in the meantime: Attention children's clothing companies: Get with the program this school year and use your brain to set an example!
For instance, how about some T-shirts that say: "I'm cute, and I'm also great in math and science!"
Or "Born to love algebra!"
How about Classy and Clever in Calculus?
I'd be the first in line asking if they made them in women sizes!