Marco Rubio is biggest loser. Trump and the governors all have a good night in NH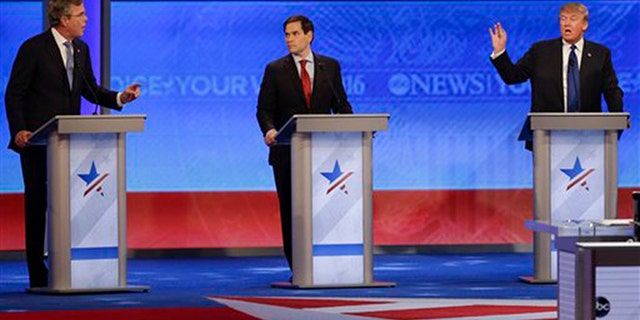 NEWYou can now listen to Fox News articles!
Saturday night at the GOP debate in New Hampshire belonged to the executives: the governors and the businessman.
Indeed, if Saturday is any indication of what kind of debater Donald Trump can be, then it's safe to say that it really was a mistake for him to skip the Fox News debate before the Iowa caucus. He may very have won it if he had shown this kind of strength and adeptness just days before Iowans went out to vote.
With the exception of the moment when the crowd booed Trump during an exchange with Jeb Bush over eminent domain and stacking the audience with supporters brought in by the Super PACs backing him, he was unwaveringly in charge. His answers on how important being an effective dealmaker is as a leadership quality, his stance on increasing our use of torture tactics, forcing China to rein in North Korea and support for our veterans, Trump was measured and thoughtful.
It certainly helped that he wasn't that target on the stage since Marco Rubio filled that role on Saturday evening. As the candidate with the most momentum going into the debate – Rubio just moved into second place in New Hampshire – all eyes and attacks were on him. And he wasn't ready.
In the first third of the debate, Rubio repeated himself four times with the line "this fiction that Barack Obama doesn't know what he's doing" with only slight variations. Chris Christie called him out on it and Twitter noticed, too. It was a clear indication that Rubio's surge isn't complete and that he's still green. And though he finished strong with his answers on how he could beat Hillary Clinton and why he's pro-life, the lasting memory will certainly be of him tripping over his words.
For the first time in any of these GOP debates, it was the governors who put in uniformly strong performances.
Christie didn't mince words. He touted his strong record in New Jersey of creating jobs, cutting taxes and the prison population by supporting drug treatment programs – all critical issues for New Hampshire voters. And he continued with his relentless attacks on Rubio as someone who has no experience – something that has become a serious issue since Rick Santorum endorsed Rubio and couldn't name an accomplishment of his – and he was definitely the winner on that issue. His attacks even prompted Bush to jump on board when he offered that Rubio has never faced a real challenge in his life.
Rubio had no serious reply to either candidate's charge.
Bush was the most energized that we've seen him yet. He was bold and declarative in discussing the support he has from over 30 generals who believe he'd be the strongest commander-in-chief and his plan to combat ISIS. He also discussed his strong conservative record in Florida wherein he cut taxes and dramatically reduced the size of government -- arguing persuasively for the importance of trusting the states to be the source of reform and innovation.
The third governor on stage, John Kasich, showed why he's so well liked in New Hampshire. He was personable and compelling in talking about the 400,000 jobs he's created, his work to make a deficit into a surplus and all while cutting taxes. He also continues to be the most balanced on immigration reform, arguing for the importance of keeping families together and finding a way to create a pathway to legal status.
It was a bad night for Ted Cruz who was a virtual non-factor on Saturday evening. He was hurt initially by the back and forth with Ben Carson over the fact that Cruz's campaign circulated a rumor that Carson had dropped out before Iowa voters went to caucus. He looked small and dishonest and the audience noticed.
For his part, Carson had a few good lines, but nothing substantial that will resonate with voters.
I would expect to see Trump stay on top after this debate and that there will be some upward movement for the governors. We do know that 40 percent of New Hampshire voters don't decide who they're voting for until they walk into the booth so it's still anyone's game, but we may have very well seen the end of Marcomentum on Saturday night.