Let kids and parents, not advocates, decide on LEGO Friends dolls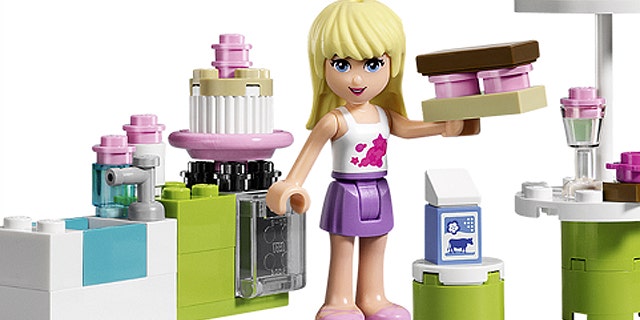 NEWYou can now listen to Fox News articles!
With much anticipation from LEGO lovers, the Danish company launched their new "Friends" line last December targeted at young girls. Now, these five cute mini-dolls are at the center of the latest gender war controversy for being stereotypically girly: too pink and too curvy.
After starting a petition, two women (in their early 20s) are meeting today with Lego representatives today to discuss how they can "rethink their sexist marketing campaigns" and "stop perpetuate dangerous stereotypes about girls and boys."
Seriously, how dangerous are these little dolls to our daughters' self esteem and emotional development?
My 9-year-old daughter and I investigated these little female action figures and learned some fascinating facts. Like American Girl dolls, LEGO developed these figurines with different personalities, interests, likes and dislikes. They wanted to create a sense of community and friendship and a chance for girls to role-play and build.
For instance, Olivia the inventor wants to be a scientist or engineer when she grows up, although her favorite color is pink (clearly, that must be too girly). Mia is an environmentalist, vegan and animal lover, while Andrea is a singer and songwriter. Emma is a karate-kicking fashion designer, and Stephanie the soccer player wants to become a journalist or an editor.
In real life, these mini-dolls would make fine friends and are actually positive role models for young girls. The dolls may look girly, which is what most, not all, young girls might find appealing, but they also go beyond being just a piece of plastic with defined characteristics that do not portray a negative stereotype of women.
Olivia, Mia and the bunch are concerned about the environment and are creative and smart – which sounds a lot like the modern American woman. In fact, LEGO should expand its Friends product line to include Ann the first woman president, Betty the army reservist and Daphne the stay-at-home mom.
Like a number of feminist groups, the advocates meeting with LEGO executives are also advocating for gender neutrality in toys. They have targeted Barbies, Mattel and now LEGOs.
They have criticized LEGO for being sexist in their marketing campaign. The reality is that LEGO had better success selling products for boys. However, LEGO's boy-focused marketing campaign does not prevent parents from buying these little plastic blocks for their daughters. My daughters have spent hours building tall skyscrapers and houses with the colorful LEGO blocks.
Parents are smart enough to bypass marketing tactics and decide what toys or games are appropriate for their children. We don't need the help of advocacy groups to target some of our children's favorite toys.
These feminist groups also spend their time constantly trying to downplay gender differences.
But any parent who casually observes their sons or daughters will say that their children are all different in their personalities and in their likes and dislikes. Maybe one daughter is drawn to all the pink clothes, princesses and tiaras and refuses to take off her tutu, and the other daughter loves the color blue and prefers to play sports. One son may enjoy music or paint, and the other son might love lavender or may prefer to spend time reading or playing outside.
Children are not monolithic.
Nurturing the talents and skills of each individual child – son or daughter- is key to his/her emotional and developmental health, which will help them deal with more serious issues such as bullying, sexism or discrimination when they grow up.
I was the kid who loved playing with my Barbies, but was also picked to be the quarterback for our neighborhood football games because I skillfully knew how to throw a football.
Boys and girls will have their preferences and not even a marketer can convince children to play with a gender specific toy if they are not interested. Parents can help guide their children's choices on toys or games based on what they want their children to play with, but as parents know, children have strong opinions of what they like and dislike.
After several failed attempts at developing products for girls, LEGO has done extensive research, design and testing to build a product that will appeal to them. They are simply trying to sell a product that consumers will like and buy if the demand exists.
Parents have long been waiting for LEGO to develop a product that will actually attract their daughters into the red, blue and yellow LEGO store. LEGO Friends could be one way to attract girls into playing with a variety of LEGO products that may also include building a house, a skyscraper or a helicopter.
So many of us grew up playing with LEGOs and want our children to continue this tradition. If those parents who feel that LEGO Friends are too girly or dangerously stereotypical, then they should simply avoid it.
Plenty of parents, children and LEGO followers enjoy LEGO Friends, and parents -- not feminist advocacy groups -- can best decide what toys or games to buy for their children. We can only hope that it is that consumer-driven decision that, in the end, will have a greater impact on what toys will be developed. In the meantime, let the girls or boys have the choice to play with their LEGO Friends and just have fun.
I am going to spend more time with the LEGO's Friends now that they have become the focus of attack from the gender warriors on the left. If my nine-year-old daughter feels exploited by their femininity, I'll call the ACLU.
Mercedes V. Schlapp is the mother of five daughters, Republican strategist and co-founder of Cove Strategies in Alexandria, Virginia. She worked at the White House under President George W. Bush.