Lessons for GOP from Seattle Seahawks' Super Bowl win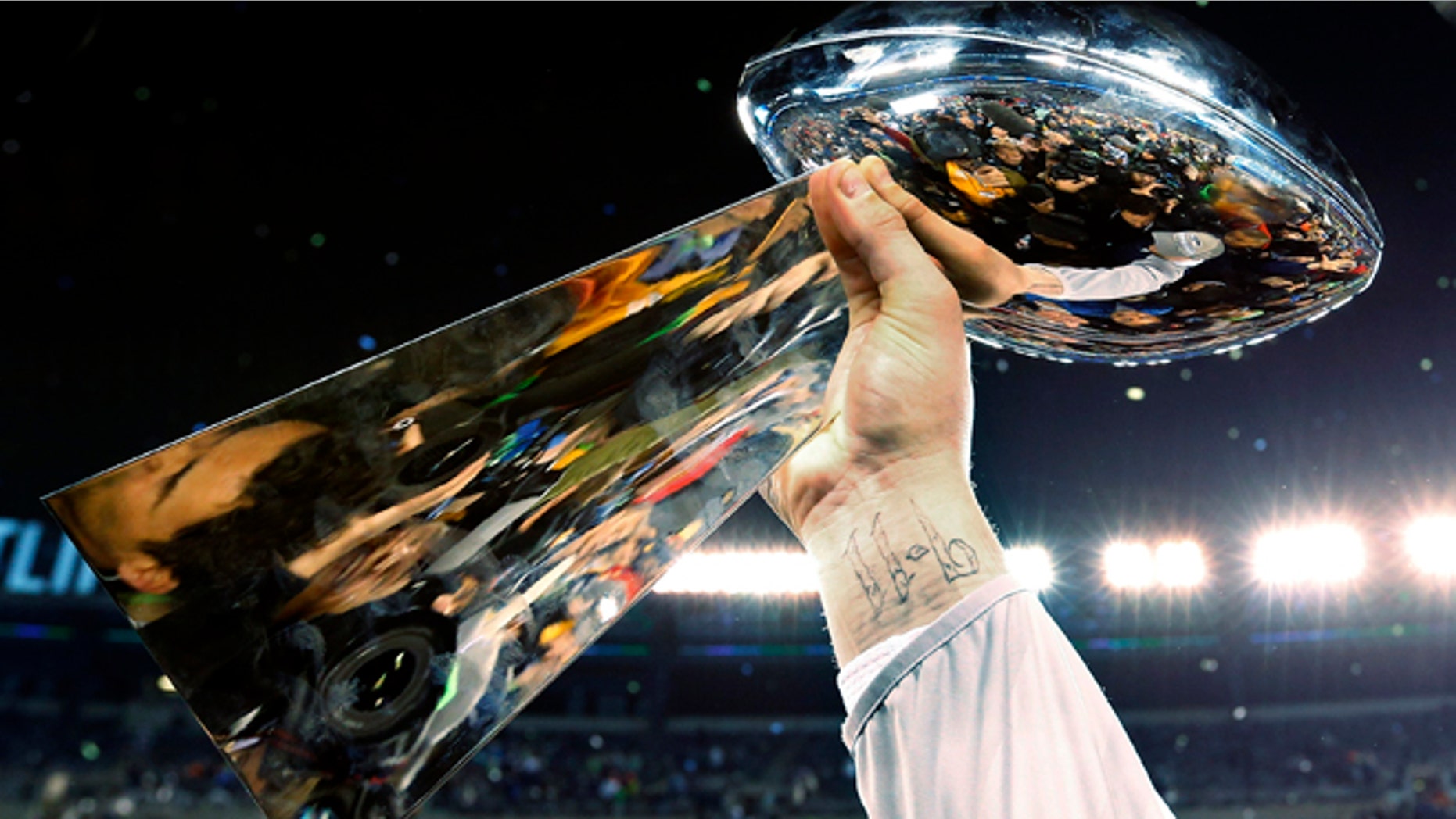 My Seattle Seahawks won the Super Bowl Sunday night and made history. Actually it wasn't just a win. It was a crushing. Pure domination. It was one of the most lopsided beatings in sports history. And few saw it coming.

I don't just write occasional op-eds for FoxNews.com. I'm a successful Las Vegas oddsmaker and sports handicapper in my day job. I have thousands of clients who pay for my advice.
I gave them my strongest possible "buy" on the Seattle Seahawks to win the Super Bowl. Yesterday was one of the great wins of my career.
[pullquote]
But back to politics. There are some fantastic lessons for the GOP to learn from the Super Bowl champion Seattle Seahawks. Because politics, just like football, is about the art of war. And the leaders of the GOP look very much like the hapless, intimidated Denver Broncos.
Let's start with the obvious:
1. Denver looked unbeatable coming into the Super Bowl. Led by perhaps the greatest quarterback of all-time Peyton Manning, the betting in Las Vegas (and across the country with bookmakers) was over 70% on Denver. No one thought Seattle's defense could stop the great Peyton Manning.

That situation mirrors Barack Obama and the GOP. Obama, too, looks unbeatable, invincible, formidable.
The GOP appears scared to death to challenge him. They appear intimidated. They are playing by old-fashioned rules "We must respect the president of the United States."
But that's not how you win football games or political campaigns. If Seattle played that way on Sunday, Peyton Manning would be the champion of the NFL.

2. Seattle didn't worry about respecting Manning. Their goal was to annihilate him.
They played with swagger and bravado. They weren't afraid of the big bad Denver Broncos. They didn't care about Peyton Manning's resume or storied history. They didn't wait for victory, they went out and took it.

Seattle attacked viciously and aggressively. They stripped the ball. They pounded Peyton's receivers. They ball hawked. They demanded Peyton respect them.

3. Obama plays like Seattle. He bragged about violating the Constitution in his State of the Union address and dared the GOP to stop him.
He refuses to compromise on the budget, spending or the debt ceiling -- it's his way or the high way. He dares the GOP to shut down government if they don't like it. He names his own donors to investigate his IRS scandal.
He's laughing in the GOP's face.

Intimidation is Obama's game. Ask the governor of Virginia.
Ask author Dinesh D'Souza,  producer of the anti-Obama hit documentary 2016.
Ask New Jersey's Chris Christie, the ex-BFF (Best Friend Forever) of Obama. Chris knows what's coming next.

4. Obama is the Richard Sherman of politics. Sherman is the talented, cocky, cornerback of the Seattle Seahawks. He trash talks and intimidates and humiliates his critics and opponents. He gets inside your head. He plays to win.
I'm not talking about Sherman. I'm referring to Obama.

5. Obama plays for keeps. He is vicious. He is intent on destroying anyone who gets in his way. Meanwhile the GOP is playing a gentleman's game. They are playing badminton at the country club. They are bringing a knife to a gunfight.

6. Obama has no heart, no mercy. He sent the IRS to destroy critics (like me). He sent the IRS to destroy the Tea Party. He sent the IRS to intimidate a Stage 4 terminal cancer victim who criticized ObamaCare.
He indicted the ratings agencies that dared to downgrade the credit rating of the USA. Does that sound like heart to you?

Seattle didn't have a heart on Sunday either. They relentlessly and viciously intimidated and annihilated the Denver Broncos.
They never let up.
Heart has nothing to do with it. The GOP needs to take lessons from Seattle's defense, not Peyton Manning's weak-kneed offense.
So, what have we learned from Super Bowl XLVIII?

Lesson One: Attack, attack and keep attacking viciously and relentlessly like Seattle's defense. Never let your foot off the pedal.

Lesson Two: Play the game with swagger and bravado. If you're going to win the championship, don't wait for it, TAKE IT. Obama's not going to give it to you. He isn't a gentleman. He's playing for keeps, because he understands what's at stake. He said he was going to fundamentally change America…and he is doing it. This is isn't a game, it's the art of war.

Lesson Three: No one is invincible. The whole world bet on Peyton Manning. Over $10 billion was bet on this one game. Over $7 billion of it was bet on Peyton. But Seattle didn't fear Peyton. Obama isn't invincible either. Don't back down. Don't respect him. That's the big mistake of the GOP. If you want the championship, hit him in the mouth, kick him in the gut, and take it from him.

Lesson Four: The most important lesson of all. Energy and enthusiasm wins championships. Seattle gets its energy and enthusiasm from "the 12th man" -- their crazed fans.
Seattle has the loudest proudest craziest fans in all of sports. They are louder than a jet engine. They own the Guinness Book of World Records for loudest fans. They fly a "12th man" flag that represents the importance of their fans.
Seattle celebrates and embraces it's most loyal fans. Without the energy of their crazed fans, the Seahawks would be just another mediocre football team.

Who is the GOP's 12th man? Well, it sure isn't the green jacket wearing country club Republicans. Or the "moderate" wishy-washy, stand-for-nothing Northeast Republicans. Or the cowardly Republicans who want to apologize to Obama every time he walks in the room.

To paraphrase the famous line from the days of Bill Clinton… It's the Tea Party, stupid. The GOP's energy, enthusiasm and courage is found in the true blue, patriotic, conservative base called the Tea Party.
That "12th man" led the GOP to the biggest landslide in history in 2010.
The GOP needs to celebrate and embrace their loyal base of fans. Love your "12th man." Only our energy, enthusiasm and passion can lead you to victory.

We are the GOP's pounding heart…on steroids. Without us, you're just another losing party.

Try to remember that, GOP.