Lea Gabrielle: Remember the brave Americans who protect us on this Fourth of July -- Be thankful for them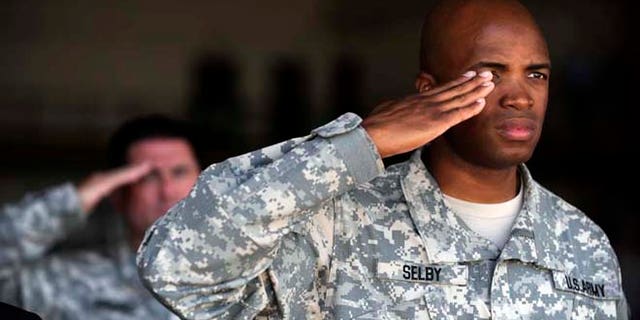 On this Independence Day, I feel compelled to share what I have seen and experienced of the risk and everyday sacrifice made by our military service members, our intelligence community and our law enforcement officers who keep us independent. These brave men and women protect us from enemies outside our borders and protect us from those who slip inside.
And I think back to the first time I rolled onto final approach to land on an aircraft carrier alone in a Navy jet at 160 mph. I had just turned 25. It was an immense responsibility. I saw how tiny the ship looked and the even tinier landing area, along with the massive wake and the menacing stern of the aircraft carrier that would kill me if I got just a smidge too low.
"This is by far the stupidest thing I've ever done," I remember thinking momentarily, and then immediately pushed that thought out of my mind.
My brain and body kept flying the aircraft just like I had been trained to do. I made hundreds of adjustments in that 15 seconds like my life depended on getting everything right – because it did. I remember every second from rolling my aircraft's wings level to the moment the jet's tail hook grabbed an arresting wire, slamming me forward in my harness, to a successful first of what would become many "traps."
On the Fourth of July we celebrate this empire of the people, with only citizens as its masters. Let us also celebrate those whose strength and fortitude is our nation's armor.
And that was just one 15-second slice of my Navy life, at the very beginning, and before we even went to war. Those who serve train their minds and bodies to dismiss their own mortality for something they love more – our great United States of America.
I know from my own service that military life is grueling – certainly more than most people today are willing to endure. It is terrifying at times, in training and in operations. We "train like we fight," pushing ourselves beyond what we perceive as our limits, being challenged in ways that will protect our brothers- and sisters-in-arms on the battlefield, and help us survive.
Now a Fox News journalist living in New York City, I am surrounded by some of the most successful and wealthy people on the planet. It gives me an appreciation for the highest levels of "success" that can be achieved.
I also have an even greater appreciation and admiration for those who choose to push their own wealth potential and aspirations aside in order to serve our country, so that you and I can enjoy the wonderful opportunities in our United States.
All pilots go through survival school to be mentally prepared if shot down inside enemy territory. We lived in the woods of Maine for a week with very little gear and no food. The rain poured down every single day, soaking through our clothes and blistering holes into our feet through our combat boots.
We ate what we could collect from land picked over by classes before us, which was basically nothing. I had never been colder or hungrier in my life. In the final days, we were all captured and taken to simulated prisoner of war camp where we were then beaten and starved.
As my team's leader, I tried to motivate the others by reminding everyone this would end, and promising to treat the team to a Maine lobster dinner when it was all over. We were all so excited when that night finally came, but one of my teammates – a top pilot in our class, and a close friend – ordered a grilled cheese sandwich.
Most of us were single without kids at the time, but he was married with three. I leaned over and whispered to him, "Nate, this is on me, I'd like to get you lobster."
He whispered back, "Lea, thank you, that is so nice. But my wife and kids are not eating lobster tonight, and so I'd rather not."
That's another small slice of the life I saw in the military before we even went to war. After we went to war, that humble, great superhuman I admired so much – Lt. Nathan White – was killed in action, shot down while flying a combat mission over Iraq in 2003.
I am still close with many great Americans who served with me. And I have spent time recently with CIA officers, members of elite special mission units in the Navy SEALs and Army Special Forces, sailors aboard an aircraft carrier, soldiers, and FBI agents from specialized select teams.
It strikes me how brilliant, talented, and just plain tough they all are. Like Nate, they would be among the absolute most successful at anything they choose – greatness is in their DNA.
But that greatness is never reflected in rich paychecks, or in the time they can spend with loved ones. Instead, these proud American patriots give every ounce of their talent – and too often their lives – to protect us.
"Success" for them is making sure that our children and grandchildren get to experience the security and unmatched opportunities we enjoy. They know it takes people like them to protect our great country and our way of life.
On the Fourth of July we celebrate this empire of the people, with only citizens as its masters. Let us also celebrate those whose strength and fortitude is our nation's armor, and remember that our land of opportunity is protected by people who diminish their own opportunity, their own comfort, their own safety and sometimes sacrifice their own lives for us. God bless them and God bless America on this Independence Day.