Kimberley Strassel: Paul, Collins, McCain -- the three GOP senators blocking Trump's powerful agenda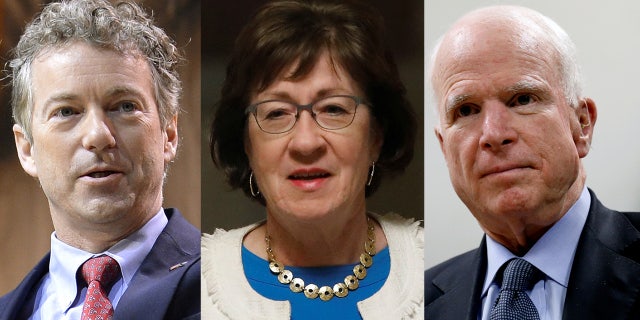 The press corps is busy quizzing the president, the speaker of the House and the Senate majority leader on their plans for tax reform. The question is why they aren't chasing after the three people who actually hold all the power.
If the past eight months have proved anything, it is that all the 24/7 news coverage of Donald Trump's antics, all the millions of words devoted to Paul Ryan's and Mitch McConnell's plans, have been a complete waste of space and time. In the end, control of the entire policy agenda in Washington comes down to three senators. Three senators whom most Americans have never had a chance to vote for or against. Three senators who comprise 8% of their party conference. Arizona's John McCain, Maine's Susan Collins and Kentucky's Rand Paul. Forget Caesar, Crassus and Pompey. Meet the Never-Trump Triumvirate.
At least the House Freedom Caucus scuttles GOP legislation based on shared principles. Sens. Ted Cruz and Mike Lee have also led revolts against bills, again based on shared criticisms. But what do the Arizona maverick, the Maine moderate and the Kentucky libertarian have in common? Very little.
Well, very little save motivations that go beyond policy. And that is the crucial point that is missing from the endless analyses of the McCain-Collins-Paul defections on health care. The media has treated the trio's excuses for killing their party's top priority as legit, despite the obvious holes in their objections over policy and process. What in fact binds the three is their crafting of identities based primarily on opposition to their party or Mr. Trump. This matters, because it bodes very ill for tax reform in the Senate. Overcoming policy objections is one thing. Overcoming egos is another.
To continue reading this column from the Wall Street Journal, click here.