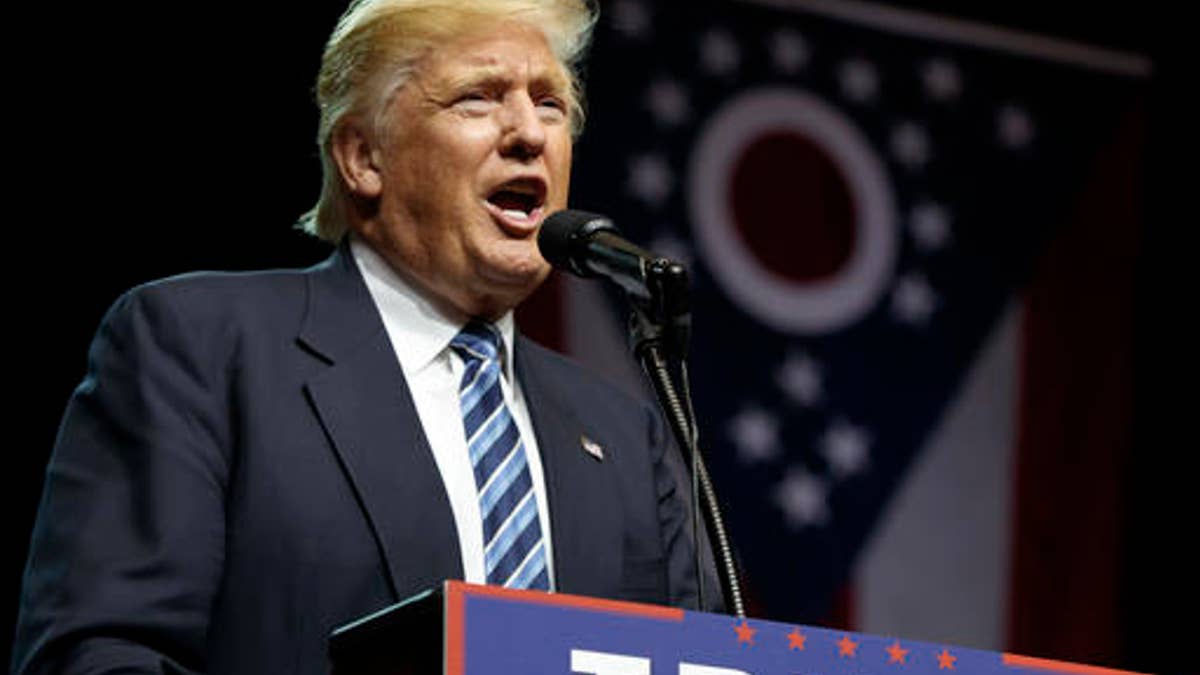 KIEV, Ukraine – What a difference a year makes.
Last year, Donald Trump, the billionaire businessman who was then leading the Republican presidential field in the polls, was all for defending Ukraine against Russian aggression.
In an unusual appearance by satellite last September, Mr. Trump told a gathering of the European elite in the Ukrainian capital that America and Europe should be doing far more to support the struggling country.
Specifically, he told participants at the annual, pro-Western Yalta European Security conference (YES) that President Obama was partly responsible for Russian president Vladimir Putin's aggression against Ukraine by paying only "lip-service" to reversing Russia's seizure of Ukraine's Crimea over two years ago. "Our president is not strong and he's not doing what he should be doing for the Ukraine," Trump said. "Putin does not respect our president whatsoever."
A year later, Donald Trump, now the Republican Party's nominee for president who is leading against Democratic nominee Hillary Clinton, is President Putin's best bud and can barely find Ukraine on a map.
In a stunning reversal of his earlier criticism of the Russian leader and Russia's occupation of Crimea, Mr. Trump has not only praised Mr. Putin as a strong leader for Russia but denied that Russia's seizure of Crimea constitutes an invasion. He has even implied that he might not come to the aid of NATO allies threatened by Russia.
What has happened in a year to so alter Mr. Trump's view of Mr. Putin and America's strategic rival?
Officials, journalists and analysts can only speculate. In an article in July in Slate, Franklin Foer suggested that Mr. Trump's "slavish devotion" to Mr. Putin was rooted in his longstanding quest to do business in Russia, and that Mr. Trump, in fact, had received indirectly Russian money for several of his signature projects that had "helped him preserve his image as a great builder as he recovered from bankruptcy."
"Russians make up a pretty disproportionate cross-section of a lot of our assets," Mr. Trump's son, Donald Trump Jr. has been quoted as acknowledging.
Such indirect financial support in exchange for political fealty is part of a consistent policy by Mr. Putin to undermine European unity and pro-American sentiment by buying influence with European leaders and such right-wing, anti-American politicians as France's Marine Le Pen, who has gotten well-documented transfusions of cash to keep her presidential prospects alive, and former Italian premier Silvio Berlusconi, whom an American ambassador in Rome accused of having profited "personally and profitably" from Russian energy deals.
Mr. Foer's article documents several questionable deals between Mr. Trump and Mr. Putin's close financial allies.
Others point to the influence of Mr. Trump's now former campaign manager, Paul Manafort, whom Mr. Trump summarily dismissed after The New York Times revealed his own connections to the ousted pro-Russian Ukrainian leader Viktor Yanukovych.
Mr. Manafort worked to recraft the disgraced Ukrainian leader's image, but failed to register as a foreign lobbyist, as U.S. law requires.
Mr. Manafort's handiwork, including his indirect payments to Republican and Democratic lobbyists to advance Mr. Yanukovych's interests in Washington, helped pull Ukraine further Putin's sphere of influence.
Other journalists and European politicians here in Kiev speculate about whether Mr. Trump is beholden to Mr. Putin because of alleged Russian hacking of the Democratic National Committee emails and the steady flow of embarrassing leaks about Hillary Clinton and her tenure as Secretary of State, experience which she has touted to bolster her foreign policy credentials and fitness for the highest office.
In a country all too familiar with the Soviet practice of silencing anti-Russian critics by secretly collecting compromising information against them, several conference attendees speculated about whether Mr. Putin had secured such potentially embarrassing information about Mr. Trump, and threatened to disclose it should he waiver in his enthusiasm for Russia's autocratic president.
Most of those interviewed here at these two-day gathering of some 350 Western leaders, European officials, non-governmental organization representatives, and journalists, however, said only that they were mystified and outraged by Mr. Trump's enthusiasm for Mr. Putin. "It is simply shocking that Americans -- who are usually so patriotic, no matter their political allegiance -- would support a presidential candidate who prefers Vladimir Putin to President Barack Obama," said Bernard-Henri Levy, a leading French intellectual who has staunchly supported Ukrainian independence.
But at the conference on Friday, Ukrainian president Petro Poroshenko declined to weigh in on the American race and its implications for his country.
Asked whether he was troubled by Mr. Trump's statements praising Mr. Putin, Mr. Poroshenko said only that he was trying to meet both American candidates during his visit next week to the U.S. for the annual United Nations General Assembly. While Mrs. Clinton's campaign had confirmed a meeting, he said, he had still had no word from Mr. Trump's campaign.