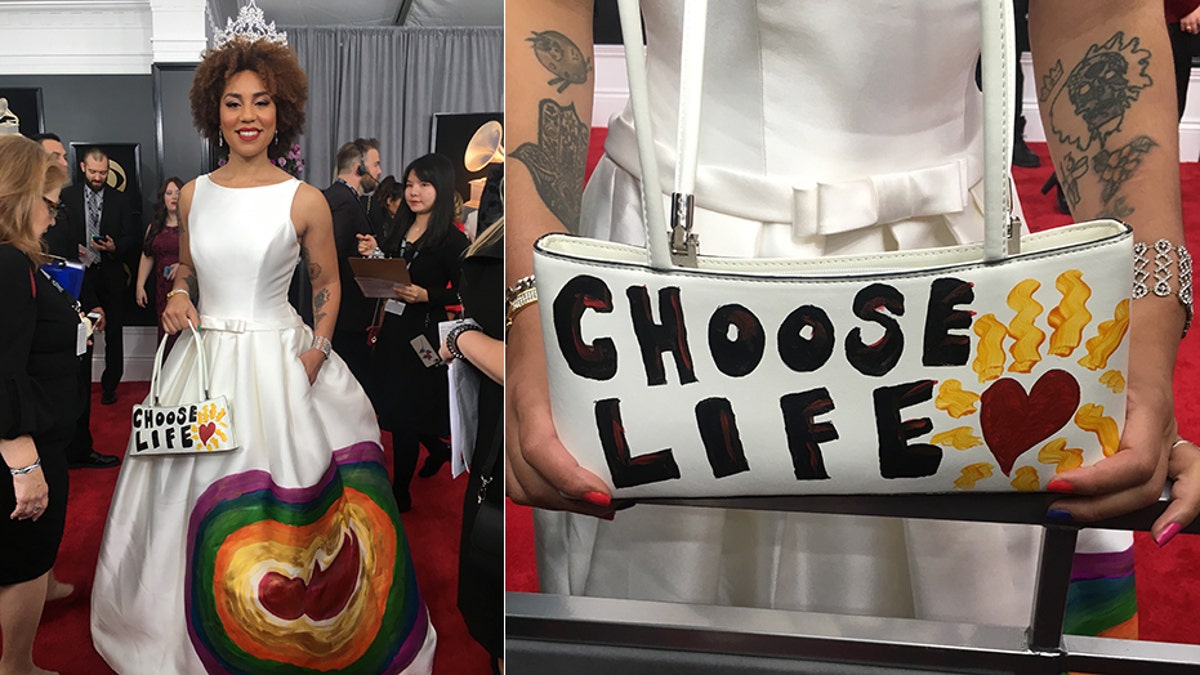 My statement for the 60th Grammys is Choose Life. I believe in loving the child and the mother, and I am proudly Pro Life, without any judgment to those to choose otherwise.
Why did I wear a fetus surrounded by a brightly colored womb on my dress and a purse with "Choose Life" to the 60th Grammy Awards?
I am pro-life.
10 years ago my life was shattered, I couldn't stop crying: I had a beautiful baby growing inside of me… For many women, becoming pregnant is a dream come true, but I was overcome with guilt, agony and shame.
I was penniless, far from home and trapped in an abusive, toxic relationship with a man who had become a shadow of what he once was. At 19 I fell in love with an older man who was very kind hearted with a good heart, but once he began using drugs our relationship quickly became a nightmare. The same arms that once held and protected me were weaponized; night after night, I'd hide in a corner, terrified of being beaten.
I didn't know who to turn to.
When you're young and vulnerable, sometimes your mind plays tricks on you: "I don't deserve happiness!" "I don't deserve love!" "This is the best I can do!" It pains me to remember how utterly devoid of value I felt at the time, but I truly believed that I deserved to be abandoned, forgotten and punished. I thought "This must be my fault, so I have to stay and try to fix this."
After a contraceptive failed, I became pregnant at age 20.
After testing positive at a clinic, the nurse began to pressure me to get an abortion. She told me, "We can do it now, it'll make it all go away. I've had several abortions, in fact all three of my daughters have had several. You are too young to have kids. This is the best choice for you."
She had already made my choice for me.
I left feeling deflated and heart-broken. I had never considered abortion, I wanted to stay and make things right with the father, to have a real family.
But when I was violently thrown against the wall by the baby's father while heavily pregnant, I knew I needed a real solution. My baby deserved so much better.
That's when I made the most difficult and important decision of my life: I decided to carry my baby to term and then give her up for adoption to a loving family. I put her life over mine.
It wasn't easy. Every day was a struggle. Ask any woman: Pregnancy is extraordinarily difficult, especially without family by your side. But my faith in God – and my love for my baby – gave me all the strength I needed to survive.
I found an adoption agency that helped me every step of the way, including taking care of my day to day living expenses. We placed my baby with a loving, caring family in an "open adoption," which meant I could still be involved in her life. I have a growing and wonderful relationship with my daughter today, (who calls me "Mama Joy"!) because of my decision to choose life.
Adoption gave this terrified young girl the greatest gift of her life: A second chance.
A chance to do the right thing.
A chance at healing.
A chance to be a Mom.
To celebrate my beautiful daughter I hand painted my Pronovias Grammys gown with a recreation of her sonogram when I was 8 months pregnant.
Today, I have chosen to platform to encourage women to think for themselves and gather all the information before making their own decision. Having life giving options like adoption can empower women to do what they feel is right.
There are thousands of women in similar situations to mine. Many are far younger – and more vulnerable than I was. I'm not here to condemn them, or call them names, or try to make them feel worse than they already do.
But I do have a message:
Consider adoption. Consider life. Consider carrying your baby to term, and placing your unborn child with a caring, nurturing, happy family.
You will survive this. You will make it through. And you absolutely, 100 percent, deserve all the happiness and love in the world. You're so much stronger than you know.
You deserve a second chance at life… and your baby deserves a first chance.
Life is precious. And so are you.