Jon Corzine -- clueless or a crook?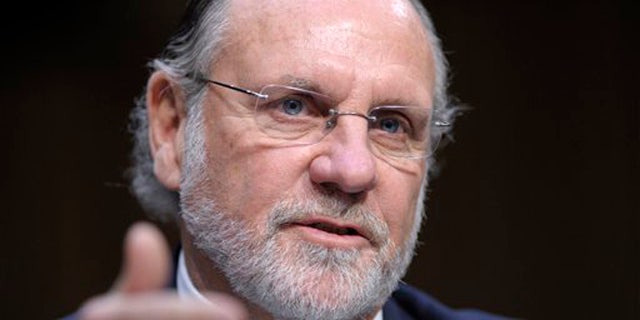 NEWYou can now listen to Fox News articles!
Jon Corzine is "the smartest guy I know in terms of the economy," Vice President Joe Biden said not so long ago. President Obama praised Corzine as a key architect of the "national recovery plan" he implemented after taking office back in 2009.
Oops.
Consider the long report issued Monday on the latest of Corzine's many flops, the demise of brokerage firm MF Global.
A quick read of the document from James Giddens, MF Global's bankruptcy trustee, tells you that "smart" is the last thing you'd consider Corzine. Nor would you want him anywhere near high-level White House decision-making.
It explains a lot about the miserable failure of the Obama economic policy to know that Jon Corzine is the type of person the president thinks understands the economy and how to run a business.
Giddens' narrative describes Corzine — the former CEO of Goldman Sachs, New Jersey governor, US senator and one of Obama's top Wall Street money men — as a reckless (and often feckless) risk taker, a fat cat who rolled the dice in the global markets without a clue as to whether his firm could weather the inevitable ups and downs that come with such investments.
The end result of Corzine's leadership failure: Customer accounts that were supposed to be sacrosanct were looted to the tune of $1.6 billion. And many of these customers were not Wall Street fat cats, but ranchers and farmers who used MF Global for hedging purposes.
Corzine took over at MF Global in March 2010, just after voters bounced him as Jersey governor. On paper, he looked perfect for the job: He ran the mighty Goldman Sachs in 1990s and had political connections throughout the Obama administration, including his old Goldman crony, Gary Gensler — now the chairman of MF Global's chief regulator, the Commodity Futures Trading Commission.
Of course, lots of people liked the looks of the Facebook initial public offering, too. In fact, Corzine was an ineffective senator and a lackluster governor — as New Jerseyans eventually realized. And Corzine was booted from Goldman in 1999 after the firm both suffered huge trading losses and botched the timing of its long awaited IPO. That's when he earned the nickname "fuzzy" — and it had nothing to do with his beard.
The trustee's report underscores Corzine's fuzziness — and potentially worse. Far from being the "smart" businessman described by Biden, Corzine went into this gambit without the proper risk controls — that is, he didn't transform a firm that simply bought and sold commodities for ranchers and farmers into one that was ready to handle global markets; he just started rolling the dice.
In the wake of MF's collapse last year, it was generally thought that the liquidity problem that doomed the firm — that is, its failure to keep enough cash and credit on hand to remain in business — was a function of market players yanking money during its final days.
Not so, says Giddens: Liquidity was "a cause for concern before and throughout Mr. Corzine's tenure at MF Global, yet systems and tools that would enable accurate real-time monitoring of liquidity were never implemented."
Then the tsunami hit in the fall of 2011: Market participants heard of the firm's enormous risk-taking and pulled lines of credit out of fear that the company was taking on risks it couldn't handle. This is where Corzine's mismanagement really hurt: Without the proper controls, his people began to dip into brokerage-customer cash to cover shortfalls — possibly violating the law.
I can't tell you if what Corzine and his crew did was criminal, or just plain old dumb — and neither does the bankruptcy trustee. Giddens simply describes the actions of Corzine and his staff as "negligence."
The "crime" question will have to be answered by the federal regulators, the FBI and the two US Attorney offices who are looking into the sordid affair. (Maybe the Giddens report will kick them out of the go-slow mode they seem to be in.) Corzine himself maintains he never asked anyone at his firm to do anything improper with the customer accounts.
Criminal or dumb, though, Corzine's the last guy any president should rely on for economic advice.
Too bad for the American people that the damage is already done.
Charles Gasparino is a Fox Business Correspondent. To continue reading his column in the New York Post, click here.