John Fund: Democrats embrace sleazy Sen. Menendez, despite Ethics Committee saying he discredited Senate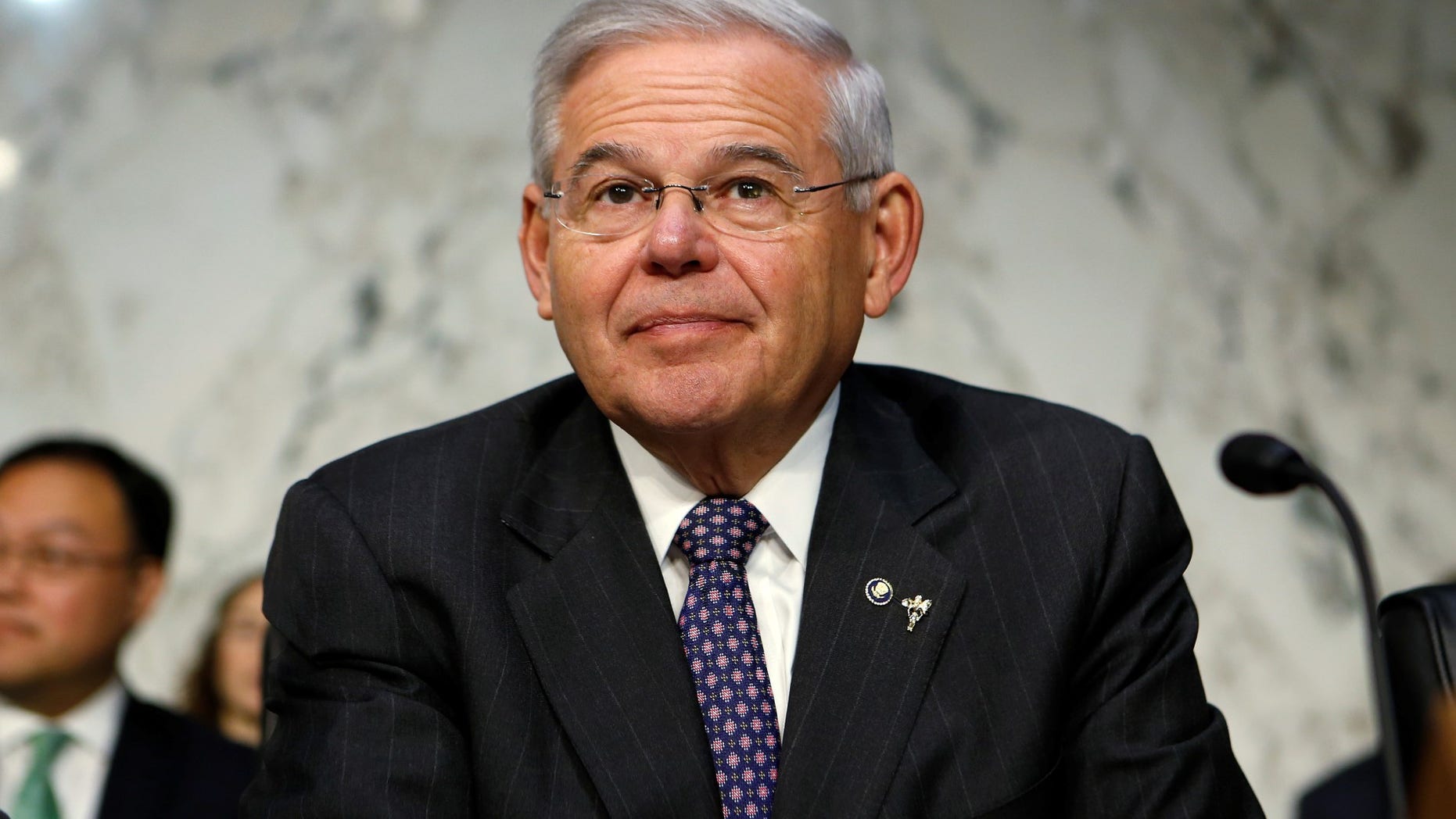 Three-quarters of Senate Democrats asked Sen. Al Franken, D-Minn., to resign last December after six women accused him of forcibly kissing or groping them over a decade earlier – before he joined the Senate. Minority Leader Chuck Schumer, D-N.Y., said Franken had to go due to "a higher obligation to his constituents and the Senate." Under pressure, Franken resigned.
Fast forward to late last week. The bipartisan Senate Ethics Committee unanimously issued a brutal finding that New Jersey Democratic Sen. Robert Menendez had brought "discredit upon the Senate." It found he had done political favors "well beyond Senate norms" for a corrupt friend in exchange for expensive gifts and vacations.
But even though the committee found Menendez had violated federal law over a six-year period by not reporting the gifts, the only sanction he was given was an order to repay the fair market value of the gifts and update his financial disclosure forms.
Menendez faces no further legal consequences for his behavior, because a mistrial was declared last November after a federal jury in Newark couldn't agree on whether he had participated in bribery. Prosecutors declined to retry the case, even though Menendez's generous friend – eye surgeon Salomon Melgen – was last year sentenced to 17 years in prison in the Medicare fraud case that the senator tried to help him wiggle out of.
"During the same time period in which you accepted these gifts, you used your position as a Member of the Senate to advance Dr. Melgen's personal and business interests," the Ethics Committee concluded. "This intervention included persistent advocacy before multiple senior Center for Medicare Services officials over the course of three years, reaching, at its height, your meeting with the Secretary of Health and Human Services."
Despite the damning report, Menendez's fellow Democrats are closing ranks behind him. His fellow New Jersey senator, Cory Booker, issued a statement saying that while he had not even read the four-page letter from the Ethics Committee, he knows Menendez is an "honest public servant" and expects to be "working alongside Bob in the Senate for many years to come."
Just last December, Booker had joined Menendez in calling on Sen. Franken to resign. But following his mistrial, Senate Democrats have restored Menendez to his position as top Democrat on the Senate Foreign Relations Committee and appear to be in no mood to revisit that despite the Ethics Committee finding.
Menendez himself is unrepentant. His lawyer, Marc Elias, insists "there was no violation of any law" in Menendez's actions.
This stonewall is necessary because the senator is up for re-election this fall. While Menendez leads his likely Republican opponent, former Celgene CEO Bob Hugin, his re-election number only hovers around 50 percent – a danger sign.
Anticipating attacks on his ethics, Menendez is already appealing for sympathy by saying he may be targeted politically by Russian President Vladimir Putin over his efforts to sanction Russia.
"I'm a great target for their next efforts," referring to the Russians, Menendez told New Jersey reporters last week. Asked if he really believed Russia would be intervening in his race, Menendez responded: "I think the whole system is under assault as far as I am concerned."
Menendez then went on to say: "You know, hey, there's no one who's pushed Russia sanctions harder than I have. So if you can mess around with an election, why not? I don't know that they would or won't do it. I'm just saying it."
Well, I'm just saying I hope New Jersey voters reject Menendez's obviously mendacious and self-pitying behavior when they go to the polls in November.
There's some hope. Back in 2002, New Jersey Democratic Sen. Robert Torricelli's unethical acceptance of gifts from a donor caused his political standing to collapse and he eventually withdrew from the race.
Menendez appears to be made of more impervious material, so it likely will be up to the voters to decide if the Senate Ethics Committee report should mean something.