Joel C. Rosenberg: What Pence needs to do in Jordan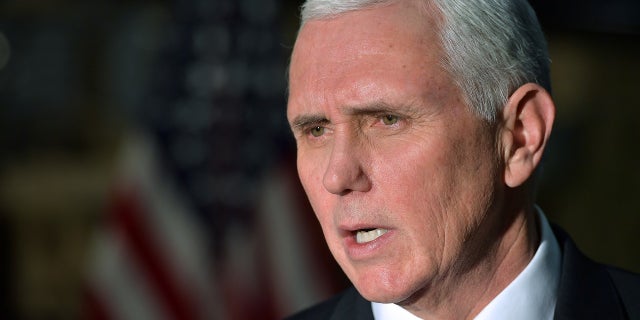 Something significant happened since Vice President Mike Pence rescheduled his trip to the Middle East from December to the end of this week. No longer is he visiting only Israel and Egypt. He is going to Jordan as well.
It is the right move – indeed, Amman should have been on his original itinerary – but it's now an act of damage control.
Not only were West Bank and Gaza Palestinians furious in the wake of President Trump's Dec. 6 decision to recognize Jerusalem as the capital of Israel and begin moving the U.S. Embassy from Tel Aviv to Jerusalem. Most Jordanians – some 70 percent of whom are Palestinians – were outraged as well.
How President Trump's decision was made, why it was made, and when it was announced have thus created serious strains in the U.S.-Jordanian alliance. Pence will have to handle the matter deftly.
To be sure, friends will not always agree on every issue. Washington and Amman have weathered deep disagreements in the past and still strengthened their relationship.
That said, Jerusalem touches deep into the Jordanian religious, social and political psyche. Until 1967, the Hashemite Kingdom governed the eastern portion of the holy city, including the Dome of the Rock and the Al Aqsa Mosque. The loss of East Jerusalem to the Israelis during the Six Day War remains a bitter wound.
So despite President Trump's nuanced statement about how the boundaries of Jerusalem remain to be negotiated (thus keeping the door open to a possible Palestinian capital in East Jerusalem), and the importance of protecting the status quo of the holy sites, the issue isn't going away any time soon.
This is especially true given that Palestinian President Mahmoud Abbas has given increasingly heated statements against the Trump administration and is boycotting the vice president's visit.
Pence should be prepared to hear frank talk from Jordanian King Abdullah when he arrives. In return, let us hope he is prepared to share with the king a clear and convincing American initiative to help Palestinians and Israelis get back on the road to making a fair and final peace treaty, and that he is authorized to announce specific policies designed to bolster the U.S.-Jordanian strategic alliance.
Over the past several years, I have been humbled by the opportunity to meet multiple times with King Abdullah, his senior advisers and Cabinet members, including bringing a delegation of Christian leaders to Amman last November.
In my view, no Arab leader has proven a more faithful friend of the U.S. than the Jordanian king, carrying on for the last 18 years the remarkable pro-American and pro-peace legacy of his beloved late father, King Hussein.
But I have also seen firsthand the enormous challenges Jordan faces. This tiny country of 6.5 million citizens now has 3 million non-citizens living among them, mostly Syrian and Iraqi refugees.
Despite our differences, we should strengthen the hand of Jordan because it's in our vital national interests. The destabilization of Jordan would be nothing less than catastrophic for America and our allies in the Middle East.
The vast majority of these non-citizens are Muslims and Christians who fled for their lives from the Syrian civil war and the genocidal wrath of the Islamic State, also known as ISIS.
I have twice been to the Zaatari refugee camp near the Syrian border and been deeply touched by how King Abdullah and his people have graciously welcomed these refugees and are compassionately providing them with housing, food, health care, education and jobs.
Without oil wealth of its own, however, Jordan is straining under the cost. Imad Fakhoury, a Jordanian Cabinet minister, told me candidly: "This is a slow-moving tsunami. Our economy is suffocating. We are deeply grateful for American assistance. But we need the rest of the world to do more."
Meanwhile, ISIS is trying to take advantage of the situation, actively attempting to infiltrate the kingdom and bring it down. Just days ago, the Jordanian intelligence service announced the capture of 17 ISIS operatives plotting a "massive" series of attacks throughout the country. I shudder to think what might have happened had ISIS been able to carry through with these plans.
Ideally, the vice president will announce in Amman that the U.S. has approved a new five-year memorandum of understanding providing the Hashemite Kingdom with $1.5 billion a year in military and economic assistance to deal with these challenges. The last MOU has just expired. Washington has been negotiating the new one for months.
It would also help for the White House to apply serious pressure on our European, Asian and Gulf allies to step up and provide more economic assistance to help Jordan care for refugees those other nations don't want to take.
By God's grace and wise leadership, Jordan is a good friend and an island of stability in a sea of chaos and carnage. The nation provides invaluable intelligence to the U.S. and maintains a peace treaty and close security ties with Israel. Nowhere in the Arab world are Christians safer.
Despite our differences, we should strengthen the hand of Jordan because it's in our vital national interests. The destabilization of Jordan would be nothing less than catastrophic for America and our allies in the Middle East.