It's time for tougher U.S. pushback against China's maritime misconduct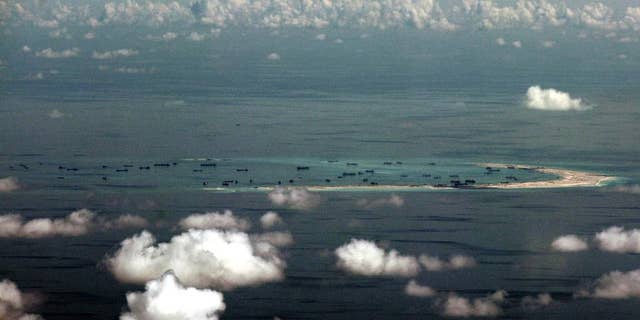 It's time the U.S. reacted decisively to China's growing challenge to freedom of navigation in international waters, especially in Asia.
Just this week, two Chinese jet fighters intercepted a U.S. reconnaissance aircraft over the South China Sea, forcing it to descend to avoid a collision.
Less sensational, but of greater strategic importance, was China's abrupt cancellation last month of a scheduled port call in Hong Kong by U.S. Navy aircraft carrier John C Stennis.
The Stennis, a nuclear-powered supercarrier, was scheduled to call at Hong Kong in early May. That changed after U.S. Defense Secretary Ashton Carter and Philippines Defense Minister Voltaire Gazmin visited the carrier while it was operating in the South China Sea.
Speaking to the press, Carter described the visit as "a message that the United States intends to continue to play a role in keeping peace and stability in the region."
Beijing responded by closing Hong Kong to the Stennis and her four escort ships.
While China has cancelled port calls before, this was the first time it has done so as a salvo in its accelerating campaign for maritime dominance in East Asia.
The Pentagon downplayed the port-call cancellation with a short statement that referred reporters to the Chinese government "for further information." A Defense Department official then dismissed the issue on grounds that the Stennis would have "other opportunities to come ashore."
That ignores China's strategic message. China was rejecting not simply a port call, but the entire military balance of power in East Asia, where the U.S. has long served as the chief guardian of a stable maritime order, including vital shipping routes.
In recent years, China has used its Navy and Coast Guard to challenge Japan and the Philippines over disputed islands, seize Scarborough Reef from the Philippines and confront Vietnam at sea over oil exploration.
More importantly, since 2014, despite U.S. protests, China has built seven new, artificial islands in the South China Sea's Spratly archipelago, installing military airfields and deep water naval ports.
The new facilities greatly extend China's military reach and territorial claims in an area that is a shipping lifeline for Japan and South Korea—especially for oil.
Left unchallenged, the Chinese moves threaten the economic security of two highly important U.S. allies.
United States warships and aircraft, in the words of Secretary of Defense Carter, have continued "to fly, sail and operate" within the South China Sea. Increasingly, however, Chinese naval combatants have been shadowing these U.S. operations.
It's time the U.S. sent Beijing a much clearer message that its rewriting of the global maritime order must stop. The Rim-of-the-Pacific (RIMPAC) naval exercise, scheduled to start next month offers a prime opportunity to send that message.
Quite simply: Cancel China's invitation to RIMPAC.
Hosted every two years by the U.S. and held in Hawaiian waters, RIMPAC is a multinational exercise, to which China has been invited since 2012, initially as an observer, then as a participant.
By including China, the U.S. confers on Beijing's maritime behavior a legitimacy it does not deserve.
Additionally, with RIMPAC's access to Pearl Harbor, China has the chance to obtain more valuable intelligence than does the U.S. – a fact China has brazenly highlighted in the past by sending uninvited surveillance ships to spy on the two RIMPAC exercises to which it has previously been welcomed.
This round, China – which has the world's largest ballistic missile program -- will have the chance to spy on U.S. technology and tactics for coordinating with South Korea and Japan on missile defense.
China's maritime misconduct is also contributing to a climate of rising anti-American belligerence worldwide. Last month, two Russian war planes buzzed a U.S. Navy destroyer in the Baltic.
This month, a commander of Iran's Islamic Revolutionary Guard Corps threatened to "drown" American warships should they make the "slightest mistake" in the Persian Gulf or Strait of Hormuz.
China's President Xi Jinping routinely calls for "mutual respect" between the U.S. and China.
If China is pleased to challenge the U.S. on the high seas and turn away the Stennis from Hong Kong, there should be no place for China at RIMPAC.
James E. Fanell is a government fellow at the Geneva Centre for Security Policy, a retired captain in the U.S. navy and a former director of intelligence and information operations for the U.S. Pacific Fleet. Claudia Rosett is a former Wall Street Journal editorial writer and a foreign affairs columnist for Forbes.com.