In the midst of a fiscal crisis we can't afford to scrap the JOBS Act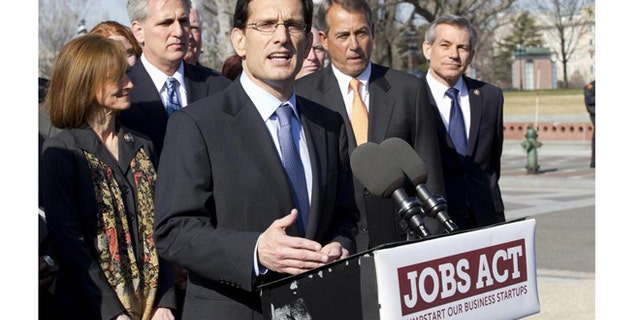 NEWYou can now listen to Fox News articles!
With the nation teetering on the edge of a fiscal cliff, business leaders need to hold on to every positive bit of news in sight. But now, for what appears to be little more than legacy reasons, outgoing Securities and Exchange Commission Chair Mary Schapiro is reportedly delaying a common-sense, bipartisan JOBS Act measure that would make it easier for small businesses to raise capital and grow the economy.

According to The Wall Street Journal, Schapiro delayed the measure after receiving an email from a lobbyist at the Consumer Federation of America voicing strong objections to Section 201 of the bill. Recovered emails found that Schapiro was worried about being "tagged with an anti-investor legacy." Her reasoning for these comments was reflected in the SEC's statement that, "Chairman Schapiro strongly believes that protecting investors should be the desired legacy of all SEC Chairmen."

The Journal reported that Rep. Patrick McHenry (R-N.C.), co-author of the crowd funding provisions in the JOBS Act, said he was disappointed that the pro-growth measure was delayed as "a direct result of pressure from one special interest group and the personal agenda of the chairman."
[pullquote]

His judgment is likely shared with many. After all, it's hard to argue that a bill with broad bipartisan support from Congress, successful entrepreneurs like Steve Case, a wide range of groups including the U.S. Chamber of Commerce, the Financial Services Forum, the Small Business and Entrepreneurship Council, and even President Obama, should be rejected on the basis of an unelected official's "legacy." As concern mounts over our current economic downturn and rising unemployment, our top priority should be getting Americans back to work and growing the economy, not keeping up appearances.

And the JOBS Act would help. It's a common sense measure because it allows for easier capital creation for new ventures and promises to spur the creation of new companies and much-needed American jobs. It opens up the market for equity funding and raises the shareholder cap from 50 to 2000, which means more young companies can attract talent quickly. In today's economy, this is exactly what we need. By enabling easier capital formation, the JOBS Act empowers businesses to create many new jobs for U.S. workers.

While politicians and economists are spending their final days of the year consumed in debates over the growing uncertainty of the fiscal cliff, the JOBS Act is one proposal that should be left on the table. With so many other compromises and sacrifices we may have to make regarding the budget, spending and the growing deficit, this is one area where both sides can come together and agree to boost the economy and jobs.
President Obama and congressional leadership should stand together and insist that regardless of personal reasons, the SEC commissioners must implement this legislation immediately. With millions of Americans out of work, we simply cannot tolerate bureaucratic game-playing that undermines an important, bipartisan, jobs-producing initiative.