Hollywood Legends: Recoveries steeped in gratitude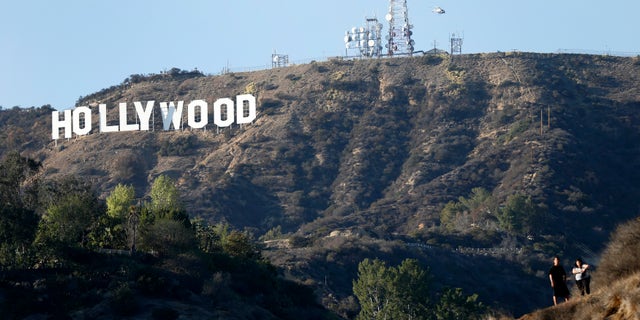 It's no secret that far too many of today's stars lose their battle with addiction. It's been a running battle, since Hollywood's earliest days. Stars, who have such power inhabiting others' lives and projecting them onto the big screen, are often less adept at taking charge of their own lives.
Many of the stars I write about in "Oasis: Conversion Stories of Hollywood Legends," however, fought and overcame these demons.
Betty Hutton is a poignant example. One of the biggest stars in 1940s and early 1950s Hollywood—known for "Annie Get Your Gun" (1950) and "The Greatest Show on Earth" (1952)—she became addicted to "uppers and downers, inners and outers," she quipped, and her life spiraled out of control.
By 1972, on the verge of giving up, she eyed this saintly priest, Fr. Peter Maguire, gently checking in his bombed cook at this rehab outside Boston. "He's going to save my life," she thought. And, so he did—as he imaged Jesus and helped her realize she was "just a hurt child" and tutored her in both academic studies and the Catholic faith to which she converted.
She helped others, too. As she told Robert Osbourne, "If I can take a soul that nobody wants any part of and pull them up by their bootstraps; that is a joy."
Starting in 1978, she also began speaking about addiction problems in New England and nationally.
After completing her studies, she graduated from Salve Regina University in May 1986 with a Master's Degree in Liberal Studies.
"Grasping the diploma with both hands," The Providence Journal reported, "she kept her left hand clenched around a strand of green ceramic rosary beads (Fr. McGuire's gift). Before descending to take her seat, she lifted the diploma heavenward and raised her eyes in a silent gesture of thanks."
Mary Astor is another salient example. The impulse to escape, formed during her abusive childhood, paved the way to her adult alcoholism. Having previously converted to Catholicism, just before filming "The Maltese Falcon" (1941), her strong faith led her to seek help, when, in 1949, she was released from her MGM contract, at her request, and began closeting herself to sleep and drink, when not painting or parenting.
She soon found herself in a constant "drunk-sober" state, she wrote in My Story: An Autobiography, and finally entered a sanitarium, where, in God's marvelous Providence, she wrote, the psychiatrist gave her Thomas Merton's The Seven Story Mountain, among other classics, that opened her eyes to God's healing grace.
She resolved to "walk humbly and carefully with Him." Nonetheless, she fell again, and on May 10, 1951, along with Vodka, overdosed on sleeping pills. Saved by her friend Fr. Augustin O'Dea, she recuperated and later continued to seek solace in the sacraments.
Feeling great peace after receiving Holy Communion, she wrote it was not emotion or imagination, but a clarifying "illumination, a great relief from" the unrelenting pressure bearing down on her.
She would also say the Rosary in the afternoons with great devotion and "sometimes," she wrote, "I remained for long moments afterwards on my knees, my head and arms on the bed, loath to break the precious sense of stillness."
Ultimately, as with Hutton, a priest, Fr. Peter Ciklic, who was also a psychiatrist, helped her see why she was addicted, paving the way to her permanent recovery. In thanksgiving, she wrote her 1959 autobiography.
As Thanksgiving approaches, we are reminded how, after hitting a crisis point and falling down, even legends got back up again—full of grace and gratitude.
Mary Claire Kendall is a Washington, D.C.-based writer and the author of "Oasis: Conversion Stories of Hollywood Legends."