Hobby Lobby founder & CEO: Invisible qualities, not money, make life worth living
NEWYou can now listen to Fox News articles!
Editor's note: The following column is excerpted from Hobby Lobby founder and CEO David Green's new book, "Giving It All Away…and Getting It All Back Again: The Way of Living Generously."
Do you remember doilies? They were crocheted mats that people might use for decoration on a table or a sofa. On top of taking care of a big family and a big garden, and being a pastor's wife, my mother used to crochet doilies and sell them.
Why? Even though my parents gave money together for missions, my mother wanted to make her own offering for missions. So she sold doilies.
That memory still sticks with me, and I can say that everything that I have and all that I long to pass on to my descendants has grown from the riches Walter and Marie Green embedded in my life.
In this sense alone, I can say that I was born into a wealthy family.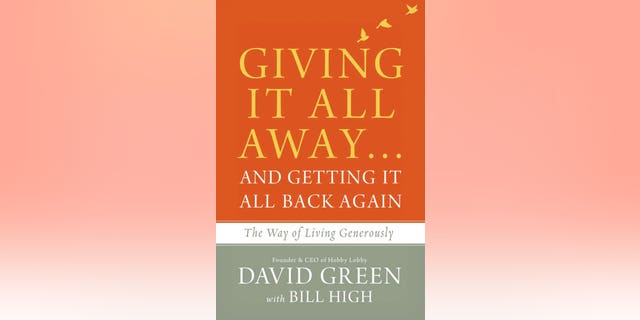 A legacy of true value is a legacy made of more than money. It's a legacy conceived in wisdom, nurtured by principle, and sustained by character.
If we pass only money to the next generation, we lay a crushing load upon them.
The inheritance of greater value is the sum of how we live, what we believe, and the content of the dreams that carry us to success.
This is what the next generation needs most from us, and what that next generation must prepare to hand off as well.
Fierce Faith
It has often brought a smile to my face to think that if Hobby Lobby had existed during the years I was growing up, my mother might never have darkened the door of one of our stores. Her attention was fixed on beautiful things of another kind, like our family, and her spending was limited by the challenging life she and my father chose to live.
My childhood was shaped by my father's work as a pastor in rural churches across Arizona, New Mexico, Texas, and Oklahoma.
In a practice that was common among religious denominations at that time, Dad was assigned to a new church about every two years. For me, this meant eight different schools by the time I finished high school. None of these churches ever seemed to grow much larger than a hundred souls.
As a result, small towns, small churches, and small incomes defined our lives, making it a constant challenge for my parents to care for our family of eight.
We usually lived in a two-bedroom house. With five siblings, that meant my brother and I often made do with a rollaway bed in the kitchen.
We never had a car. Our parents assured us that we each had two good feet to get us where we needed to be.
Generous cousins frequently sent secondhand clothes, so my parents had to provide only underwear and socks for us. The people in our churches supplemented our meager income with weekly "poundings."
Poundings were times during our church services when the faithful brought vegetables, fruit, and other food—often by the pound, hence the name—to the altar to help fill their pastor's pantry that week. Even with this generosity, we often went weeks without seeing meat on the table.
Believe me, I learned early the difference between wants and needs.
I don't say any of this to complain. I'm grateful for the life my family lived when I was a boy.
I am the son of two people whose feet were firmly planted in this world and yet who kept their eyes and hearts fixed on the world to come.
A deep and unshakable faith in Jesus Christ flowed from my parents and filled our home. It was in their lifeblood.
Mom and Dad actually met at the same tent meeting where my father went to the altar to receive salvation—and my grandfather and my mother were the ones preaching at the time!
What I learned from the fierce faith of my parents has shaped every day of my life since.
I can still remember hearing their voices raised in prayer and how they cried out to God for their children and for the lost people of our various communities.
The sound of their singing still plays in my mind and moves me deeply. They trusted in Jesus Christ completely, and because they did, we saw an almost unceasing stream of miracles. My faith grew as I saw God faithfully provide for our needs again and again.
Yet my parents were the kind of people who added to their faith a deep desire to live out the character of Jesus.
They were so scrupulous that they refused to tell their children there was a Santa Claus. It wasn't true, so it didn't need to be said.
They also never flattered someone just to gain an advantage over them. They were quite willing, though, to offer a genuine compliment along with the words of encouragement and faith that seemed constantly on their lips.
Our family was in church three times a week without fail—not just because our dad was the preacher but because we were focused on pleasing God in all things.
When the high school happened to schedule my older sister's graduation ceremony on a church night, it led to a serious conversation in our house about whether we would even attend.
In the end, we showed up at the graduation, but this was a rare exception. Following God and being in his house on a regular basis was a core value for us.
When I recount these stories, I get nostalgic. But there's more to remembering our pasts than warm fuzzy memories. It allows us to see how God carried us. In the moment, we don't always see. But looking back gives us a great view of his provision. A little reflection reveals the values my parents passed on to me.
I can see how my legacy began with my parents' example of fierce faith and contentment. They knew what God wanted them to do, and they did it with everything they had.
I learned from their radical generosity. They gave from nothing. It's one thing to give from full coffers, quite another to give back to God what he's given to you monetarily. Their generosity is etched into my heart.
My mother gave me a heavenly perspective. She was my equalizer. She gave me eyes to see the difference between what carries temporal significance and what carries eternal worth. I might have shrugged and hem-hawed while learning it, but looking back I now see how my mom taught me discernment.
From my early days of retail work, I learned to pay attention to that feeling of contentment when my hands found something they loved doing.
A calling can be anything from retail work to landscaping to carpentry to homemaking. We're each wired differently and have something unique and significant to contribute.
My marriage teaches me daily. I can see how making a commitment to our marriage and sticking to our decision for our family structure created peace, stability, and grace.
The legacies our generation hopes to pass on to the next generation are not made of money alone. Money is important, and we should be grateful we have enough to give to our children. Yet the greater part of our legacies is made of invisible things.
They are the family stories we have to recount.
They are the values those stories have to teach.
They are the dreams and the labors and the times of God's provision that have made something of value, not only material wealth but the values that are greater than money.
Invisible qualities, not money, make life worth living. Because of these qualities, we can build a legacy worth passing on.