Hello, Christmas! First day of November officially kicks off holiday shopping madness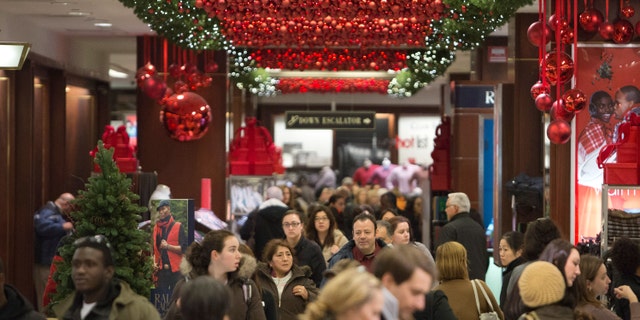 NEWYou can now listen to Fox News articles!
Just as early voting is getting more people to cast ballots in the midterm elections, an early start to the holiday shopping season will get more satisfied customers to spend more dollars.
Welcome to the "retail equinox" – that predictable time each year when the retail seasons change from Halloween monsters to holiday mistletoe.
Now that the euphoria of braving haunted houses and trick-or-treating is behind us, it's time to recognize what retailers already fully appreciate: The first day of November is the true start of the holiday shopping season.
There's no question what season we're entering. The background music switches from "The Monster Mash" to "It's Beginning to Look a Lot Like Christmas," and it happens as quickly as night turns to day.
With the first of November now here, we can feel consumers' shopping interests shift direction. Holiday purchasing starts coming into focus. Merchants begin pushing their retail machines into overdrive with a vision for making year-end sales goals.
Many years ago, Black Friday – the day after Thanksgiving – was considered the official start of the holiday shopping season. Then, earlier in this decade, retailers started pushing to move Black Friday sales into Thanksgiving Day. Now, almost two decades into the third millennium, shopper behavior has evolved. Thanksgiving has become a welcome break between Halloween and Christmas.
Halloween has taken on growing importance for retailers as millennials have brought some of their childhood joys into adulthood. The $9 billion that the National Retail Federation (NRF) estimates will have been spent this year on Halloween is a testament to that fact.
Yet in spite of that significant number, the NRF estimates that holiday spending will reach nearly $720 billion this year. That's 80 times greater than what was spent on Halloween. No wonder the holiday shopping season is longer than just one month between Thanksgiving and Christmas.
In our 21st century world, traditional brick-and-mortar retailers are learning that the only way to compete with online merchants is to make the in-store shopping experience more pleasant. Holiday-themed epicenters around stores give shoppers an "only-available-here" feeling meant to overpower the conveniences of shopping online.
You can't smell the Christmas cookies over the Internet. You can't taste the cider online. And you certainly won't feel the warmth of a friendly sales assistant if you're shopping on your phone.
There are still benefits to brick-and-mortar shopping that consumers won't find on their computers and mobile devices. Even so, online shopping will continue to bring the start of holiday purchasing earlier than it ever was in the pre-digital age.
So let's stop kidding ourselves. The official start of the holiday shopping season is not Black Friday. It's not Gray Thursday (Thanksgiving Day). And it's certainly not Thanksgiving eve. The official start of the holiday shopping season is really the first day of November – the day when merchants and shoppers together reach the retail equinox.
We're now at that point when the food, fun and festive decor transition from chilling to warming, from scary to sociable. Look for these signs, coming soon to a store or website near you.
And don't wait too long. If you wait until Black Friday to start your holiday shopping, you will have missed half the fun, not to mention half the merchandise.
Hark! Do you hear what I hear? It's the crack of dawn for the best retail season of all. Those are the sounds and signs that we've reached the holiday shopping season. November 1 is the day we celebrate the retail equinox.