Happy Birthday, Nancy Reagan
NEWYou can now listen to Fox News articles!
Born Anne Frances Robbins on ​July 6, 1921 in New York, she was born into a life on the stage as the daughter of an actress. Never could she have predicted that her own path would lead her to become an actress as well, but even more so would eventually find her on the world stage as Nancy Reagan, First Lady, in a supporting role to her husband, President Ronald Reagan.
​I met her for the first time after she and the president left the White House and returned to Los Angeles. Those were supposed to be golden years of retirement, yet that is not the way this First Couple ever did things. Upon their return to California, their schedules remained robust and engaged. It was important to them to stay connected to the American people and to be involved in causes they had always supported. California gave them a hero's welcome home – and eagerly and fully embraced their return.
My life was forever changed once I stepped foot into the Office of Ronald Reagan in 1989 as a college intern, eventually becoming the executive assistant to President Ronald Reagan, a role I was honored to hold over the course of ten years until he left the public eye in 1999. Of course I couldn't work with Ronald Reagan directly without working with Mrs. Reagan indirectly - and I enjoyed, and learned from, every interaction with her.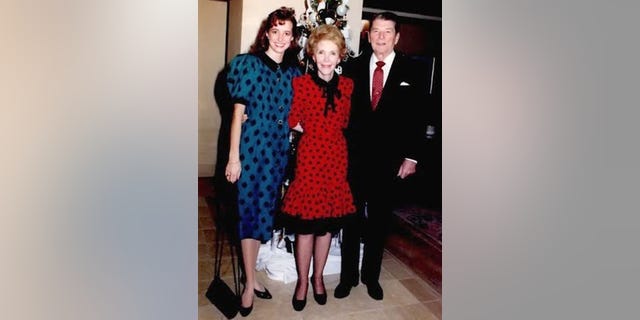 I watched her as a gracious hostess to world leaders and observed firsthand her hospitality and attention to detail on behalf of others. I admired her warmth, even as sometimes language barriers prevented true conversation, her heartfelt connection was established in other ways – through smiles and gestures conveying sincere welcome.
As time went on I was humbled to be a recipient of her world-class hospitality as well, both myself, and any time I brought my family to the Reagan's home for a visit. She was gracious and loving. Kind and warm. Patient and understanding – even of the prying questions and wanderings of my four young children through her museum-esque home.​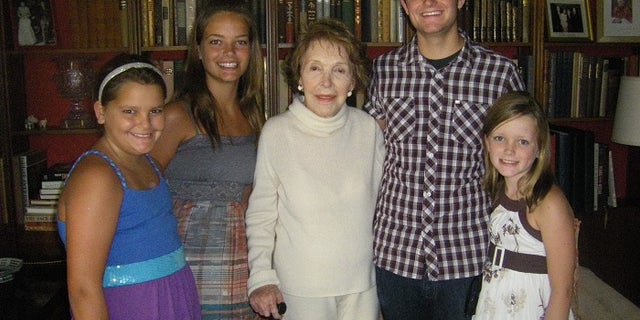 Each of my children had a warm personal connection with Mrs. Reagan, but since she and my daughter Courtney were both dancers and performers, they always felt as if they shared an extra special bond. Courtney felt very grown-up when Mrs. Reagan talked to her seriously about dance, as if she was speaking one professional dancer to another. Mrs. Reagan would ask Courtney what she was working on in her classes. Courtney would describe the routines they were practicing, and then Mrs. Reagan would ask her to show one to her. Courtney didn't have to be asked twice!
I remember one visit in the summer when Courtney described the eight-count combinations the class was working on and leapt up to demonstrate. Soon Mrs. Reagan was up, too, holding Courtney's hand and asking her to teach her the steps. What a great memory of these two dancers, with wide grins on their faces, holding hands and sharing choreography on the private "stage" of the back patio of the Reagan residence!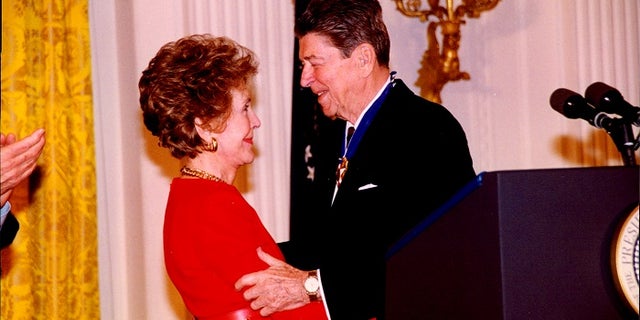 And speaking of holding hands, of course the love story of Ronald and Nancy Reagan was one for the ages. Genuine and true. I loved watching them interact - especially when they thought no one was watching. Seeing their deep connection to each other was heart-warming. Regardless of how many people were around, when they looked at each other the rest of the world disappeared. If they started on opposite sides of the room, they were like magnets drawn toward each other, ultimately winding up connected and inseparable.
I admired Mrs. Reagan's willingness to sometimes be the "bad guy" so that her husband could be the "good guy." She always had his best interests in mind and was a shrewd judge of character, often intuitively seeing motives and agendas in others that didn't serve her husband well that perhaps he didn't always see. I believe that Ronald Reagan would never have become all he was and accomplished all he did without the petite, yet powerful, love and devotion of his wife behind him.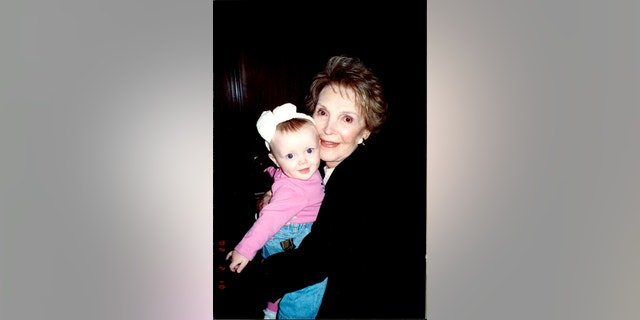 In the later years especially, I grew to admire Mrs. Reagan even more for being such a stalwart supporter of her husband's legacy, especially since I know that she much preferred to be in the background, gazing adoringly up at her husband while he communicated with the nation and the world. Yet in the final years of his life, when he was no longer able to be a voice on his own, she bravely stepped forward to be a champion for him, albeit reluctantly, taking the stage once again on his behalf, a place of destiny for her.
Today we celebrate the life of Nancy Reagan whose presence ranged from global stages as a representative of the president, to local ones, with a toddler, as a fellow dancer on the diminutive stage of private life. In both circumstances she shone brightly in the spotlights and made it all look effortless. Brava Nancy Reagan - brava!