For China, buy American means something else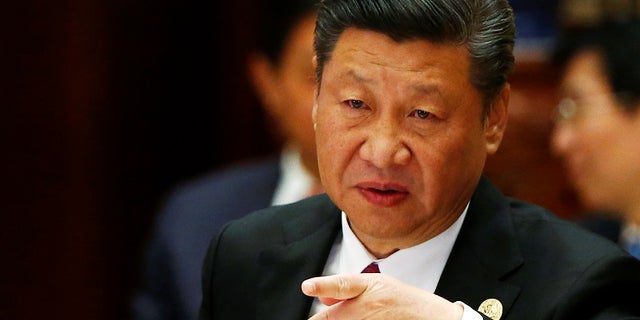 The United States government, including the Department of Defense, is at risk of allowing some of its most sensitive information to be seen by a Chinese company whose chairman has close ties to that country's Communist party.
International Data Corp. (IDC) markets itself as "the premier global market intelligence firm." It specializes in information technology (IT) and security, and numbers among its clients the National Security Administration, the Departments of Defense, Commerce and Energy, the U.S. Census Bureau and the General Services Administration.
Earlier this year, IDC's parent company, based in Boston, was purchased by China Oceanwide Holdings, a Chinese conglomerate whose president and chairman, Zhiqiang Lu, has been a member of the People's Political Consultative Conference, which advises the Chinese Communist Party.
The contracts that IDC – and now China Oceanwide – hold with the various government departments are small, less than $100,000 each. IDC provides technical advice, consultation and solutions to its clients. That means that it has access to sensitive IT data, and its IT security recommendations could potentially influence government procurements. And that access could now be available to IDC's new owners, China Oceanwide.
IDC declined to comment for this article.
Patrick Evans, a Pentagon spokesman, acknowledged the Pentagon has contracts with IDC. In a written statement, Evans says: "The Department of Defense does not (nor does the U.S. government) have a blanket ban on products from Chinese companies, and DoD does not 'blacklist' suppliers or individual products."
The sale of IDC was approved by the Committee on Foreign Investment in the United States (CFIUS), a branch of the Treasury Department that assesses potential risks from the purchase of U.S. companies by foreigners.
"CFIUS is a broken process," says Dean Popps, a former acting assistant secretary of the army for acquisitions, logistics and technology under the administrations of George W. Bush and Barack Obama. "Since it was created 40 years ago, it has been driven by business interests, not national security. No one is in charge."
To be sure, Chinese companies have been on a U.S. buying spree in recent years. In 2013, Shuanghui International purchased Smithfield Foods, the world's largest producer of pork. In 2005, Beijing-based Lenovo bought IBM's personal computer business, a sale that the Pentagon warned posed a security risk. In 2014, Lenovo followed up by acquiring Motorola Mobility, a maker of mobile phones, from Google. China Oceanwide now owns 29 percent of Lenovo. All those deals were approved by CFIUS.
"It's a stunning story of the stealing of America. It's being done under our very noses, one blip at a time."
"It's a stunning story of the stealing of America," says Popps. "It's being done under our very noses, one blip at a time. We know how our enemies operate. It's theft of intellectual property, it's theft of trade secrets. And in production, they outdo us because they don't have environmental restrictions. The levers are all over the place but the American people haven't gotten the message yet."
He's not the only one concerned with the approval procedures in place.
"CFIUS does its work very quietly and there is no public record of the discussions that are held within CFIUS," says Sourabh Gupta, a senior fellow at the Institute for China-America Relations. "Its decisions are not challengeable in court. When Chinese companies want to acquire U.S. companies, it often doesn't come to the stage where CFIUS says no."
Despite President Trump's promise to bring jobs back to America, Gupta sees a turf battle being waged within his administration. Nationalists like Chief Strategist Stephen Bannon want to restrict sales of U.S. assets to foreign buyers, while globalists, led by Treasury Secretary Steve Mnuchin, see opportunities in a worldwide economy.
"If you go back and look at the Obama administration's national security strategy, there's no mention of any prioritization of our strategic supply chain," Popps says. "It is an argument between globalists and nationalists. And the globalists refuse to admit that there is ever any security threat."
At heart, Popps thinks that America has lost the ability to produce its own goods, even those that are essential to national security. He asks: "What won World War II for us? We were turning out a ship a day because we had the manufacturing capability to provide what is necessary for our own security."
Conservatives like to say 'let the market decide winners and losers.' But with the direction things are going in the world, the U.S. stands to lose either way.