Ex-NY City Schools Chancellor: Colleges should open doors to bright low-income students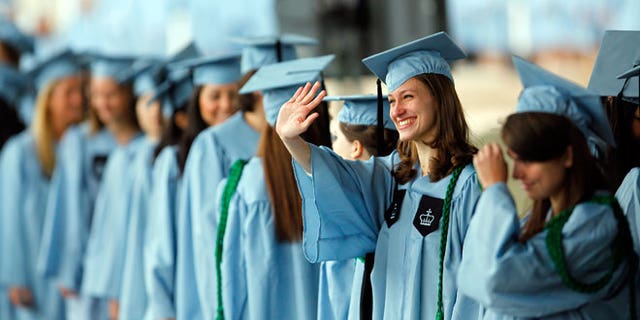 NEWYou can now listen to Fox News articles!
From childhood, we're taught that America is the land of opportunity and endless possibilities, where anyone willing to work hard can succeed and build a bright future. This is the American Dream and it has come true for millions of us, myself included.
But unfortunately, the dream is out of reach for millions more young people today – not because they lack ability or ambition, but because they come from low-income families. These young people face enormous financial and other obstacles standing in the way of their admission to college – today's gateway to the American Dream.
The Jack Kent Cooke Foundation, where I serve as executive director, is working to help outstanding students from low-income families walk through the college gates and walk out with diplomas. We have awarded about $147 million in scholarships to more than 2,000 high-achieving students from low-income families and $90 million in grants to organizations that serve such students since our creation in 2000.
Later this month we'll award the $1 million Cooke Prize for Equity in Educational Excellence to a selective college or university with an excellent record of admitting, supporting and graduating outstanding low-income students. The finalists are: Amherst College in Massachusetts; Davidson College in North Carolina; Pomona College in California; Rice University in Texas; and Stanford University in California.
The Cooke Prize is the largest award in the nation given to an elite college for eliminating arbitrary barriers to admission and promoting the success of high-achieving students from low-income families.
All the finalists for the prize have undertaken major initiatives to create equal educational opportunity for students regardless of their family income. We want to shine a spotlight on their achievements so other schools can learn from their success.
The Cooke Prize was first awarded in 2015, going to Vassar College in New York. Vassar raised its percentage of low-income students (those eligible for federal Pell Grants) by 11 percent since 2008 – more than any other college ranked "most competitive" by "Barron's Profiles of American Colleges." About 23 percent of Vassar's freshmen are eligible to receive Pell Grants.
But access to college – particularly the most selective schools – remains far too closely tied to income around our nation today.
A 2014 White House report titled "Increasing Opportunity for Low-Income Students" states: "While half of all people from high-income families have a bachelor's degree by age 25, just 1 in 10 people from low-income families do." In other words, a baby born into a wealthy family has five times the likelihood of going to college as a baby born into a poor family.
And a study issued earlier this year by the Cooke Foundation found that only 3 percent of students at top colleges across the nation come from the poorest 25 percent of families, while 72 percent of students at these colleges come from the richest quartile of families. That means that for every low-income student at one of these colleges there are 24 wealthy students.
This huge gap between the rich and poor in educational attainment is fundamentally un-American. We must close the gap by providing students who have big brains and small wallets with the financial aid and supportive services they need to enter, succeed and graduate from even our most elite colleges and universities.
The Cooke Prize finalist colleges have proven this can be done and for this we salute them. More colleges must follow in their footsteps.