Every day needs to be Armed Forces Day, Memorial Day, and Veterans Day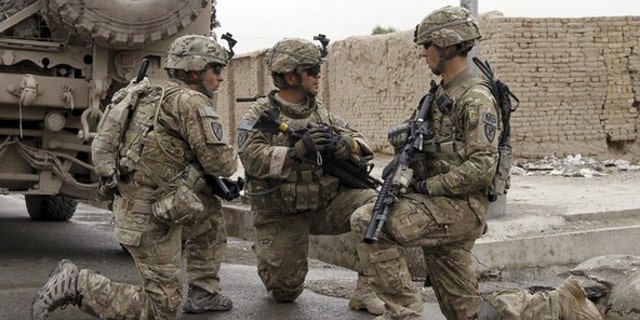 NEWYou can now listen to Fox News articles!
I recently met a Vietnam veteran on a local golf course. Somehow, the current state of US affairs was brought up. This led to a discussion of the current war in Afghanistan. Quickly, the two of us compared and contrasted the war I recently fought and his war in Vietnam.
Somehow, maybe due to our discussion, I started hitting my driver much straighter into the fairway. As the two of us took our approach shots toward the green, I asked the Vietnam vet if he was a member of the local VFW-- he was.
It was then that I realized I was truly no different than many veterans. After explaining that it took me several years to join the local Post, he looked at me with a smile and said the unthinkable. "You're not alone. It took me more than twenty years before I joined."
[pullquote]
"Twenty years?" I replied in shock as I placed my seven iron back into my bag.
"Most vets I know don't want to talk about their war. They've been conditioned in believing its taboo or something." He said as he began walking to the green where his ball landed. "Me, I actually enjoy talking about my time spent in 'Nam. It was some of the best times in my life."
While I didn't understand why he said those words, I can only assume it had something to do with his hesitation in joining the VFW.
I later found that he was with a very unique unit while serving in Vietnam. It was a unit that flew into some of the most remote regions in Vietnam, Laos, and even Cambodia. He worked closely with specialized units mostly involved in covert activities.
Mentally, we had a lot in common. I learned a lot that day from my new friend. I learned that I wasn't alone. I, too, believe that some of my most cherished times in life were spent fighting alongside my brothers during military conflict.
I also learned that I wasn't the odd ball who enjoys speaking about my times spent abroad.
Most importantly, I learned that America has, in many ways, let me down.
Unlike Vietnam, where most Americans were glued to their televisions every evening watching journalists cover the war, as our culture has "evolved" its neglected the American service member and the war effort.
During Vietnam, at least our vets were either completely loved or hated. But never neglected.
Contrary to Hollywood's depiction of Vietnam, our vets who served there were no different than any other vet. They were professional, compassionate, and triumphant in their duties. The majority of Americans loved them.
Today, years after the initiation of the Afghan War, I realized that our service members have been utterly neglected.
We no longer see them on our televisions as we did throughout the Vietnam war or at the start of the Afghan War. In fact, we have conditioned ourselves to believe that a blind man from China, Facebook stocks, or an incredibly unprofessional teacher out of North Carolina should make today's headlines before our own troops.
Just last week, as a nation, we were supposed to celebrate a national holiday—Armed Forces Day. This coming weekend, we are supposed to celebrate Memorial Day. Both holidays are intended to serve Americans as a reminder to never forget the sacrifices made by our service members.
May 19th passed and very few realized that it was Armed Forces Day. People went on with their lives showing little gratitude for our past and present service members.
On May 28th, many Americans will gather -- and maybe feast at a backyard barbeque -- not even realizing what Memorial Day is really all about.
We have been socially conditioned. And our veterans have been socially conditioned into believing that open dialogue about their times spent fighting abroad is taboo.
Traditional civilians have also been socially conditioned to only remember our veterans during key holidays like Memorial Day, Armed Forces Day, or Veterans Day.
Needless to say, even on these days, many Americans care little about the true significance behind these holidays.
There was a time in American history where citizens embraced our veterans. They didn't just embrace them on key holidays, they embraced them every day. Those times weren't too long ago.
My new golf buddy was right. The emotions I have tucked away, deep inside me, were emotions many veterans have.
I am not alone.
Many Americans no longer truly care about our warriors. Instead, we care more about that sports star who got wrapped up in some illegal activity, some foreign national who escaped communist China, or some celebrity scandal.
We shouldn't need a holiday to thank a vet. We shouldn't need a designated time throughout the year to remember them. We shouldn't allow pop culture to replace our history, traditions, and gratitude towards our past and present service members. We should be reminded of their sacrifices, daily.
Our veterans shouldn't feel uncomfortable speaking about their times spent fighting alongside their brothers-in-arms.
Our veterans shouldn't be identified through pop culture as anything but who they truly are—America's best and brightest. Our society shouldn't allow anyone to depict our veterans as anything but our nation's heroes.
Armed Forces Day came and went and Memorial Day is quickly approaching.
Every day needs to be Armed Forces Day, Memorial Day, and Veterans Day. We are fighting the longest war in American history but observing everything taking place today, inside the United States, you wouldn't know it.
As Memorial Day approaches, let's not forget our veterans. When May 28th ends, let's continue to remember them throughout the year.
Without our veterans we, as a nation, have nothing.
Kerry Patton, a combat service disabled veteran, is a senior analyst for WIKISTRAT and author of Sociocultural Intelligence: The New Discipline of Intelligence Studies and the children's book American Patriotism. You can follow him on Facebook or at www.kerry-patton.com.