Dr. Marc Siegel: Trump's healthy! It's time for critics to stop questioning his fitness for office
Now that the White House physician, Navy Rear Adm. Dr. Ronny Jackson, has pronounced President Trump in "excellent health" after a thorough physical exam – including a cognitive test that found no neurological problems – it's time for the president's critics to stop questioning his fitness for office.
I hope the media witch hunt for President Trump's supposed dementia or possible psychosis is now over – and that talk will cease about removing him from office under the 25th Amendment to the Constitution as being unable to carry out his duties. But I doubt this will be the case, judging by reporters' repetitive questions at the end of a news conference that Jackson held at the White House on Tuesday.
Jackson, who oversaw President Trump's physical conducted last week, spoke directly to the media and added flesh to the bones of his assessment. He is a highly qualified physician, board-certified in emergency medicine and an expert in hyperbaric and submarine medicine. The evaluation he made is far superior to that of anyone, physician or otherwise, trying to judge the president's health by watching him on TV.
Jackson has had an impressive medical career. In Iraq he was in charge of resuscitative medicine for a Surgical Shock Trauma Platoon. There is an old saying in medicine: if you want to take care of not-so-sick people, you should experience life-threatening situations first, where you learn to save people near death. Jackson is an example of this path to success.
President Trump scored 30 out of a possible 30 on these cognitive tests – a perfect score that's incredible for a person his age.
The Navy doctor was appointed as a White House physician by President Bush in 2006 and was the physician for President Obama before remaining in the position to serve President Trump. There is every reason to have confidence in what he says.
Jackson stood before the cameras Tuesday and spoke about the president's health for almost an hour and then answered questions. His military stamina served him well as reporters dug and scratched for any possible red flag they could find. Finding none, they repeated the same questions over and over.
Jackson described a detailed examination of President Trump. The president's blood pressure is 122 over 74 and his resting heart rate is 68 beats per minute, which is normal. At 6-foot-3 and 239 pounds, President Trump needs to lose weight.
President Trump doesn't smoke or drink alcohol, but Jackson said his diet is too high in animal fats and he needs to exercise more. His cholesterol is too high at 223 and his target LDL cholesterol – commonly referred to as "bad" cholesterol – is too high at 143. Jackson wisely said that the president's cholesterol-lowering drug Crestor will be raised to a higher dose.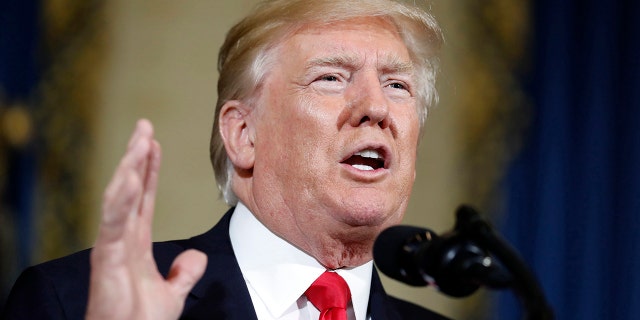 President Trump also underwent a CT scan of the chest to look at his lungs and the results were totally normal. He underwent extensive heart testing including a normal electrocardiogram (EKG), echocardiogram (cardiac echo), and an echocardiography stress test (echo stress test). His heart is in excellent shape, Jackson said.
Then came the discussion that everyone was waiting for. President Trump had a normal neurological examination, and at his request he underwent an extensive cognitive test known as a Montreal Cognitive Assessment. This test examines attention and concentration, executive functions, memory, language, coordination of fine motor skills with spatial abilities, conceptual thinking, calculation skills and orientation.
President Trump scored 30 out of a possible 30 on these cognitive tests – a perfect score that's incredible for a person his age.
Jackson explained that the president's trouble with dry mouth during a recent speech, saying that he had given the president a Sudafed for a cold the day before, which can definitely dry your mouth and make it difficult to form words.
In addition, Jackson described almost daily interactions with President Trump and said the president is quite sharp. And though he did not conduct a psychiatric exam, Jackson described President Trump's behavior in completely normal terms. No personality testing (which is frequently inaccurate) can take the place of a doctor's great rapport with his patient.
President Trump is up-to-date with his immunizations, including the flu vaccine, and he received a pneumonia vaccine during this physical. So apparently he believes in vaccinations after all. He had a colonoscopy in 2013 that was normal, so he doesn't need another one now, Jackson said.
So how is it possible that a man who doesn't exercise regularly, doesn't eat right, and is overweight can possibly be in excellent health at the age of 71? He is, after all, the oldest man ever elected to a first-term as president.
Certainly the last two presidents were role models for fitness. But genetics play a big role in health, and Trump's father lived to 93 and his mother to 88. Not smoking or drinking and not having diabetes are also positive factors.
And though I believe strongly in the research that shows that regular exercise and a plant-based diet are important for overall wellness and longevity, I also believe that good health is not entirely predictable.
Meanwhile, President Trump's positive results are inspirational for Americans everywhere who don't eat as well or exercise as much as they should. My message (and Dr. Jackson's) to sedentary fast-food eaters everywhere like the president is that it is never too late to change. I would advise President Trump to play a lead role in this, beginning by getting rid of the golf cart and walking the course.