Does God want quarterback Taysom Hill to fail?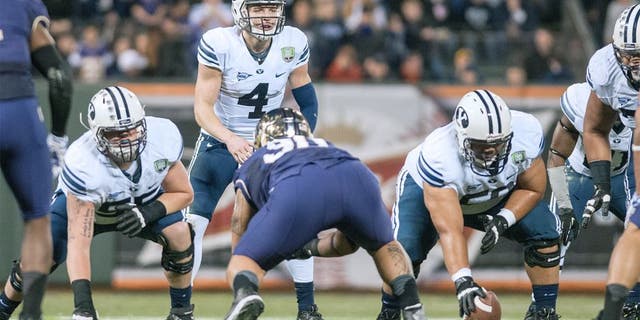 NEWYou can now listen to Fox News articles!
Imagine you're an elite college quarterback with rare athletic ability. Many have labeled you a Heisman Trophy contender and Fox Sports even dubs you their sleeper pick.
Everyone knows that you've already endured two unrelated season-ending injuries in 2012 and 2014 and this is finally your year — your senior year.
You're healthy, happy and your opening game is on national television against Nebraska.
Then, in the second quarter, you suffer a serious foot injury.
Even when discussing his uncertain future, Hill has faith that it's all in God's hands.
Once again it's unrelated to any previous issue, but because this is your moment, you play on through excruciating pain.
By the fourth quarter, your body says "no" and when your team gathers around you in the locker room after the game, they're in tears and you're in street clothes. You're done for the year — again.
Even though you're a Christian with a strong religious background, are you tempted to ask, "Does God want me to fail?"
For Taysom Hill, star quarterback for Brigham Young University and one of the greatest all-around athletes to ever play in Provo, this isn't rhetorical.
It's life.
On Sept. 5 during the school's opener against Nebraska, Hill suffered a devastating Lisfranc injury on his right foot, the third season-ending injury of his career.
(Author's note: Years ago, I experienced this same painful injury. Just reminiscing on the anguish makes me long for a warm bath and a Yoohoo.)
During a recent interview, his first since the injury, I asked Hill how he was coping with the reality that his promising football career — complete with a Heisman campaign and NFL draft potential — could be over after three freak injuries over four seasons.
With the timing of a great quarterback, Hill, a Christian and member of The Church of Jesus Christ of Latter-day Saints, fired off one spiritual thought after another. He spoke not of blaming God, but praising him. While some might have asked why heaven couldn't have prevented this rare trio of injuries, Hill says the opposite.
"Yes. God could have prevented this. But he didn't, and that's all right," Hill said. "Listen, trials and difficult times can help you become better and move forward, or they can cause you to step backward. It's how you handle those situations that shows who you can become. I view this as an opportunity to share my faith with others."
Even though football has been an important part of his life since childhood, Hill has been diligent in keeping his priorities on what matters most. "Football has molded me in many ways and I've had great experiences. But when I step back, I know that football is not what drives me. It's not really what's important," he said. "Life goes on. Right now, it's about my little family, church and school."
When asked why his faith is such a comfortable topic, Hill said that his relationship with God has always comes first. "I have never doubted. I have had a firm belief in God and the church."
Hill also doesn't want anyone to misread his conviction. "No, I'm not perfect in anyway. But I want to be better and to influence people for good in any way I can."
Even when discussing his uncertain future, Hill has faith that it's all in God's hands.
He will graduate with a degree in finance in December but doesn't want fans to assume his football career is over. "These are three separate injuries with no correlation. These are freak things. Do they end my career?
Not necessarily. I have the option of a medical redshirt and one more year after I graduate this December. Then maybe I pursue the NFL. Who knows."
Hill promises any decisions will come after he's healthy in 2016.
Like you and me, Hill will be watching the Heisman Trophy presentation in December from his couch and not from the front row in Manhattan. But he's not blaming fate, the University of Nebraska or God.
Instead, he's praising him and giving thanks for yet another opportunity to share his faith.
Imagine that.