Distracted driving killed my wife, don't let it kill yours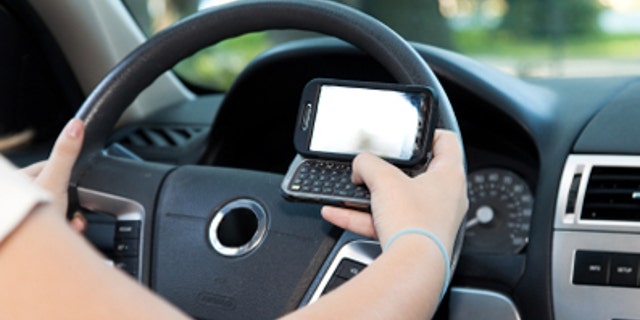 NEWYou can now listen to Fox News articles!
One beautifully clear September morning a few years ago my wife and four-year-old son were parked in their Nissan on the side of highway heading into Canterbury, England, where she worked and where our boy was in day care.
No one knows why she stopped, but her car was several feet on the correct side of the line, she was well within her legal rights to be there and, I'm sure she assumed, "safe."
At 10:21 that morning a tractor-trailer, an 18-wheeler, a really big truck was traveling at fifty-five miles per hour on that same stretch of road. The trucker, a fifty-four-year-old father of two, had not taken his required driving breaks for three days prior.
[pullquote]
At 10:22 that truck hit that Nissan with enough force to send it flying, spinning into the air until it came to rest 230 feet away—that's about one-and-half lengths of an Olympic swimming pool.
The truck was outfitted with all the latest safety features. Its breaks, applied only after the crash, were working as well that day as on the day they'd been installed.
The police report of the crash says that my wife was killed instantly—I'm thankful that she didn't suffer. Our son, it says, was thrown fifty feet from the car but survived—for this I'm grateful beyond my ability to express.
The police report describes every angle and position, every detail of visibility and the location of every piece of my wife's car in painstaking scientific detail. But these are just words and numbers, the photos of the crash tell another story.
The one that will stay with me forever is the photo of my son's little wooden push-bike pulverized to splinters. My son loved that bike. But his new one was better—a big boy's bike.
The trucker never told the police exactly what happened. Some of the investigators thought he might have been messing with the radio or some papers on his dashboard. Most of the others guessed that he had fallen asleep at the wheel.
He would have felt it when he hit them though, that would have certainly gotten his attention. In the end, he was sentenced to two-and-half years in prison for causing death by dangerous driving.
My son beat the odds: he survived when I was told to prepare for him dying. He pulled himself out of a coma when I was told he'd likely never wake up.
He walked on his own when this seemed unlikely. And, only three months after the crash that killed his mother and should have killed him, he went to a normal, mainstream elementary school when I had been told this would never happen.
The crash also transformed me. At my son's bedside, pulling him through his recovery, I found real meaning and a sense of genuine purpose for the first time in my life. The fast-track career that had been so important to me before seemed irrelevant compared to my new vocation: being the best father I could possibly be. This was what I was meant to be doing.
My son is now 11-years-old. He plays soccer, has lots of friends, is great at math and amazingly good on the piano. Simply watching him grow up makes me happy every day.
While our story is ultimately a very positive one of recovery and redemption, the incalculable pain, grief and damage that precipitated it could have been so easily avoided if one person had not let their attention slip behind the wheel.
April is Distracted Driving Awareness Month and I'm sharing my story in an effort to reduce the number of needless deaths on the road.
Our tragedy happened in England, but the statistics are virtually the same across the developed world: roughly three deaths in every thousand are the fault of distracted drivers. If you're driving, drive alert.