Democratic Debate: Why Bernie Sanders is frustrated and six other New Hampshire takeaways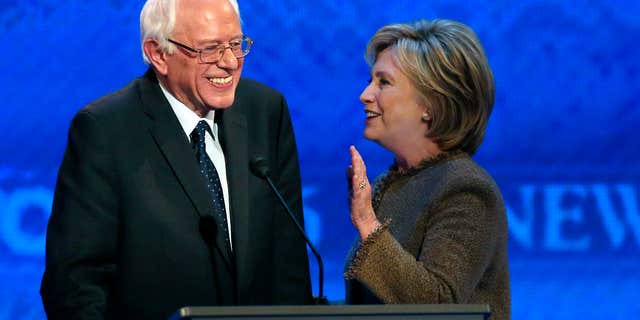 NEWYou can now listen to Fox News articles!
Here's why Bernie Sanders is frustrated.
Like a Rodney Dangerfield without the red tie (or comic relief), the Vermont senator feels he gets no respect from the party whose presidential nomination he seeks (even if he's not a registered member of said party).
Most recently, that's the Democratic National Committee temporarily cutting him off from the DNC's voter database (Sanders' campaign sued the DNC on Friday, followed not long after by an accord).
That, and being stuck in a yet another Saturday Democratic presidential debate that seems as much a blueprint for viewer-suppression as it an exercise in free speech.
As for the debate in Manchester, N.H. – the third for the Democrats this year and the last time Clinton, Sanders and former Maryland Gov. Martin O'Malley will convene until Jan. 17 in South Carolina – a few observations:
Blink And You Missed The Fight. The anticipated brawl between Clinton and Sanders over the data breach ended up in Tyson-Spinks territory, with Sanders apologizing for his campaign's actions and Clinton talking about moving on – all in the opening question. So much for fireworks over New Hampshire. The debate was testy at times (mostly over not getting equal time), but not the theatrics ABC had envisioned.
Guns and Poses. The third question in the debate – after Datagate and what to do about domestic terrorism: do the three candidates agree with voters wanting to arm themselves against terrorists?
Clinton made it clear she won't be stumping at gun shows anytime soon ("arming more people to do what, I think, is not the appropriate response to terrorism").
Interestingly, she didn't tack on an assault-weapons ban, though she did challenge Sanders to side with Senate Democrats on gun-control measures.
Two things about Clinton and guns: (a) it's pragmatic for her to be a voice of liberal outrage (for now) given the Democratic base's obsession with gun control and Sanders' mixed record on the topic; (b) however, once Sanders is dispatched, odds are she'll drift toward her 2008 more pro-gun self – the version she knows will play better in Ohio and Iowa.
The Two Bernies. He seemed deluded if not out to sea on foreign policy – for example, his plan for taking the fight to ISIS hinging on making the Saudis and Qatar step up. But it was a different Sanders when the debate shifted to domestic ideas (maybe he chugged a Red Bull while Hillary was taking that lengthy bathroom break).
One thing noticeable about Sanders: he's great on generalities (corporations are evil), but not so good with specifics (such as how much people should pay for health care).
Youth Served? Sanders, age 74, is six years older than Clinton yet is winning three out of five Democratic voters under the age of 45. It's a replay of what dogged Clinton in 2008, when Barack Obama beat her to the youth vote. And it could be troublesome if she draws a fortysomething GOP opponent next November.
Other than a shout-out to keeping young adults on their parents' health plans and making college more affordable, there wasn't much in this debate that showcased Clinton as an ambassador for Gens Facebook and Snapchat.
Unless her strategy is to be an Americanized version of Angela Merkel, she should use the remaining three debates to work on that age gap.
Oh O'Malley. Spelled with a capital "o", as in "Odd Man Out". At times, O'Malley tried to link Clinton and Sanders to Washington's bad practices ("flip-flopping" on guns).
Too many times, he exhibited that annoying politician's habit of overdoing it with empathy (twice telling the audience he knows Muslim Americans; twice singling out his college-age daughter; comforting a friend whose mother died from a drug overdose).
Otherwise, it's O'Malley's fate in this Democratic raise to be the third wheel – a noodge, an irritant. One gets the impression that Clinton and Sanders care little for their opponent. Unfortunately for O'Malley, most polls echo that sentiment.
The winner, if we must: Clinton. On foreign policy, she was more coherent than Sanders and O'Malley – and the moderators spared her that ugly did-you-lose-Libya question until the show was almost over.
On the domestic front, Hillary showed she took notes in 1992: like her husband, he wants to claim the middle of the road and the middle of the economy. Whereas Bill Clinton promised a middle-class tax cut, Hillary vowed not to raise them on families making under $250,000 (that's $50,000 higher than the Democratic marker in 2008).
Sanders was far more animated when the focus shifted to domestic politics, but such inanities as "Wall Street is a threat to the economy, they've [sic] got to be broken up" are why Hillary Clinton must sleep well after these functions – limited and off-the-radar as they are.