CNN's Crowley first plays umpire, then joins Team Obama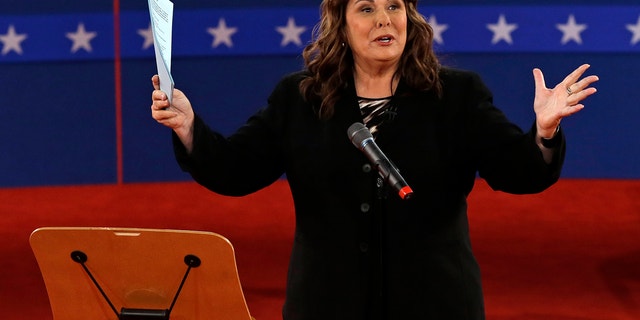 NEWYou can now listen to Fox News articles!
In the baseball playoffs, many fans believe the tie goes to the runner. In debates, ties are decided by the moderator and that's what happened during the Tuesday night presidential debate at Hofstra University in New York. CNN's Candy Crowley made her presence felt as a moderator in a major way on two points, but none larger than the issue of Libya.
The terrorist attack that killed Ambassador Chris Stevens and four others in Benghazi has become a sore point for Obama, but Crowley made sure she called Romney out before Obama could tag him.
When Romney said Obama had not called the attack an act of terror for 14 days, Crowley interrupted and said: "It -- it -- it -- he did in fact, sir. So let me -- let me call it an act of terror."
Naturally, Obama asked her to restate her point and she did. "Can you say that a little louder, Candy?" asked the president. "He -- he did call it an act of terror. It did as well take -- it did as well take two weeks or so for the whole idea there being a riot out there about this tape to come out. You are correct about that," she continued.
Conservatives were outraged, arguing that Crowley's interruption spoiled a key Romney point. They weren't the only ones. Even Politico's Mike Allen called the Crowley point "arguable" and pointed to the transcript of Obama's statement saying it "generally" referred to "acts of terror." CNN's John King called the Obama statement a "generic" comment about terror, not specifically calling the Libya attack a terrorist act.
Afterward, CNN's post-debate analysis team focused heavily on that point and Crowley herself admitted Romney had been right "in the main." She said Romney "picked the wrong way to go about talking about it." She also emphasized that each point she made also generated applause from one half of the audience, then the other.
But Crowley also admitted she took her cue to intervene from Obama. She said Libya was where Romney "tripped himself up." But she clearly helped. After Romney made his point she cut in. "The president kept looking at me, going you … and I thought, well, I did know that, I said, he, you, he did, call it an act of terror." She then chastised Romney because "he picked that one wrong fact."
The Daily Caller's Matt Lewis was understated, saying simply: "Candy Crowley seemed to side with Obama." But The Washington Post blamed Romney's reaction on conservative media.
"Romney came off as being shellshocked by the mere suggestion" that he was wrong, wrote Erik Wemple. He continued his attack blaming the right. "Romney revealed that perhaps he'd spent some time inside a coverage bubble on the Benghazi story. In the words of one onlooker, he "[c]onfused conservative spin for the truth."
However, the actual presidential transcript makes it clear that Obama was doing his best to include the word "terror" without actually saying the incident was a terror attack. After mentioning 9/11, Iraq and Afghanistan, the president said: "No acts of terror will ever shake the resolve of this great nation, alter that character or eclipse the light of the values that we stand for." Then he moved on to the Libya attack.
That one moment defined the debate. Crowley, who had come under criticism from both sides prior to the debate, also cut off Romney when he was making a point about the president's "Fast and Furious" gun scandal. And, as in the other two debates, the moderators let the Democratic candidate dominate the clock. This time, according to CNN's own tally, Obama won 44 minutes and 4 seconds to a mere 40 minutes and 50 seconds for Romney.
Libya dominated the after-discussion – left and right. Huffington Post's celebration of Obama included this headline: "Candy Crowley Fact Checks Mitt Romney On Libya." MSNBC Tingler-in-Chief Chris Matthews said Obama had "punched Romney hard," to cheers of the MSDNC faithful.

Conservatives continued to harp on Crowley's interruption. Romney adviser John Sununu summed up those comments with a sarcastic response during a conversation with CNN's Soledad O'Brien Wednesday. After O'Brien thanked Sununu for coming on, he took a dig back saying, "It's always good to come on the groupie channel."

CNN, realizing it was in the midst of a firestorm, continued to follow the issue and have Crowley on again today. "Newsroom" Anchor Carol Costello introduced a discussion with the criticism, explaining, "Conservatives pounced, saying, 'Crowley got it wrong.'"

Crowley was then shown defending herself from earlier in the morning, saying, "I was trying to move this along." "There is no question the administration is quite vulnerable on this topic," she added. But she amended what she said the night before. No longer did she take her cue just from Obama. "There was this point where they both kind of looked at me. You know. And then, you know. Romney was looking at me. Obama was looking at me. What I wanted to do was move this along." She then restated that she fact checked both Romney and Obama.

Then Crowley added a major point. "Now, did the president say this was an act of terror? The president did not say it." Then she explained how she came up with her view. "The president said 'these acts of terror,' but he was in the Rose Garden to talk about Benghazi, so I don't think that's a leap," she concluded.
This article is part of our ongoing series of "bias alerts" which focuses on calling out bias in the media. For additional bias alerts click here