Cleveland is so much more than just a "host city" for the GOP convention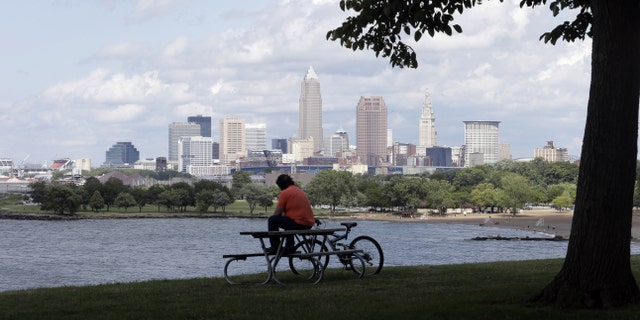 NEWYou can now listen to Fox News articles!
In less than 5 days, more than 50,000 people will arrive in Cleveland for the 2016 Republican National Convention. When friends and family ask about my job, they want to know: When they tune in this July, what part of the program or piece of staging should they look for? What's kept me so busy for more than a year?
The answer is that my most meaningful contributions won't be on their television screens. In order to see my proudest moments, my friends would have to visit the homes, schools, shelters, small businesses, and hospitals in our host city. They would have to meet the people I've come to know in those places and listen to convention staffers tell stories about volunteering there.
As the convention's deputy director of public and community affairs, my job is to make sure we're not only promoting our host city, but also thoughtfully engaging with and contributing to the Cleveland community.
For me, success isn't measured by a four-day period in July, but by the impact we have on and in Cleveland—long before the first delegate arrives and long after we've swept up the last piece of confetti.
When I arrived in Cleveland over a year ago, the plan was to build an engagement effort that was more than a loose patchwork of good deeds and good works. We wanted to be a great partner to serve a common goal: to help make this city's motto, "Progress and Prosperity," a reality for every member of the Cleveland community.
We started with the local economy. Cleveland is a city on the rise, but you can still see evidence of its on-going struggle to recover from the recession that began in 2008. Economically, the brightest rays of hope radiate from the city's small and mid-sized businesses. They are the engines of economic opportunity, and we are doing everything we can to help them succeed.
Through our Host Committee's vendor guide, we've encouraged groups planning convention-related events to "go local" for the goods and services they need. Recently, our partner, Google, held a workshop where over 100 local business owners learned how to build a company website and establish a strong presence online. And we've highlighted the convention's 12 caterers and six florists, all local businesses poised for growth. Armed with the tools to attract new customers, Cleveland's businesses should see higher receipts this summer—and a lasting impact on their bottom line.
We've also supported community initiatives that encourage learning and leadership. Cleveland's poverty rate means many students are at risk of dropping out of high school or falling behind in grade school. Community initiatives like the Sara J. Harper Library are improving those odds.
Judge Harper has lived a life of "firsts": the first black woman to graduate from Case Western University, the first woman on the U.S. Marine Corps Reserve judiciary, one of the first two black women elected to the Ohio 8th District Court of Appeals, and the first black woman to sit on the Ohio Supreme Court. She established a library in her childhood neighborhood, the public housing at Outhwaite, because she wanted the kids who live there to have books, learning programs, and the inspiration they need to succeed. We're proud to highlight the library's education-related initiatives. In fact, for many of us, the highlight of each month is our visit to the Holy Trinity Church and Cultural Arts Center, which runs a Little Scholars program and a basketball camp for children, young adults, and teens.
Of course, the true measure of any community is how it treats its most vulnerable citizens. We've taken special care to help the sick, the hungry, and those experiencing homelessness or unemployment in our host city. We've stocked and served at the Westside Mission, cleaned at the Lutheran Metropolitan Ministry's Central Kitchen, and we've filled shopping carts at the Bishop Cosgrove market for families in need.
Many of our volunteer days are spent with community partners improving Clevelanders' health and well-being. We helped conduct a survey at the Cleveland Clinic's Minority Men's Health Fair, where over 2,000 men received screenings and care for diseases and conditions that occur more frequently in the black community. The information we collected will help improve outcomes for patients with kidney disease.
And through a partnership with the Credit Union National Association and RealClearPolitics, we are building a horticultural therapy suite at Rainbow Babies & Children's Hospital. When completed, Cleveland's youngest patients will be able to garden there and participate in nature activities.
All of this important work is tied together by infrastructure improvements. We've partnered with AT&T to upgrade hardware and significantly improve 4G phone service. This project is one of many that will continue to benefit the entire community.
As a black Republican woman, this work has added personal meaning for me. I traveled a different path to Cleveland than many of my convention colleagues. I was the Chairman of the National Black Republican Leadership Council, co-founder of the Committee of 40, and the first high-ranking, African-American consultant to the Republican National Committee (RNC).
After the 2012 election, Chairman Reince Priebus got serious. He set out to create a sustained, party-wide effort to show up, help out, listen, and better address the needs of every community, not just the ones that reliably vote Republican. I was honored to help implement his plan, and I was excited when Convention CEO Jeff Larson asked me to align our engagement effort in Cleveland with the chairman's and Speaker Ryan's vision.
Cleveland is a predominantly black city, and when I walk into a hospital, a school, or a shelter here, it moves me. I feel like I'm doing more than giving back; in my own small way, I'm breaking down the wall between two groups I belong to and care deeply about: The Republican party and the black community.
So, no, my proudest achievements won't be on your TV screen. But you can see them; they are spread out across our host city, where a family is eating a meal we helped prepare, a child is trying on a pair of shoes that we delivered, and a florist is growing her business into the city's next great success story.
Those are the signs that our engagement effort has had a positive impact on the Cleveland community. Even better is the thing we didn't plan for: the profound impact that this community has had on my convention colleagues and me.
C. J. Jordan is deputy director of public and community affairs for the Republican National Convention.