China should free Christian pastor unjustly imprisoned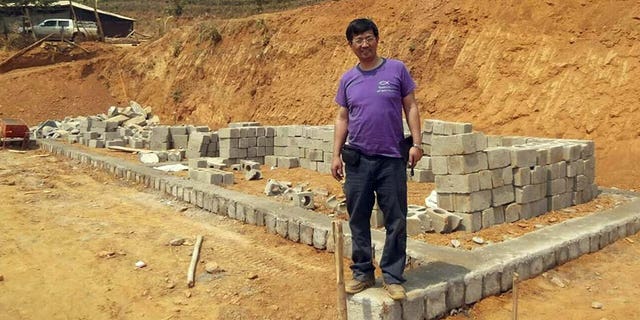 For one Christian pastor, Thanksgiving was spent in a Chinese prison cell, separated from his wife and children in America.
Pastor John Cao – a lawful U.S. permanent resident – has faithfully served the people of China and Southeast Asia for decades, conducting humanitarian efforts and building schools for impoverished children.
Now Cao has been wrongfully convicted and sentenced to seven years in prison. His arrest and conviction seem to be a part of an ongoing crackdown on Christians by the Chinese government.
His heartbroken wife and two sons – all of whom are U.S. citizens from North Carolina – desperately miss their husband and father.
Cao was arrested on March 5, 2017 and detained for over a year before being convicted on false charges of organizing illegal border crossings. The charge is often used to convict human traffickers.
The 59-year-old pastor is now locked in a cell with a dozen other prisoners who must all share the same 26-foot slab as a bed. On average, he has less than 14 meals per week. As a result, his health is deteriorating.
Cao became a Christian in his 20s and came to the United States over 30 years ago, where he met and married his wife. He has spent the last 30 years sharing the Gospel and serving in the U.S., China and Burma.
The pastor has devoted his life to sharing God's love by providing food and necessary supplies to the severely impoverished.
Cao also worked diligently to establish schools in Burma and provide education and better opportunities to the disadvantaged – building 16 schools in three years.
"My father always tried to save as much money as possible, so he could give it away," Cao's son Ben said.
Now, despite his years of service and concern for the less fortunate, Cao is being imprisoned simply because he is a Christian.
One of Cao's Chinese attorneys, Li Guisheng, has stated that Cao's conviction is puzzling, because there was no evidence provided against the pastor.
"Based on my thorough review and investigation of this case, I truly believe Pastor John Cao is innocent," Li said. "He was wrongfully convicted and punished for saving lives and providing education for the poor."
The Chinese government has been systematically cracking down on Christians and churches throughout the nation.
At the American Center for Law and Justice, we have been raising the alarm about how churches have been forced to close due to persistent government pressure. Christians in China have been increasingly facing arrest for sharing the Gospel.
We've taken direct action at the U.N. Human Rights Council, calling attention to China's persecuted Christians. We recently delivered a written legal submission – through our European affiliate, the European Centre for Law and Justice (ECLJ) – asking for international pressure on China to stop this continued crackdown on religious liberty.
It appears Cao is just the latest victim of this crackdown on Christianity. The pastor and his attorneys have filed an appeal, but to date the appeal has not been heard and the deadline has been delayed over and over again.
The current situation looks grim.
Cao has been locked away in an overcrowded prison for over 20 months and his physical and emotional health are suffering. He has lost over 50 pounds and has been denied medical treatment. He has also been denied contact with his family.
U.S. officials have been alerted to and are concerned about Cao's situation. A spokesman for the U.S. State Department told The Associated Press that the American government is "deeply concerned" about Cao's sentence and echoed our request for China to release him on "humanitarian grounds."
And members of Congress have sent a letter to Vice President Mike Pence asking him to intervene and work to secure Cao's freedom.
No civilized nation should tolerate such treatment. That's why the ACLJ is now representing Cao's family and mobilizing our global resources in an effort to secure his freedom.
We are actively and aggressively urging the Chinese government to release Cao and allow him to return home to the United States to be reunited with his wife and sons.
Cao should not spend another night in a prison cell because he is a Christian and feels a moral obligation to help others in dire need.
In just the last a few days, over 63,000 individuals have signed our new petition demanding Cao's release. Christians all over the world should be free to teach, worship and live out their Christian faith without fear of persecution or imprisonment – including in China.