Chef Lidia Bastianich: Let's cherish our seniors this holiday season -- the kitchen's the perfect place to do that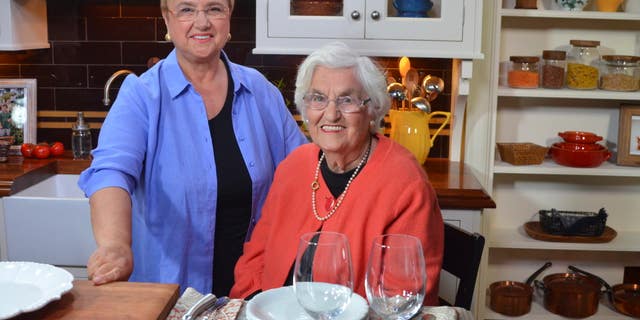 NEWYou can now listen to Fox News articles!
Lights, gifts and lots of food! The holidays are here, and many people are busy preparing unforgettable experiences for their children and grandchildren. I am no exception, but another important person on my holiday list is my mother, Erminia, who turns 98 years old next month. When we all gather at our home, there are four generations present, and having everyone together is a truly heart-warming experience.
In today's busy world, grandparents can sometimes feel left behind. This is a perfect time of year to remember that our older generations have strong roots, a long and deep life experience, and offer the unconditional love that children need to help strengthen their identities and become responsible and respectful adults. It is so important that seniors feel loved and rewarded for their work and dedication in raising the family, and the kitchen is a perfect place for them to feel connected to everyone.
Nonna Erminia lives with me and has always been involved in preparing holiday meals. Sometimes we bake and cook with the grandchildren and great-grandchildren; other times the two of us cook and bake together, knowing that the younger generations will reap the delicious rewards of our work in the family kitchen. My mother particularly likes to help roll out the apple strudel dough and help place cookies on the baking sheets to go in the oven.
We also have a tradition of decorating our tree with seasonal fruits and candies; Nonna Erminia loves to tie the ribbons they hang from on the tree. We work together to decide the holiday menus, where the tree should go, which gifts should be exchanged, and much more.
We like to drive to church and community events and look at the Christmas lights that decorate the neighborhoods along the way. My mother loves to sing and listen to music, so we enjoy Christmas carols and some of our own traditional songs from when I was a girl in Istria. Following an evening out to celebrate the holidays, we come home and play cards over a warm glass of hot compote – a traditional wintertime drink from our homeland made from fruits and spices.
In our house, we celebrate Christmas by having a big Italian-style family meal. Nonna Erminia is always the first to put on her apron and get involved in all of the planning. She begins even before the big day by cleaning garlic, onions, celery, carrots, and other vegetables that will be used as side dishes. She dresses our appetizers with olive oil and salt, and helps assemble the table centerpieces, which are typically made with seasonal fruit.
Following the meal, Nonna Erminia still has energy left and is ready to challenge the teenage great-grandchildren to card games, checkers and chess. And yes, she often wins!
Nonna Erminia is a great storyteller, and her great-grandchildren love to listen to her talk about her childhood in Istria – especially about living on the farm and tending the animals. Her stories can be dramatic – she often reminds them of her daring escape from her homeland shortly after World War II. However, she always lightens them up with some of the funny mistakes she made in English during her first year as an immigrant in New York. One of our favorites is when she mistakenly purchased dog biscuits and served them as cookies to her guests.
Most grandparents have wonderful family stories to tell, and this is a perfect time of year to encourage them to talk about those cherished memories.
Like many seniors, there is nothing Nonna Erminia enjoys more than spending time with her family. The holidays are a time to connect, say "thank you," eat delicious food and sing. Holiday experiences are just as important as gifts, and all of us should make an effort his holiday season to connect with our beloved older generations.