Can music really change a kid's life? Three amazing stories that say 'yes' it can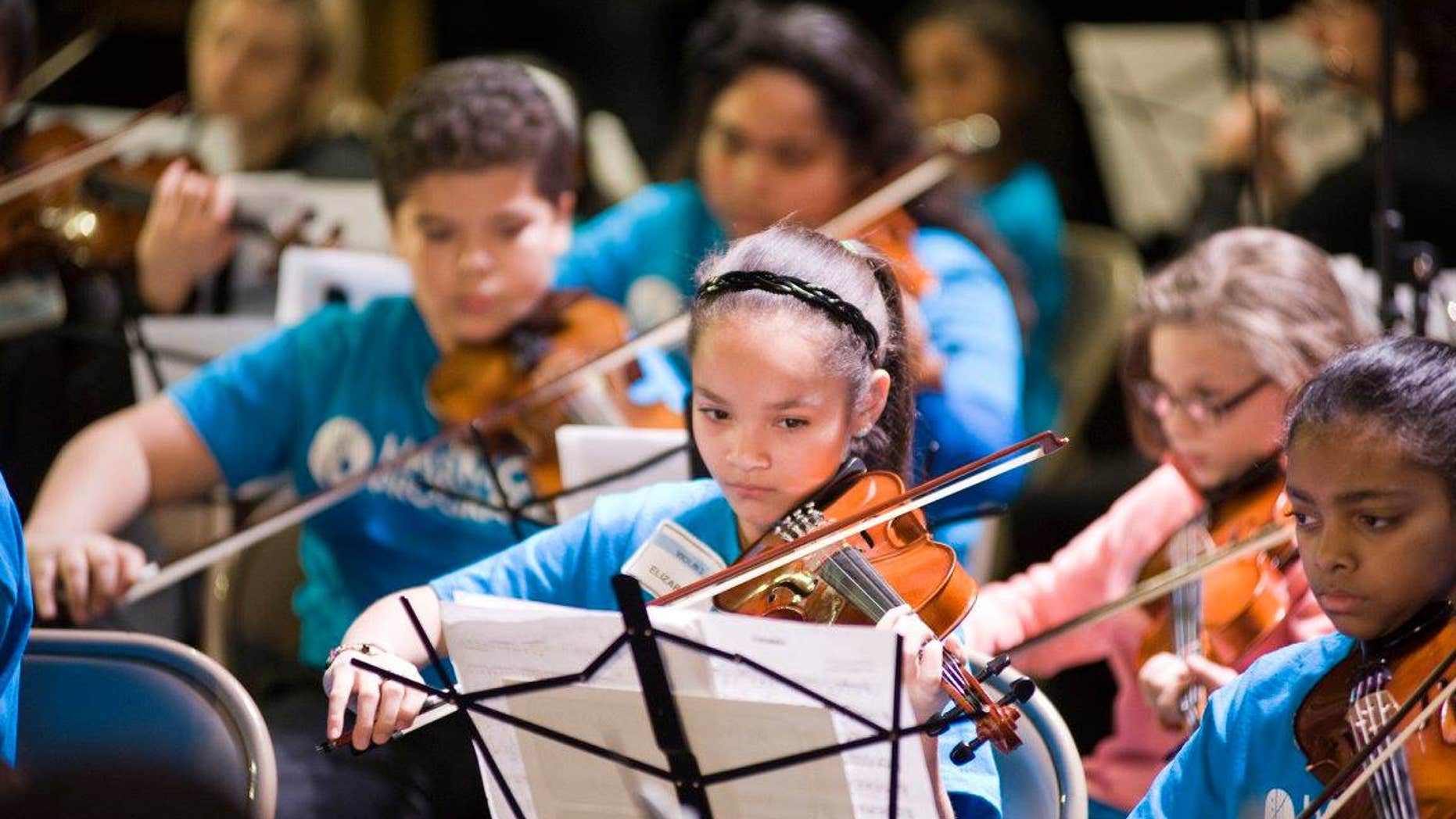 "What's that sound, mom? Is that an orchestra?"
It was Saturday morning, and Angelo and his mother had just walked into a Brooklyn YMCA and heard the sounds of a youth orchestra rehearsing. "As soon as my son heard the music, he started to smile, so I found the conductor and asked if he could join," his mother recalled. "Angelo said 'Let's do it! I want to learn the violin!'"
Recently emigrated from Haiti, 12-year-old Angelo was studious, reserved, and still adjusting to his new home in New York City. Four years later, he was an accomplished musician, selected as Concert Master of his school orchestra, winning a scholarship to a prestigious summer music camp, auditioning for conservatories, and becoming the first person in his family to play a musical instrument.
Angelo is one of hundreds of students who have discovered and realized their potential through music as part of the Harmony Program, an organization I founded 10 years ago to bring the joy and many benefits of instrumental music to children in communities in need. I believed then what years of research and a decade of Harmony experience have confirmed, that music has the capacity to change young lives in powerfully positive ways.
The complex process of making music requires and strengthens in young people a critical life skill known popularly as "grit," a concept linked to stronger student outcomes.
Through the study and performance of music Angelo developed "grit," or the ability to focus and persist toward a long-term goal. Whether learning to produce a sound with a violin bow, reading written notation on a sheet of music, or expressing the appropriate sentiment in a musical phrase, music-making is, simultaneously, a physical, intellectual, and emotional experience that demands consistency of effort.  We know that practice leads to improvement, and research continues to show that music students apply that discipline in the classroom and outperform their peers academically.
Given music's ability to unlock students' potential and prepare them for success, we have an obligation to make the study of music more widely and equitably available.
While music cannot replace standard course work like reading and math, the study of music can support academic development at the same time it offers struggling students something to look forward to in school.
Mohamed came to the Harmony Program when he was already behind academically. He attended a failing school in West Harlem where, last year, only 20 percent and 15 percent of students, respectively, were reading and doing math at grade level. He had been held back twice before reaching the sixth grade. For students like Mohamed, school can become a daily source of frustration and humiliation as they fall further behind their peers.
Yet, while Mohamed's classroom teachers saw him as taciturn and withdrawn, his Harmony teachers knew him as the student who playfully picked up an action figure like a maestro's baton and led his classmates in an impromptu choral version of the New World Symphony. In math class, Mohamed struggled with basic addition and subtraction, but in trombone class, he ably explained the musical concept of "cut-time," in which the value of each note is divided in half. Indeed, music is filled with mathematical concepts like counting, ratios, and fractions, all of which Mohamed could process in this different context. For Mohamed and others, music may be the very reason they come to school and a welcome oasis of creativity and camaraderie.
As schools continue to emphasize test preparation, they risk underestimating the critical importance of life-enhancing activities, like music, that inject joy into students' days and inoculate them against the stresses and insecurities children can feel as they try to balance their developing identities, desire for control, and need for acceptance.
Music develops in children the social skills they need to become productive and contributing members of a community.
When Jordan began the Harmony Program, she was painfully shy and soft-spoken, explaining her desire to play the trumpet "so I can hear myself." As a member of her school orchestra, she had to learn to listen and respond to the other instrument voices, lead and follow others, express her own musical ideas and interpretations, and work collaboratively toward a common goal. Within the microcosm of an orchestra, musicians explore their roles as part of a collective effort and focus together on creating a whole far greater than the sum of its parts.
Three years after picking up the trumpet, Jordan won the Harmony Program concerto competition and was featured at the year-end recital, playing a solo at center stage, accompanied by her classmates. Her mother credits Jordan's music study for the change in her self-confidence, noting, "Her personality is more outgoing.  She doesn't feel so hesitant anymore so she's more able to explore new things."
If we know music has the demonstrated power to change children's lives by enhancing their education, boosting their self-confidence, and preparing them to overcome challenges, shouldn't we insist that all children have access to it?
The Harmony Program has been the catalyst for the transformation through music of a thousand young people like Angelo, Mohamed, and Jordan. Not all our students take the path to conservatory study, and that's not the goal of the Harmony Program. Our goal is to foster in children a belief in their capacities to succeed, not just in music but in life.
Given music's ability to unlock students' potential and prepare them for success, we have an obligation to make the study of music more widely and equitably available. Failing to do so is unfair at best and, at worst, a profound disservice to our youth. The question then becomes how we can work together, as parents, educators, and policy makers, to put music where it belongs --- as a fundamental component within a well-rounded education, for all of our children.