Bill Lee wins GOP nod in Tennessee, in race where all embraced Trump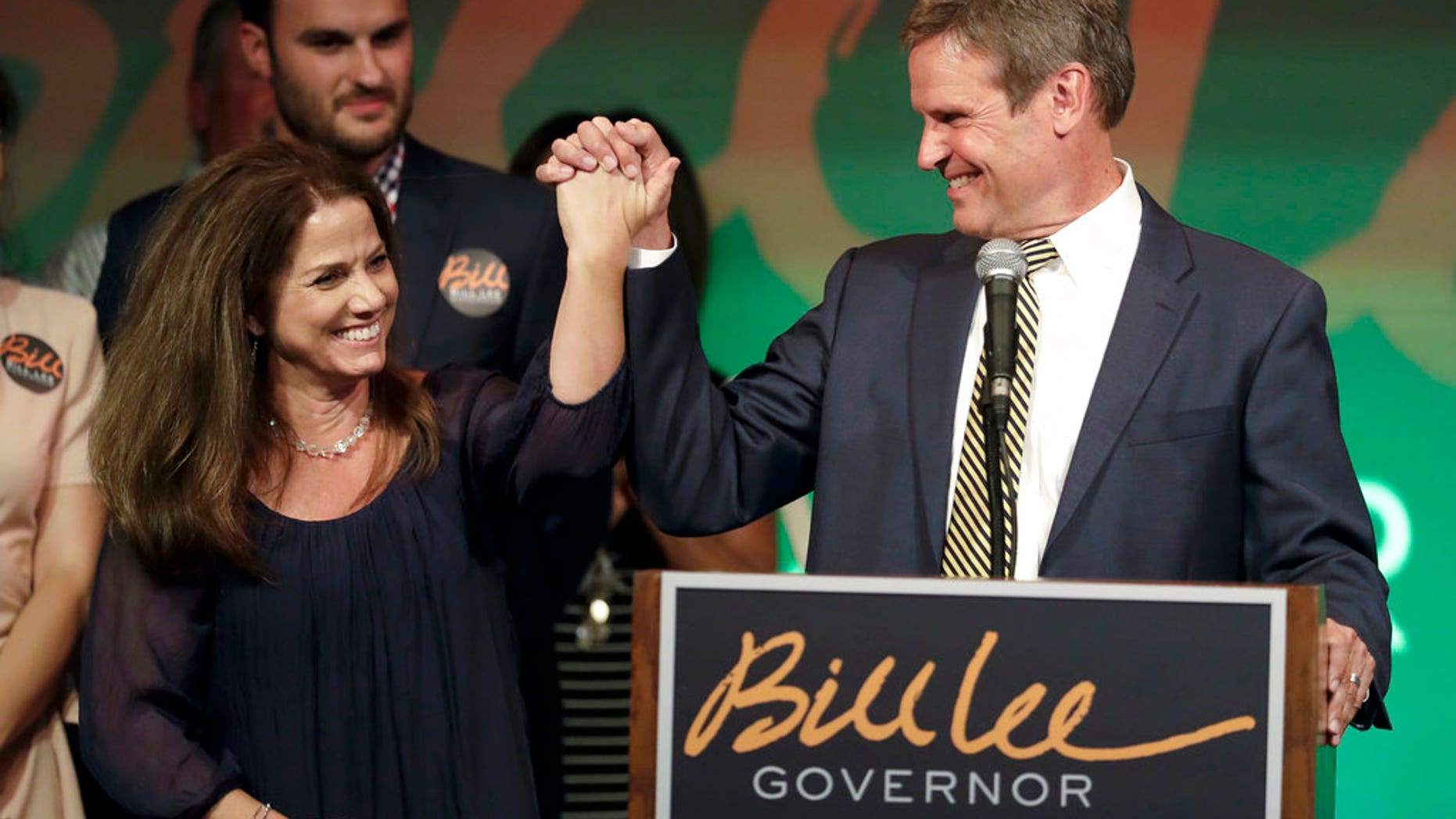 Bill Lee, a wealthy businessman who campaigned as an outsider similar to candidate Donald Trump in the last presidential race, won the Republican nomination for governor in Tennessee Thursday in an upset.
Lee defeated U.S. Rep. Diane Black, who had the endorsement of Vice President Mike Pence and was favored to win the nomination.
Lee also defeated former state economic development chief Randy Boyd (who was endorsed by former Arkansas Gov. Mike Huckabee), and state House Speaker Beth Harwell in the crowded field.
With 99.5 percent of precincts reporting, Lee had 36.6 percent of the vote, Boyd had 24.4 percent, Black had 23 percent and Harwell had 15.3 percent. Two minor candidates each trailed with less than 1 percent each.
Republican Gov. Bill Haslam was barred by term limits from seeking re-election.
Democrats nominated former Nashville Mayor Karl Dean as their candidate for governor, giving him a landslide victory in his party's primary with 75.1 percent of the vote over two candidates. A moderate from the Clinton wing of the party, he outspent his main opponent, House Minority Leader Craig Fitzhugh, by 4 to 1.
All four GOP gubernatorial contenders campaigned as good conservatives, broadly defined. All of them, for example, signed the Americans for Tax Reform pledge to oppose tax increases. And all of them ran as supporters of the Trump agenda.
Trump carried the state by 26 points over Democrat Hillary Clinton in the 2016 presidential race.
The president declined to make an endorsement. The victorious Lee crisscrossed the state and built a better campaign machine than the other candidates to win.
Together, the candidates spent more than $45 million in pursuit of the GOP gubernatorial nomination, over $40 million of which came from their own funds. The GOP nomination is a prize worth having, since Tennessee is now a reliably Republican state.
Meanwhile, in the race for the U.S. Senate seat now held by Republican Bob Corker, who is not seeking re-election, former Democratic Gov. Phil Bredesen and Republican U.S. Rep. Marsha Blackburn easily won their primaries and will face each other in the Nov. 6 general election.
Bredesen has a reputation for being a moderate who, during his eight years as state chief executive, enjoyed consistently high approval ratings.
GOP operatives say Bredesen is coasting on the past and expect Blackburn, who has strong support in western Tennessee where she is better known, to eventually pull ahead by the time of the November election once the voters in the eastern part of the state get to know her.
These races in Tennessee will be decided against an electoral backdrop that now has many professional election prognosticators bullish on the idea the Democrats will win control of the U.S. House in November.
These forecasters – like the University of Virginia's Larry Sabato – point to the 42 open House seats being vacated by Republicans and strong fundraising by Democrats as suggestive of a coming change.
But on the plus side for Republicans, the U.S. economy is strong, job creation is up and unemployment in some sectors is at record lows.
Meanwhile, the Democratic Party is broke and is seeing growing numbers of progressives pushing for the abolition of the Immigration and Customs Enforcement agency and advocating other far-left policies that that probably won't go down well in a state like Tennessee, where voters like things on the moderate side.