Barbara Bush: Jeb is ready to be the commander in chief America needs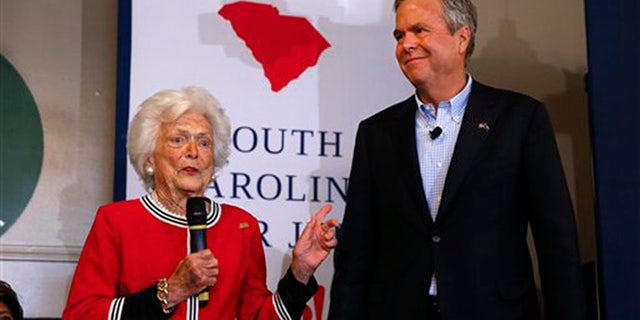 NEWYou can now listen to Fox News articles!
Our nation is at a crossroads. The political dysfunction in Washington, DC has left many Americans feeling disillusioned, disenfranchised and – maybe most of all – angry that their elected leaders aren't listening to them. Clearly, the country is yearning for strong leadership to get this great nation moving in the right direction again.
For Republicans, our party faces a critically important choice this Saturday too. In a crowded and competitive field, a very fine man stands out as the only proven conservative who has governed a major swing state and solved the kinds of big, difficult problems the country faces in Washington today. His name is Jeb, and here is why you should vote for him.
Leading Florida for eight years, Jeb held true to his conservative values while bringing Republicans and Democrats together around a series of reforms that made his state the national leader in job creation and small business creation. He's the only candidate in the race who can say he has already cut the size of government, and on top of that he balanced eight budgets and provided $19 billion of tax cuts to Floridians.
Jeb is also passionate about reading and learning and recognized that, without a good education, a child cannot be expected to live a life of meaning and purpose. That is why he challenged the teachers' union in Florida to pass sweeping – and conservative – education reforms that expanded school choice and provided parents and students with better learning opportunities. Today, Florida's high school graduation rate is nearly 50 percent higher than when Jeb passed his A+ reforms.
In the end, however, this nomination fight is not about the past. Rather, it's about the future – your future. It is about your family, and your children, and who you want in the Oval Office that can actually deliver the economic growth, national security and real government reforms our country desperately needs.
The choice is clear.
Other candidates – who have no comparable record of accomplishment to which they can point – seem to measure strength by the loudness of their voices or the harshness of their tone. Jeb is even-tempered, serious and resolute – which history has repeatedly shown to be the true sign of executive strength.
The fact that Jeb has been endorsed by 30 retired admirals and generals and 12 Medal of Honor recipients speaks volumes about his readiness to serve as Commander-in-Chief. Jeb will be a president who restores our military strength and respects our veterans, and his economic plans will strengthen job growth and result in working families receiving a pay raise for the first time in a long time.
No one running for president has achieved more positive change for people in a bigger state than Jeb did. He was a transformational governor and I believe he would be a transformational president. I know that, if American people give Jeb their trust, he will work tirelessly to change the broken culture of Washington and to lift our great nation to new heights.
Barbara Bush is a former first lady of the United States, married to former President George H.W. Bush. Her son George W. Bush was the nation's 43rd president and younger son Jeb is a 2016 Republican candidate for president.