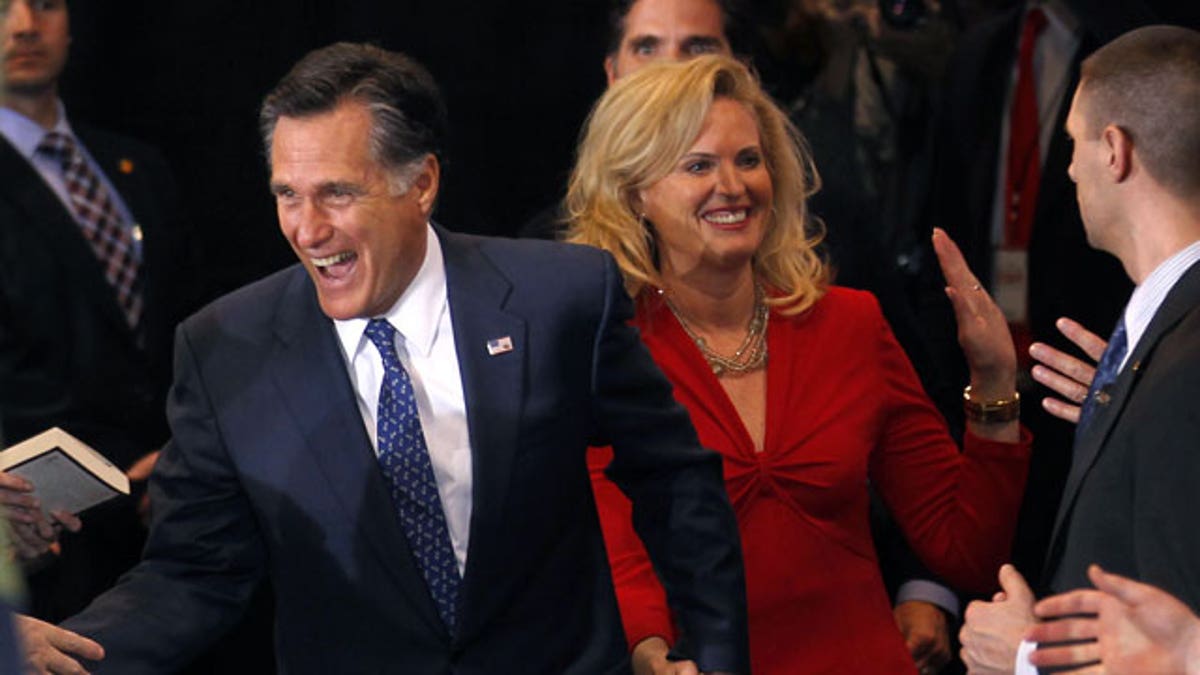 My first impression of Ann Romney before I interviewed her at the Fox News bureau in D.C. last week was of a confident healthy person with a strong handle on her convictions and beliefs.
It was only as I began to scratch below the surface in my 30 minute interview that I discovered that her strength really comes from her illness, not her appearance of health. Diagnosed with Multiple Sclerosis in 1998 (the relapsing remitting type, which means that symptoms come and go), and with early breast cancer in 2008, she has been challenged by disease and drawn determination and compassion from the struggle to overcome it. "It does help you be aware of others who are suffering," she told me. "We all may look normal when we see each other and meet each other on the street, but it's that little bag of rocks that we have over our shoulder that none of us can see that we carry around."
Ann Romney described the dark emotional time in her life when she was first diagnosed with MS and was so weak and fatigued she could no longer lead a normal life. "All of a sudden the rug's pulled out from underneath you and you're left with nothing," she said. "You go through this phase of who am I, what good am I in the world anymore." But she said she survived with the love and the help of her husband and her children. Mitt Romney, as chief executive of the Olympic Games in 2002, appointed Ann to carry the Olympic Torch into Salt Lake.
She was only able to perform this feat with the help and support of the participating wounded veterans and others including her family, she told me; the Olympic flame, symbol of eternal life, was an inspiration to her and to all people suffering from devastating illness who worry about their life flames going out.
I told her I was concerned about the effect of stress on illness, especially MS. She acknowledged being very experienced with stress in her life and that she has learned to take control by having a positive attitude and realizing there's something worth living for. Exacerbations are something all MS patients worry about, she said, "and you never know when the next one is going to come."
Mrs. Romney loves horses and believes they are enormously therapeutic. A ride brings her calm and joy and allows her to see how wonderful life can be. "Horses are healing," she said. Illness has taught her to look for a passion as a way to survive, to seek "what makes you passionately alive."
In my two decades plus of being a physician I have discovered that illness causes some people to withdraw and become angry. For others, the suffering brought on by illness leads to an awakening which allows them to reach out to others in a meaningful way. So it is for Ann Romney. "It has softened my heart," she says. "It has made me very mindful of others that have been dealing with difficulties."
We discussed how troubled and divided our country is currently. But Mrs. Romney believes we can heal ourselves. She is inspired by all the support she receives from strangers around the country who say they are praying for her. "It is an amazing thing to have gone through [MS and cancer] and to see not only how it has changed me but to see how generous people are across this country."
Marc Siegel, MD is an associate professor of medicine and medical director of Doctor Radio at NYU Langone Medical Center. He is a member of the Fox News Medical A Team and the author of several books. His latest is "The Inner Pulse; Unlocking the Secret Code of Sickness and Health."