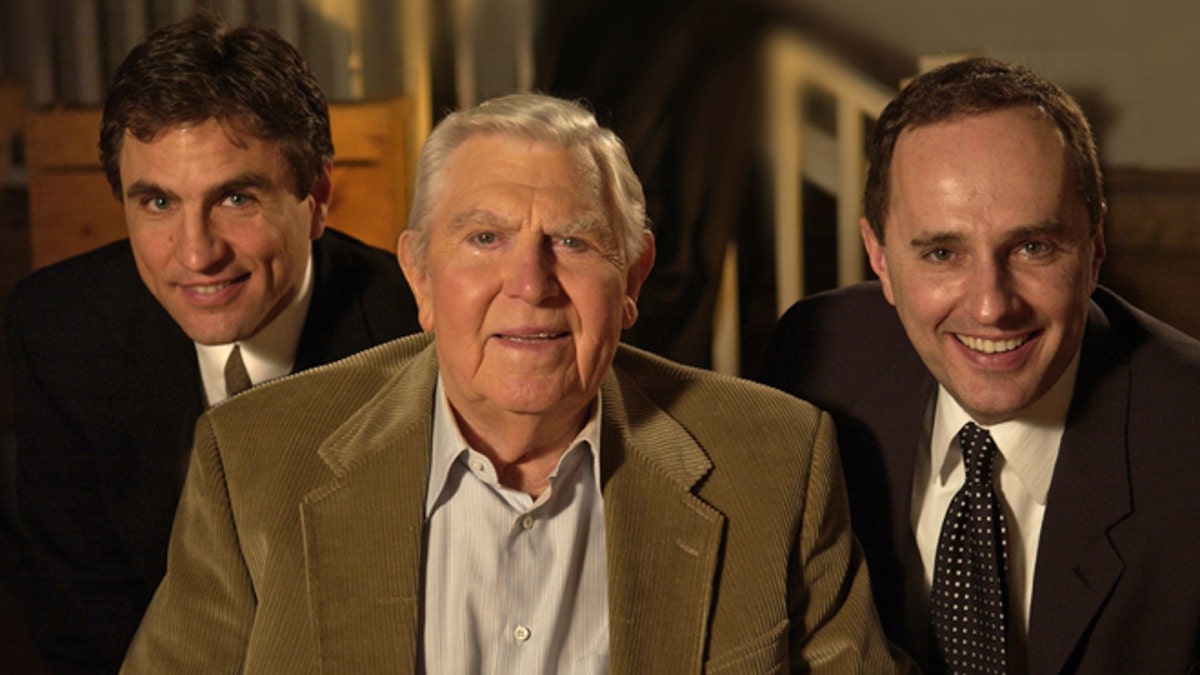 On his very first day as a sitcom actor, Andy Griffith was ready to give up on television.
That day, when rehearsals began on an episode of the popular "Danny Thomas Show" that was crafted as a launching pad for Griffith's own show, Griffith was appalled by the on-set screaming and profanity. "If that was television, I didn't think I'd be able to take it," Griffith recounted in an interview for PBS' "Pioneers of Television" series a few years ago. Producer Sheldon Leonard took him aside and explained that every sitcom production follows the cues set by its star.
"If you don't want yelling, no one will yell," Griffith remembered Leonard explaining. When Griffith got his own show, it quickly became known as one of the friendliest places in Hollywood to work.
That down-home politeness was no act; it was part of Griffith's DNA. When the "Pioneers of Television" crew visited him in North Carolina a few years ago, Griffith was quick to ensure everyone was comfortable—even offering to make sandwiches for the crew. Griffith understood that deferring to others wasn't just the polite thing to do—it was also smart business.
For example, Griffith knew when to yield the spotlight to other players. Originally, "The Andy Griffith Show" was created to showcase Griffith's comic persona, an idea that might have lasted just a season or two. But when he saw Don Knotts' potential, for example, Griffith pushed his old friend to center stage on the show, boosting its series' popularity. Jim Nabors (who played Gomer Pyle) and George Lindsey (Goober Pyle) told similar stories about Griffith's generosity.
But by creating a whole community of characters, Griffith was able to step to the side and play the straight man—a formula that worked for eight years on CBS (and ever after in reruns).
Griffith's genuineness infected all the show's characters; preserving that authenticity was the reason Griffith refused to use a live audience for his sitcom. To him, live audiences can warp characters, because actors can't help but play the scenes broadly, in hope of drawing big laughs. Griffith believed realism was more important than any joke. His show's characters did things regular Americans did in the 1960s: went to church, got leisurely haircuts, and chatted with the gas station attendant.
"The Andy Griffith Show" has often been grouped with other rural comedies of the era, like "Green Acres," "Petticoat Junction" and "The Beverly Hillbillies." But Griffith didn't like how those other shows mocked rural people. "We want them to laugh with us, not at us. That's why we were different than those other shows," he said.
As the next season of PBS' "Pioneers of Television" finishes production, it's easy to see Griffith's legacy as a thread that winds through the decades of American TV. The most recent example is Amy Poehler's "Parks and Recreation" which channels Griffith's moral core and his respect for regular folk.
In a way, it's fitting that Andy died on the eve of the Fourth of July. Because no TV star before or since better captured the essence of the real America.
Michael J. Trinklein is the writer and co-producer of PBS' Pioneers of Television. The next season of Pioneers will air on PBS this winter.