Abbas's UN gambit neglects Hamas threat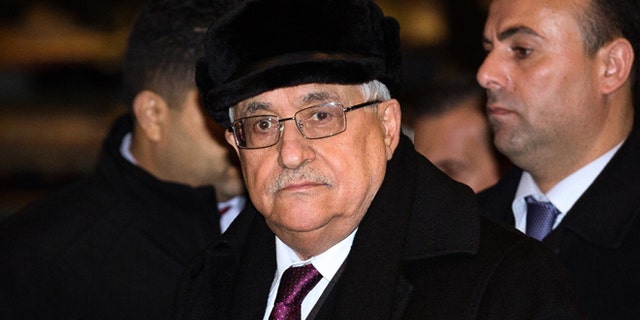 While Palestinian Authority President Mahmoud Abbas addressed the UN General Assembly Thursday, Hamas prepared to roll out the red carpet again in Gaza to welcome more Middle East leaders. The favored Palestinian port of call these days is Gaza City, not Ramallah, headquarters of the Palestinian Authority.
Marginalized by Arab countries, Abbas nonetheless went ahead with requesting an upgrade of Palestine's status in the U.N. General Assembly. The measure passed Thursday by a vote of 138 to 9, with 41 nations abstaining.
There never was a doubt this measure, recognizing Palestine as a nonmember observer state, would pass. The Non-Aligned Movement – two-thirds of U.N. member states -- endorsed Abbas's proposal last summer. Some European countries voted affirmatively; others abstained. The U.S., recognizing the harm this will do to the peace process, opposed.
Though it will not bring the Palestinians any closer to achieving an actual state, Abbas was convinced that his appearance at the U.N. podium in New York on Thursday would give him a much-needed boost among the Palestinian people. Resurrecting his persona would be better served by Arab countries encouraging Abbas to return to direct talks with Israel. But that is not likely to happen.
[pullquote]
Neglect of Abbas and the PA began with the Oct. 23 visit to Gaza of Sheikh Hamad bin Khalifa al-Thani, the emir of Qatar. The first head of state to visit Hamas-ruled Gaza, the emir embraced Prime Minister Ismail Haniyeh and proclaimed his support for Hamas. Not one word was spoken about peace with Israel.
Dozens of rockets were fired from Gaza into Israel the day after the emir's visit. It was a prelude to the escalation in the reach and volume of Hamas attacks that would result three weeks later in Israel's firm military response to defend its citizens. Arab countries, reflexively, lined up with Hamas. Following the Qatari emir's example, Tunisia's foreign minister visited Gaza during the fighting. So did Egypt's prime minister. Finally, a delegation of foreign ministers from a number of Arab countries and Turkey made the journey to stand in solidarity with Haniyeh and Hamas.
Abbas, meanwhile, was left to ponder alone in Ramallah. He has no authority in Gaza, a significant piece of the putative Palestinian state from which Israel completely withdrew from Gaza in 2005. Hamas seized the territory from Abbas's Fatah in a violent coup more than five years ago. Abbas has been effectively barred from visiting Gaza for years, and was notably absent from the Arab League gathering in Cairo during the Hamas-Israel conflict. Will UN members consider which Palestinians Abbas actually represents when they vote on upgrading his delegation's status?
Now, other regional leaders are craving the opportunity to visit Gaza. Turkey's Prime Minister,Recep Tayyip Erdoğan expects to visit in the coming days. He would be the first leader of a NATO member country to visit Hamas-ruled Gaza. And Iran, which provided much of Hamas's rocket and missile arsenal, has indicated that it wants to send representatives. Of course, none can make that journey without entering Gaza from Egypt. President Mohamed Morsi so far has eagerly cooperated. He may have given up Muslim Brotherhood membership when elected president, but you cannot take the Islamist group out of his mind and soul. Hamas, after all, is the Brotherhood's Palestinian relative.
This groundswell of support for Hamas does not help Abbas and his prime minister, Salam Fayyad, who has made great strides in building infrastructure, while cooperating with Israelis, for an eventual Palestinian state. They are reviled by Hamas. It also contravenes United States and European Union designations of Hamas as a terrorist organization, one that is committed to Israel's annihilation.
Divergent views among the world's nations regarding Hamas will further challenge the U.S., dealing with mounting political and security problems across the Middle East. Where do supposed Arab allies, such as Qatar, which enjoys U.S. military protection, really stand?
The love affair with Hamas also raises questions about the potential for Arab world acceptance of Israel. On November 29, 1947, the UN adopted the historic resolution to partition the territory of British Mandatory Palestine into two states – one Jewish, one Arab – to exist side-by-side in peace and security. While the Arabs rejected the measure, the Jews accepted it and Israel was born. Sixty-five years later, only Egypt and Jordan have peace treaties with Israel, both achieved through direct negotiations. Abbas walked away from talks with Israel four years ago.
Upgrading the status of Palestine at the U.N. will be a transitory victory for an increasingly beleaguered Abbas. It is an unhelpful diversion from the reality on the ground, the growing danger of a terrorist regime ensconced in Gaza that threatens Israel and any Palestinian who aspires to achieve sustainable peace.