Aaron Watson: Thankful for my courageous veteran father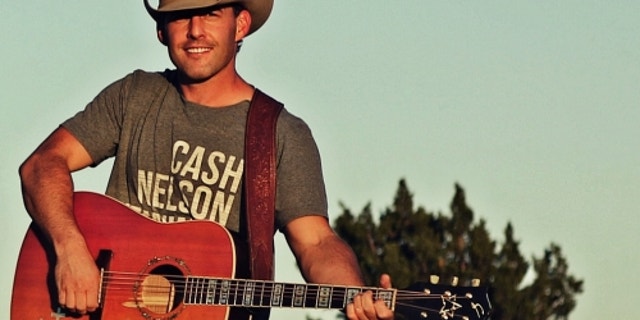 NEWYou can now listen to Fox News articles!
In life, you can either walk around taking notice of all you do not have or you can choose to observe all the things you have been blessed with. Is your cup half full or half empty? I think from time to time, we all are guilty of taking for granted so many things in which we should be thankful for.
My Dad (my hero) is a 100% Disabled Veteran from the injuries he sustained while serving our country in the Vietnam War. However, despite his numerous struggles, his cup has always been not just half full, but overflowing. I have always found his life, his faith, and his love for his family very inspirational.
When I was young, somebody way up high on the totem pole decided to make some budget cuts and they cracked down on our Veterans, of all people. My Dad's disability was cut in half, putting my family in a tough spot financially.
Rather than sit around and have a pity party, my Dad found a way to make ends meet by doing various janitorial work here and there. I recall one day in particular, My Dad and I were side by side cleaning toilets. Naturally, as a young kid, I began complaining about the disgusting task at hand and after a few minutes of listening to my ranting, my Dad poked his head around the bathroom stall and said, "Hey, do you really think that I like cleaning these nasty toilets? No way! But I sure am thankful that God has blessed me with a job so that I can take care of my family." He said, "How do you think I paid for that new baseball glove I bought you last week? So I show God how thankful I am by doing the best job that I can do!" Needless to say, I never complained about that again and my respect for my father grew even more that day.
May your Thanksgiving be blessed as you gather with friends and family, and may we all reflect and give thanks for that which we have been given.
My dad's positive outlook on life has always made me that much more aware of the so called "little things," but even as a write this now, I am reminded that what might be little things to us, may be life or death to others.
I am so thankful for the things we so often take for granted in this country.
In a world where over 1 billion of its population makes less than two dollars a day, I am thankful I have the opportunity to make a good living for my family, provide them not only with food and shelter, but so much more.
In a world where millions die every year from the lack of safe drinking water, I am reminded of a truly simple blessing we too often take for granted - clean drinking water.
In a time where preventable diseases lead to death in other parts of our world, I am thankful for my health, my wife and my children's health.
Perhaps most of all though, I am thankful for the love and grace that Jesus Christ has shown me. And isn't it wonderful that we live in a country that allows us to display our faith openly and publicy. For that alone I am thankful!
May your Thanksgiving be blessed as you gather with friends and family, and may we all reflect and give thanks for that which we have been given.
"And whatever you do, whether in word or deed, do it all in the name of the Lord Jesus, giving thanks to God the Father through Him." (Colossians 3:17)