A Southern Christian woman's take on 'GCB'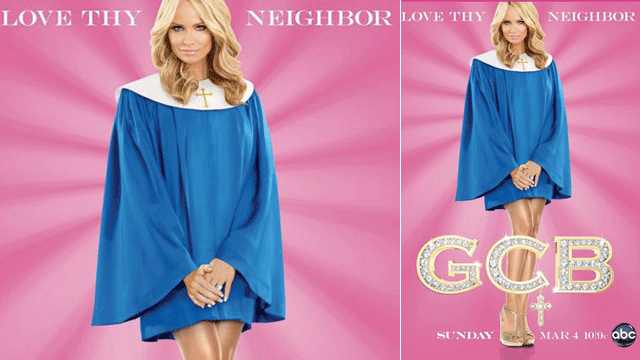 NEWYou can now listen to Fox News articles!
GCB. Oh, what did you just call me? Well, bless your little heart.
I've gotten a lot of calls lately about ABC's new sitcom that parodies Christian women in America's Bible Belt. Raised in Tennessee, I've heard a lot worse jokes than "the bigger the hair, the closer to heaven."
Christians, just like every other member of our species are human, too. And that means that some of us might even be quirky.
That combo is often funny.
I just wish Hollywood knew us well enough to portray us accurately. -- Considering that 83 percent of Americans call themselves Christians, there is certainly plenty of material.
Poking good-natured fun at being slightly offended that the pastor has a nicer car than you do, the humiliation that comes when your kids act up in church, and the hair gel meter for your worship leader is funny because it's real life.
While Christians need to be able to laugh at themselves, this sitcom won't be the conduit. "GCB" has a lot of problems, the largest being that it's just not that funny. As usual, when Hollywood goes this route, it inevitably misses clever and, instead, comes across as condescending and mean.
We Christians should be able to have a good laugh at our own quirky tendencies; shucks, we put the "fun" in "fundamentalism." The main problem lies in the fact that Hollywood's writers, producers, and actors do not take the time to get to know us well enough before they portray us and, therefore, parody Christians based on preconceived notions.
"GCB" is a much less clever spin on Jonathan Acuff's Stuff Christians Like, which is regularly read in CWA staff meetings. And "Things Christian Girls Say" spread through my office like wildfire. Because, after all, we do innately think we should be journaling more (and be careful where you place your hand during that side hug).
The fact that ABC took time to point out Christians' common idiosyncrasies could be funny. These writers are using the creativity and the wit God gave them to provide comedy; that's all good and well. Unfortunately, "GCB" is just a big-haired version of "Desperate Housewives" and misses the opportunity to be relevant.
We should be encouraged that, while "GCB" doesn't get it, this year Christian culture has made a huge comeback in American popular culture. Tim Tebow, Jeremy Lin, television stars Patricia Heaton and Zack Levi, and the hit movies "Fireproof," "Courageous," and a soon-to-be Hollywood blockbuster, "October Baby," highlight society's innate attraction to the uniqueness of Christians and the grace and talent God provides.
Even more importantly, those people and movies, especially "October Baby," reveal the very essence of who we are as Christians -- broken people looking for God's grace and mercy despite our weaknesses.
Don't waste your time on "GCB"; it's just more of the same.
Instead, take the time to go see "October Baby" this month, and see what Christians really believe.
Penny Young Nance is CEO of Concerned Women for America, the nation's largest public policy women's organization.