A Joan Rivers Thanksgiving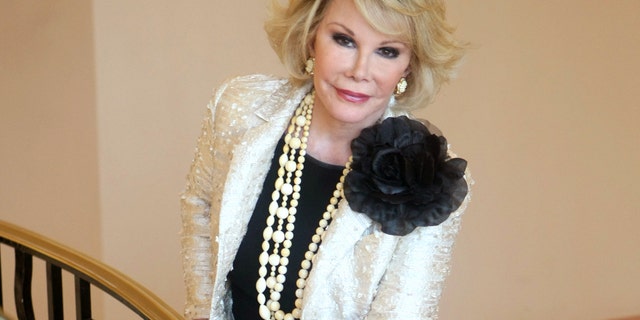 NEWYou can now listen to Fox News articles!
When Joan Rivers moved back to her native New York City from Los Angeles, she spared no expense in creating the home of her dreams — a gilded fantasy so elaborate that people routinely compared it to the Palace of Versailles. Until Rivers' death in 2014, her apartment on Manhattan's Upper East Side served as the perfect stage set for the extravagant holiday celebrations she loved to host at Thanksgiving and Christmas.
Seats at Rivers' table were hotly sought-after, and her dinners always offered an eclectic selection of A-list guests along with the quintessential feast. A typical Thanksgiving dinner began with hors d'oeuvres that included bite-sized lobster rolls, parsnip and mushroom tarts, and duck and almond pastillas, or phyllo dough purses filled with duck confit enlivened by fig paste.
But Rivers also liked more humble fare, and one unvarying requirement was the presence of pigs in blankets. "She loved them," said Jay Jordan, Rivers' caterer. "I got yelled at one time for not putting them on the menu."
The appetizers were followed by a first course of butternut squash raviolis with white wine-chive cream sauce, garnished with fried sage leaves.
The basics were characteristically predictable: "She was a very traditional woman," Jordan observed. The centerpiece of Thanksgiving dinner was a roast turkey with sage rub. Should that fail to sate everyone, a cider-glazed country smoked ham provided an alternative.
The side dishes remained equally familiar from year to year: French string beans, whipped sweet potatoes with marshmallows, herb stuffing, mashed potatoes and gravy, Parker House rolls, corn bread sticks, and homemade and jellied cranberry sauce.
The grand finale was a sumptuous array of desserts: apple pie, pumpkin pie, sweet potato pecan pie, pumpkin cheesecake squares, chocolate and vanilla ice cream profiteroles, lemon bars and Thanksgiving cookies — all accompanied by dollops of whipped cream.
From one occasion to the next, the menu would vary somewhat. The hors d'oeuvres might include mini crabmeat cakes with remoulade sauce, mushroom and cheese quesadillas, and miniature pizzas. The next year a smoked salmon Napoleon could be added to the list.
The first course would turn into butternut squash soup with star anise and gingered shrimp. The next year it might feature ricotta gnocchi with a light sage Alfredo sauce, garnished with wild mushrooms and roasted butternut squash, along with a sprig of rosemary.
The turkey and the conventional side dishes remained sacrosanct, but the desserts were subject to a bit more whimsy; one year they included pumpkin mini-whoopee pies along with a pecan-chocolate tart accompanied by bourbon whipped cream.
Although Rivers' menus were lavish, she herself was abstemious no matter how great the temptation. Chubby as a child, she was terrified of gaining weight, and her self-imposed caloric restrictions were draconian; many of her friends swore she lived on Altoids breath mints.
What she cared about most was the presentation of a meal. "It was all for show, for her," Jordan said. "Everything had to be decorated very fancy, garnished to a T. She was very involved with the table settings. The flowers alone stretched the whole length of the table. The food was secondary, in a way."
Rivers also gave careful thought to the combination of guests, a lively mix of family, friends, colleagues and celebrities who often included an unexpected wild card. "You never knew who the hell was going to be there," said Pete Hathaway, who became a close friend when he was a director of European furniture at Sotheby's, where Rivers liked to shop for rare antiques.
Hathaway particularly remembered the year when his seat mate included an infamous killer. During the early 1980's, Jean Harris, the headmistress of the venerable Madeira School for girls in McLean, Virginia, became the subject of sensational headlines when she was tried for the murder of her former lover, Dr. Herman Tarnower, an eminent cardiologist and author of the best-selling book The Complete Scarsdale Medical Diet. Harris was convicted and served eleven years in prison before having the rest of her sentence commuted in 1992.
Hathaway was astonished to find the notorious criminal sitting beside him at Rivers' dinner table. "I remember Joan put me next to Jean Harris after she got out of jail," Hathaway recalled. "I asked her about it, and she looked me in the eye and said, 'I did murder a man. I deserved to go to prison.'"
Ever outrageous, Rivers loved to shock as much as she loved to entertain, and her old-fashioned style as a gracious grande dame was always spiked by a jolt of the drama that characterized her flamboyant onstage persona.
And if a well-bred murderess joined the other boldfaced names at Thanksgiving dinner, the company could be counted on to prove as memorable as the delectable meal.