A fond farewell to Vin Scully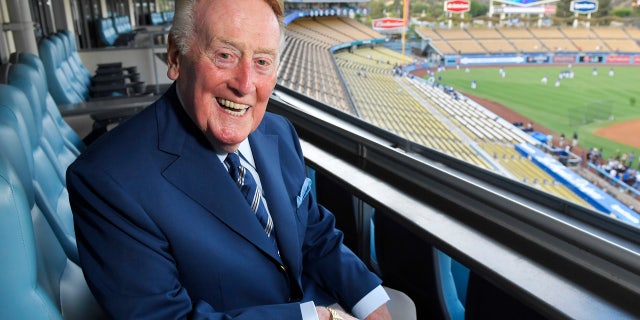 NEWYou can now listen to Fox News articles!
For baseball fans, and particularly Dodgers fans, the 2016 season has been a very long goodbye. Beloved broadcaster Vin Scully, 88, has repeatedly confirmed — insisted, really — that he will call his final game on Oct. 2 after 67 years in the booth. No playoffs, no World Series if the Dodgers make it that far.
This weekend, Scully will call his final games at his professional home, Dodger Stadium. The Dodgers are playing the Colorado Rockies, who entered Major League Baseball in 1993, a mere 43 years after Scully did.
There's no easy way to pay tribute to a man who has had such a long and glorious career. Many have focused on Scully's longevity or his status as a towering figure in Los Angeles — not an easy trick for a New Yorker. One enterprising Los Angeles Times reporter even corralled a couple of professors to discuss the musicality of Vin's voice.
The eternal quandary of the baseball broadcaster is this: How does one become a fixture of daily life for six months out of so many years without burning out or being tuned out? Of all Scully's gifts (not least of which is a genuine love for baseball), his greatest is his ability to form a bond with millions of viewers and listeners (the first three innings of his TV broadcasts are simulcast on radio) while making each one feel like the only person he's talking to.
"Hi everybody, and a very pleasant [fill in the day] to you, wherever you may be," is how Scully greets his audience. There's a certain genius in the greeting, conveying neighborly feeling ("Hi" instead of "hello") and a sense of vastness ("wherever you may be"). And just like that, the next three hours have been laid out for you.
Sports is an emotional investment, and not always a healthy one. But in the right circumstances, it can bind far-flung individuals together in moments of absolute joy. For Dodgers fans around the world, the conduit of these joyous moments for the last seven decades has been Vincent Edward Scully.
Three years ago, I took a new job in Los Angeles. After driving 2,700 miles over four days to a city where I knew precious few people, I was exhausted and slightly apprehensive about what lay ahead for me personally and professionally. My second night in town, I was driving home from dinner when I remembered that the Dodgers were playing. I flipped on the radio and there was Vin's welcoming voice. "Pull up a chair," he said. "Should be a great ballgame ahead."
That night, for the first time in months, I felt at home. I'm not the first person Vin Scully welcomed to LA. I'm sorry I was one of the last.
Enjoy retirement, Vin. And thanks for everything.
Samuel Chamberlain is a news editor for FoxNews.com in New York. He worked as an overnight editor in the Fox News Los Angeles bureau from June 2013 to August 2016.