5 suggestions for adults who want to help a kid get a college degree without going broke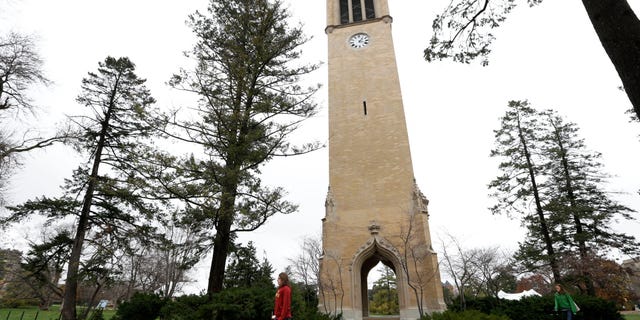 The disappearance of low-skilled jobs and a rising earnings premium sparked a dramatic uptick in college enrollment over the past few decades.
At first, students could afford it, graduating with minimal (if any) debt, and entering an expanding job market with rising wages.
But now? Real median household income is down 6.5% from 2007-2014. Salaries for 25-34 year olds have remained stagnant for a decade. Meanwhile, the price of college continues its precipitous rise. And countless students and families feel caught between a rock and a hard place: They can't afford to send their kids to college, but their kids can't afford not to have degrees.
For many, the solution has been to max out on federal loans, tack on some private debt, and roll the dice that future earnings will make it worth it.
But the return on investment is highly variable. It depends on what career is accessed and how much was borrowed. We know that just north of 70 percent of students take out loans and the average debt load at graduation in spring 2015 was about $35,000.
A substantial number of graduates find themselves in a heap of trouble when it comes to paying off this debt (to say nothing of those who drop out). While the national three-year default rate on federal student loans was just under 14 percent last year, more than 33 percent of borrowers failed to pay down a single dollar of principal within three years of graduation. The default rate doesn't capture delinquency, deference, or forbearance—all of which lead to escalating loan balances as the interest on the debt continues to accrue. Here's a scarier figure: The majority of borrowers (57 percent) entering repayment in 2012 owed more on their loans two years later.
Clearly, we need a better way. The higher education policy discussion surrounding access, completion, and affordability is important, but students can't wait for economists and politicians to fix a mess many years in the making.
In fact, part of the "fix" must be a rising tide of students unwilling to mortgage their future on risky bets.
Here are five suggestions for those looking to help a loved one get a degree without going broke:
1.Prioritize value over prestige when choosing a college. Most students who are accepted by selective universities but actually attend less selective schools do just as well in the long run as if they had gone to the higher ranked school. It's primarily the person that makes the difference, not the pedigree. It's about how you go after getting an education, developing professionally, and cultivating the character traits that promote success. To put it another way, selective schools collect excellent students more than they create them. As long as you avoid the real duds, you can get a first class education just about anywhere. There's nothing wrong with wanting to swim with the big fish in a sea of talented, capable students, but it's unwise to borrow $20,000 a year to make it happen. Consider your pocketbook, because you'll end up paying $1.25-$1.50 for every dollar you borrow (if not more).
2. Leverage skills to earn higher wage income during college. Think outside the standard minimum wage job box. Can you teach piano? Maintain swimming pools? Tutor math? Do yard work? Paint? If you're entrepreneurial, and can find your own clients, leveraging your skills can reap two or three times the minimum wage—while you're in school. And selling yourself is something worth getting used to; you'll be doing it for the rest of your career. Land a work-study assignment, a few hours per week of higher-wage skill-based work, and a typical student (but full-time) summer job, and you can earn 50-75 percent of the net price at an in-state public university (or a generous private college).
3. Have a game plan to finish. The national average six-year graduation rate for incoming, first-time freshman is in the 55 percent range. That means almost half don't finish. In fact, college drop-outs with moderate to low student debt loads have exceptionally high delinquency and default rates. Their earnings prospects are so poor that even a modest monthly payment becomes onerous. If high school academics weren't your thing, consider an associate degree or trade school rather than four to six more years as a full-time student. As for finances, figure out your Expected Family Contribution (EFC) by completing the FAFSA early. Use tools like CollegeData.com and the National Center for Education Statistics' College Navigator to figure out what colleges will expect someone in your income bracket and with your test scores to pay, earn, or borrow. Then pick a school that you can afford, not just for one year, but for four or five years.
4. Be expeditious about graduating. The five year path to graduation has become the norm for mainly two reasons: Lack of preparation (which results in remediation—mandatory coursework before you can take college-level courses) and lack of commitment to a particular major. On the former, if you need remediation, do it on a shoestring budget at a community college while working. Hold off on paying the big bucks until you're taking true college courses. As for the latter, know as much about your major—and yourself—before you start. What jobs does a particular major set you up for? What are those jobs really like? What skill sets are required to be successful? Would you need a graduate degree? Talk to as many people as you can who are already in those professions. Some majors have more narrow paths to particular jobs than others. But any student can be more motivated by a sense that desirable job prospects are waiting for them after graduation.
5. Students will only make better decisions about paying for college if they have a greater understanding of how the system works. Financial aid jargon should be explained to students long before they sign papers, and ideally by parents and mentors, not just by university staff (whose job it is to fill seats, not offer unbiased personal advice). We must help students cultivate a more robust and informed sense of personal responsibility regarding the most expensive purchase they've ever made. If we do that, more of them will get degrees and access rewarding careers while beating the college debt trap.