'Wreck rooms' let people lose control — and smash everything up
In the stark, brightly lit room, crowbars and baseball bats swing furiously in all directions. Glass shards fly everywhere. Metal and plastic are busted to shreds.
It's all part of a thrill-seeking new fad making its way across the country: releasing pent up tension and anxiety by spending a half-hour obliterating a large variety of objects, like beer bottles, old printers and computer monitors.
Call it unadulterated fun — complete with a twist of psychotherapy.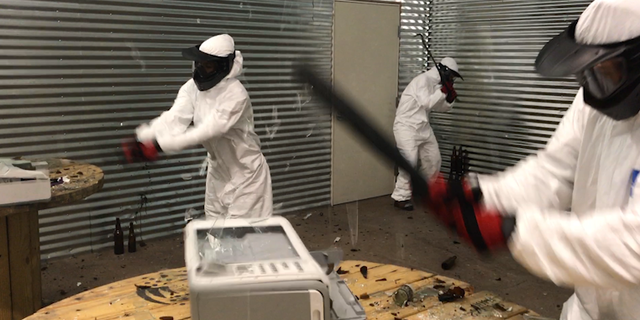 DOMESTIC ABUSE SURVIVOR BURNS WEDDING DRESS AT GARAGE SALE
Wreck Rooms are the newest craze for adults of any age looking for a night of fun mixed with stress relief. From New York to California, a growing number of these facilities are popping up.
In Las Vegas, thrill seekers — who are required to wear white hazmat-looking suits with protective facemasks and work gloves — pay $35 for 30-minute pummeling sessions at Wreck Room. They are armed with baseball bats or crowbars and given free rein to pound electronics, furniture and glass bottles.
"It's supposed to feel dangerous, when it's not really actually really dangerous," said owner Corey Holtam.
Holtam also offers a number of different items that patrons can pay to smash in addition to what is provided. These include guitars, big screen televisions, garden gnomes and porcelain lamps.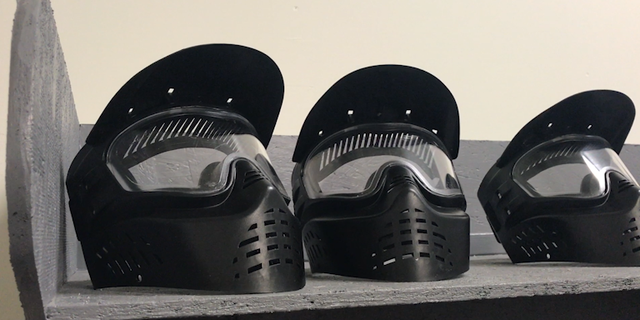 AVERAGE AMERICAN HAS 60 BAD DAYS A YEAR
The troubles and anxieties of modern life are a good draw to come destroy things, Holtam said.
"I've had people tell me that it brings up a lot of things from the past and deep emotions, but for me it's more about fun and touching on those primal instincts," he said.
Acting as a controlled, contained space for a good rage-venting session, Holtam has multiple rooms for groups of tourists or locals. He even has seen couples on a date taking part in the "smashing."
The activity also has the hallmarks of a good cardio workout since your heart races pretty much throughout the whole half-hour. The goal is to constantly be smashing items over and over, for the entire duration of the time.
FOLLOW US ON FACEBOOK FOR MORE FOX LIFESTYLE NEWS
Participants say they experience a euphoria that they were not expecting.
"I got out some aggression that I didn't realize I had, but I got it out," said Kally Umana, who recently visited the Vegas Wreck Room. "It was a little scary at first, but I got in there and I got into the rhythm, and you just want to break everything."
Others were surprised by how much they loved "wrecking" things.
"I love smashing things, apparently," said Zach Chyz after a recent visit. "I didn't think I would."